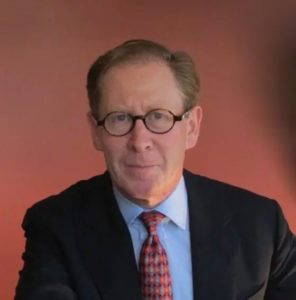 Orbus Exhibit & Display Group®, a North American producer and manufacturer of visual communications solutions for tradeshows and events, retail environments, and corporate interiors, sadly announces the sudden death of Simon Perutz, an extraordinarily revered, respected, and honored founder of Nimlok, Orbus, and thirteen other exhibit and display companies around the globe.
Simon died suddenly while in England with his wife Kim on April 19, 2023, at the age of 64.
Simon was a remarkable man of inspiration, intelligence, wit, energy, tenacity, and generosity. He was an entrepreneur, mentor, associate, and friend to many.
Simon was a titan in the Exhibit Industry and leaves a legacy of relationship-building, innovation, hard work, and enormous success. More importantly, he was a loving husband, son, brother, father, and grandfather and is survived by his wife Kim, sons Andrew and Matthew, daughters Kate, Tessa, and Lucy, as well as granddaughter Daisy, and his siblings Tim and Sandie.
Simon's father, Gerald Perutz, and Neil Nimmo—inventor of the Nimlok lock & clip and the original modular display system—founded Nimlok Limited in the UK in 1970. The business grew rapidly and in 1977, Gerald relocated his family from the United Kingdom to the United States. In 1981, Neil, Gerald and Simon established Nimlok in the United States.
Simon led Nimlok's product development, sales, and marketing efforts with wild success. He formed relationships with business leaders across the nation and the globe, which led to the creation of a network of Nimlok Dealerships in the US, the establishment of Nimlok Canada in 1985, as well as Nimlok Italy and Nimlok Australia, among others.
In 2001, Simon established Orbus Exhibit & Display Group in the United States. He continued to lead the Nimlok business in the US until 2010, when Nimlok merged with Orbus. Together, Simon, his brother Tim and Gerald established fifteen exhibit and display-focused companies worldwide and formed the P3 Group (commemorating the three Perutz's—Gerald, Simon, and Tim).
"Words cannot express what a truly incredible person Simon was," said Gary Keefer, CEO of Orbus Exhibit & Display Group. "We are deeply saddened yet extremely thankful to have had such a wonderful founder, mentor, and caring leader. Simon will be profoundly missed and honored."