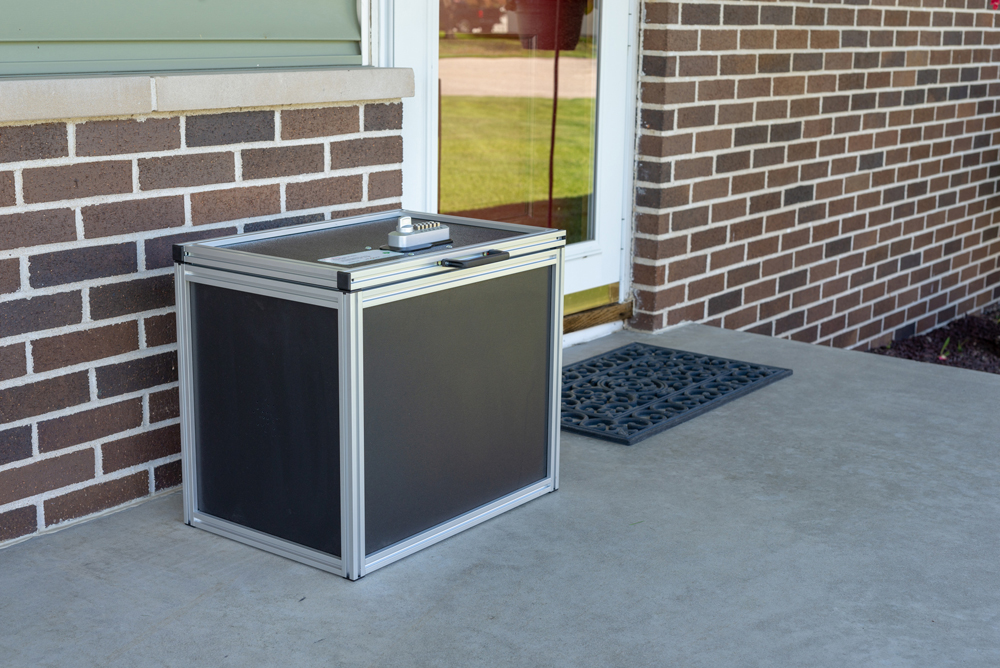 While the popularity of online shopping has been increasing steadily for the past several years, e-commerce has experienced exponential growth during the COVID-19 pandemic as a safe, convenient alternative to the in-store retail experience. Adobe has reported that total online spending in May 2020 was up 77 percent year-over-year and has projected a 33 percent year-over-year increase in 2020 holiday online spending.
As online shopping has increased so have the opportunities for porch pirates to pilfer home-delivered packages. There's also the weather to worry about when packages are left on unprotected porches while owners are away.
That's why Kevin Kennett, a Midland, Mich., entrepreneur, has introduced the JIB Box, a sturdy, lockable package receptacle that can be secured to porches for door-front deliveries.
"With the state of the economy, there's been a real increase in the theft of packages," said Kennett, founder and president of JIB Lock Box LLC. "Additionally, home delivered packages need to be protected from severe weather like what we see here in northern Michigan during the winter."
Kennett spent approximately three years developing JIB Box before beginning sales in May 2020 of two initial models designed to meet varying customer aesthetics, including one constructed with black 6mm SINTRA® PVC panels by 3A Composites USA and the other with birch panels.
"We needed to find the right material and lock," said Kennett. "It had to be weather-resistant, hold up well, and be sturdy enough to keep packages safe. … We consulted a box manufacturer and they recommended SINTRA for its weather-resistance and durability."
As the original high-performance moderately expanded PVC board, SINTRA is specialty-engineered to be a premium solution for graphic display projects that require the highest-quality material. SINTRA is easily fabricated and is unsurpassed for its printability, quality, consistency, durability and performance, offering superior surface characteristics and physical properties when compared to competitive products. SINTRA is available with a premium bright-white surface that produces excellent digital– and screen-printing results. In addition to the brightest white and black, SINTRA also is available in a broad range of colors in gauges ranging from 1mm up to 12.7mm and in standard sheet sizes ranging from 48-by-96 inches up to 2 meters by 120 inches – all produced in 3A Composites' manufacturing facility in Benton, Ky.
Working with contract designers, the JIB Box was designed with an aluminum frame and premium panels and features an interior storage compartment measuring 19 inches wide by 13 inches deep by 13 inches tall – a size designed to fit 90 percent of all packages shipped, according to Kennett, who said hardware is provided to secure the JIB Box to a porch.
"Approximately one-half of customers choose to secure the JIB Box to their porch; while some people put it out when they are expecting packages and then bring it inside," according to Kennett, who said the JIB Box weighs approximately 30 to 40 pounds depending on the model ordered.
The JIB Box features a mechanical digital lock that does not require batteries or keys and is unlocked by owners with a four-digit code. Delivery personnel simply follow instructional stickers adhered to both the exterior and interior panels of the JIB Box, place packages inside, and turn a knob to activate the lock.
Kennett said JIB Box orders so far are evenly divided between the black SINTRA-paneled and birch wood-paneled models purchased by customers to complement exterior decors.
Durable SINTRA has held up well in these JIB Box purchases, according to Kennett, who said the SINTRA model "has received zero complaints for lack of sturdiness, dents or scratches."
Kennett contracts C & C Manufacturing Inc., in Sterling Heights, Mich., to manufacture the JIB Box models. Black SINTRA is supplied to C & C Manufacturing by the Warren, Mich., branch of Laird Plastics and by the Madison Heights, Mich., branch of Polymershapes LLC.
"The fact that SINTRA can be routed with a CNC machine really helps with manufacturing and production," said Kennett. "We also are able to easily adhere graphics to the SINTRA panels."
Kennett utilizes the JIB Box at both his residence and lake house, owning one with black SINTRA panels and the other with birch panels.
"The concept is working fantastically," said Kennett. "Our biggest concern was in getting delivery personnel to use it. They've used it from the get-go. They just follow the instructions on the stickers and don't need a code. JIB Box really provides ease of use for the delivery person."