Q-COAT Antimicrobial Coatings from QHF are a series of high-performance coatings for metals, plastics, and many other substrates formulated with silver ions to inhibit the growth of microorganisms in or on the paint film. Unlike "post applied" disinfectants which provide a limited residual activity once the treated surface dries, QHF's integrated silver ion antimicrobial technology works to continuously minimize the presence of microorganisms throughout the entire lifecycle of the coating.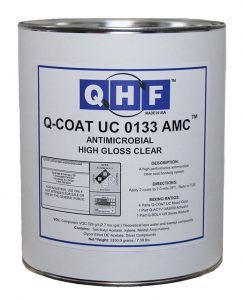 Q-COAT Antimicrobial Coatings are formulated with low-VOC high-performance resins, UV non-fading pigments, and active silver ions to provide a highly durable and environmentally friendly coating that stands up to extreme conditions and provides continuous prevention and ongoing protection from microorganisms in or on the paint film.
Customers utilizing paint mixing equipment can easily convert any standard QHF coating to a Q-COAT AMC™ coating by simply substituting the binder for an AMC version binder.
Customers utilizing premixed and or factory package colors can easily convert any color by simply requesting the AMC (AntiMicrobial Coating) version of the color when ordering.
For more information, call (803) 788-4499 or (800) 421-7961 or visit www.qhfonline.com.