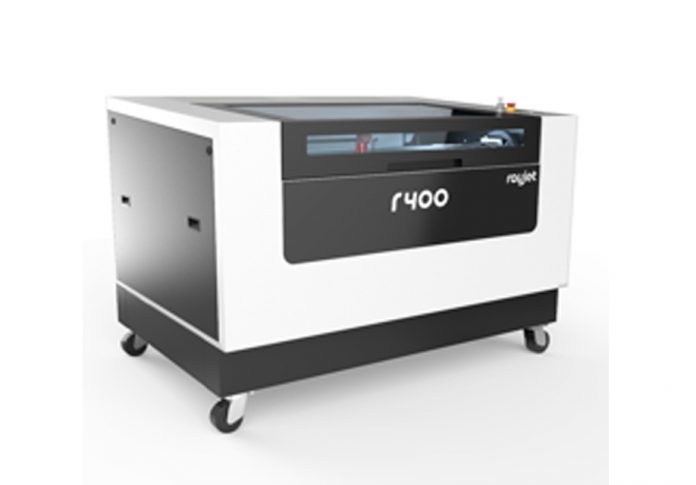 Rayjet Laser, a division of Trotec Laser, is pleased to announce the addition of the R400 laser cutting and engraving machine to its R Series product line.
Now also available for online purchase, the R400 features an ergonomic working area, sophisticated and intuitive workflow software, and the industry's highest safety standards—providing the industry with a reliable, user-friendly, cost-effective, and locally supported solution for cutting and engraving a broad range of materials.
Designed to comply with stringent production standards and European manufacturing and design principles, the R400 joins the R500 as the only laser safety Class 2 systems in their price range—meaning that R Series lasers meet U.S. manufacturing safety requirements for use in public spaces and do not require operators to wear protective gear such as safety goggles.
R Series lasers, which are also CE certified, include safety features such as a double interlock system and a safety kill-switch.
The R400 system features an open, ergonomic design with a 40.5-by-24.8-inch bed size that fits most standard material sheet sizes and up to 100 Watts DC of laser power, allowing you to easily and efficiently cut and engrave a wide range of materials such as plastics, paper, textiles, acrylics, wood, and many more materials.
The included Rayjet Manager workflow software provides easy, step-by-step instructions with logical and intuitive functions, allowing you to make a fast transition from job layout to final product.
To accommodate the different needs and preferences of a diverse customer base, R Series lasers are now also available for online purchase though the company's new Engraver's Network website.
"With R Series lasers, you really get the best of both worlds," says Warren Knipple, president at Trotec Laser. "They are simple to use, yet you can produce highly sophisticated and precise designs. They are cost-effective but still meet the most stringent standards for safety, design and manufacturing.
"And to make things even easier, you can choose to buy them online, or you can consult a local representative to assist you with your purchase."
—Press Release