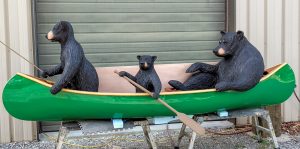 Switching from the loud and fast paced streets of Chicago to the quiet rural woods of Northern Maine is a huge change, but it was a welcome one for a recent client of Custom Wood Carvings.
Known for its lush forests and ample backwoods, the countryside of Northern Maine is an outdoorsman's paradise of picturesque, serene, and peaceful landscapes.
A recent client asked Kris Connors, owner of Custom Wood Carvings, to design a realistic sculpture featuring bears in a canoe to help him leave the city atmosphere in the dust and embrace his beautiful new home in the country.
Custom Wood Carvings is a custom sculpture and sign company based out of Westbrook, Connecticut. The company does everything from 3D signs to custom carved furniture to custom wildlife sculptures, which is just what this particular project called for.
Kris started by working out the design, and he sketched bears in different positions, sizes, and facial expressions until he found the perfect fit.
With the design finalized, Kris decided to use six-pound CORAFOAM® HDU to create the bears. The canoe needed to be mounted onto a wall, and he needed a lightweight material that held detail and was easy to carve.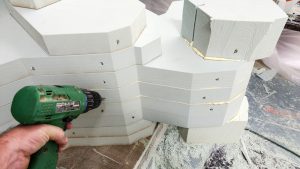 After bonding the blocks of HDU together, Kris used a small chainsaw to carve out the rough shape of the bears.
The spectacular finish was added using a Dremel and various woodworking tools, while the realistic-looking fur on the bears was accomplished using the side wheel of an electric sander.
The bears ranged in size from the largest at forty-four inches tall to the smallest at about thirty inches tall. All three are sitting in a twelve-foot-long canoe that was custom-made to fit this particular project.
After hand-sanding the lamination lines out, it was time to prime and paint.
Thanks to the ultra-smooth surface of the HDU, Kris was able to use only a single coat of primer on this sculpture.
The bears were then painted black using Benjamin Moore's acrylic paint and finished with a satin spray paint to make them appear realistic.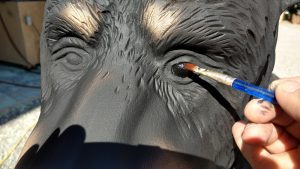 "The light weight of the HDU made it easy for installation," says Kris. "The whole thing only weighted about sixty pounds!"
Kris Connors started working at his first sign shop while in high school. He went on to major in liberal arts and became a high school art teacher. While teaching, he created his own sculpting and dimensional signage shop, Custom Wood Carvings.
Kris then began advertising and marketing himself through various channels, including social media, YouTube, his Web site, and by word of mouth.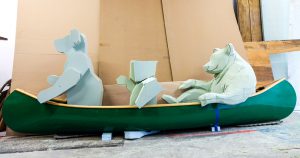 Five years ago, he was able to quit teaching to focus on his business full time! Now he is using his talents to create sculptures and 3D signs for customers all around the world.
Kris is in the process of moving his shop to Nickelville, Virginia, but he continues to work on projects during the transition.
See more of Kris' work or to read his blog full of carving resources and tips.
By Kelly Haas
Photos: Custom Wood Carvings