Visitors to Cathedral Square Park in downtown Milwaukee, Wisconsin this summer are being welcomed by five colorful bear sculptures. Celebrating the colors of the LGBTQ+ community, this "Massimals MKE: Rainbow" art campaign made its debut this past June just in time for the start of Pride Month.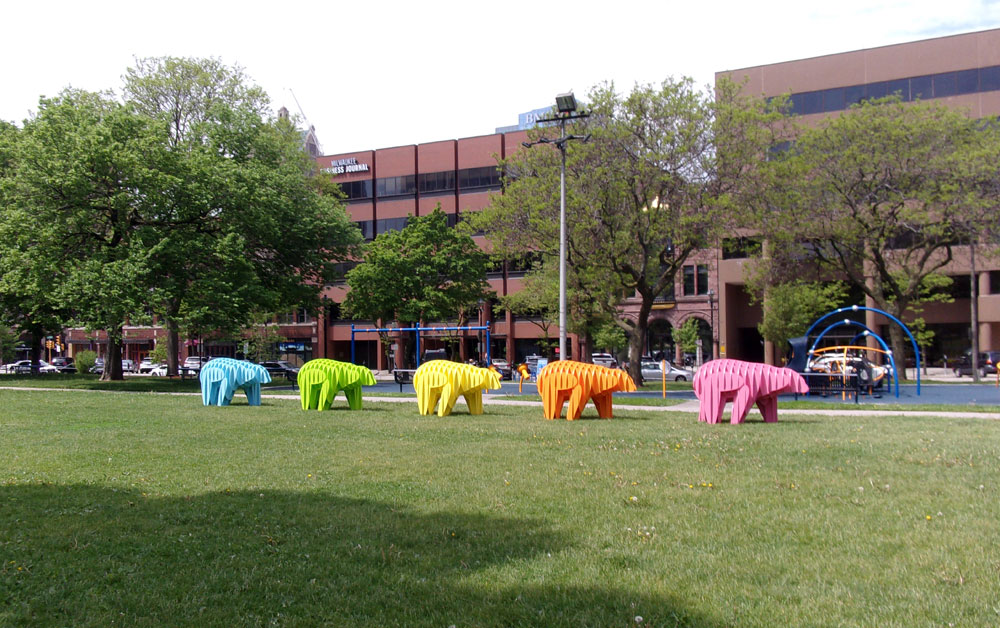 However the story behind these five bears (known as "Massimals") and their new, colorful rainbow sequence is best told as a collaboration between a creative artist, an organization dedicated to boosting interest in downtown Milwaukee, and a sign shop equipped with a great reputation, a spray booth, and a talented team of installers.
"Massimals MKE: Rainbow" kicked off Jumpst(ART) Downtown 2021, an arts and culture initiative created and overseen by Milwaukee Downtown, Business Improvement District (BID) #21. This summer-long "safe and exciting" promotion is about "experience" and encompasses everything from new murals, temporary art installations, live canvas paintings, and more from local artists. (Note: See sidebar, below.)

The Jumpst(ART) campaign is intended to encourage people to return back to the downtown area and "jumpstart" the economy there during the June and July months until more events return in August. "We're trying to fill that incredible programming void right now that most American cities are facing," says Gabriel Yeager, downtown environment specialist for Milwaukee Downtown, BID #21. "While we're opening up much quicker than anyone anticipated, most of our summer events in Milwaukee had already been cancelled, so we are trying to revive and reanimate our public spaces with art, such as these Massimal bears."
The Massimal bears were designed by artist Jason Scroggin of Scroggin Studio, a design research practice in Kentucky. Scroggin Studio has produced nationally and internationally recognized and award-winning designs that present new ways to interact with built form from the scale of the city to interior environments.
"Massimal" refers to 1:1-scale abstractions of animals that are built in the form of massing study models produced in architectural design practice. These Massimal bears were built using an egg crate with a lattice grid type of system.
The bears came to life thanks to construction help from students at the University of Wisconsin-Milwaukee's School of Architecture + Urban Planning who put them together late last year at the Wisconsin Center, a convention and exhibition center located in downtown Milwaukee. "Keep in mind that this was during COVID-19, and the entire city was on lockdown," says Yeager. "So being able to do this safely was a pretty big achievement."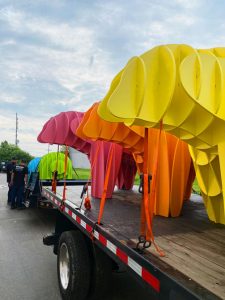 The five life-sized, full-scale Massimal bears are made out of 3/4-inch-thick wood pre-coated with a glossy white primer. "When we were assembling, it was just as simple as putting them together and painting the sides of the boards that were not treated nor pre-coated with the white primer," says Yeager. "Essentially it was all white, and we painted the edges of the bear to give it that white massing model look."
However "Massimals MKE: Rainbow" is not the first go-round for these bears. They were originally created for a Milwaukee Dowtown, BID #21 winter campaign called "Don't Hibernate, Celebrate," which encouraged safety in the downtown area during the pandemic. "These white massing models looked like polar bears," says Yeager, "and ended up being the 'unofficial' mascots of that campaign."
The Massimal bears were installed at Cathedral Square Park in January, making it the first time that these types of installations would be displayed outside during the winter.
Although bears are known to hibernate during the winter, their performance during this season was outstanding. "To be honest, we weren't sure if they were going to withstand the elements," says Yeager, "but they actually did just fine. Everyone seemed to like them, so we felt we could really extend them into summer."
Looking at the calendar, Milwaukee Downtown, BID #21 decided to try refitting them for their summer campaign. But this was going to involve giving them a complete color makeover—gone would be the glossy white and in its place would be a plethora of rainbow colors (apropos for Pride Month in June).
Yeager reached out to Dave Salkin, an account executive at Bauer Sign & Lighting Company, a full-service sign shop located in New Berlin, Wisconsin, and inquired about providing fresh coats of paint for this rebrand. (Note: Bauer Sign & Lighting had done some prior work with Milwaukee Downtown, BID #21, including printing banners and graphics on other downtown projects.)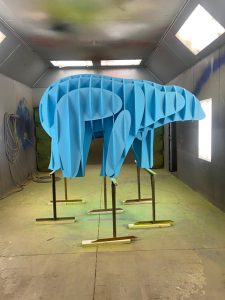 Bauer Sign & Lighting brought all five glossy white Massimal bears back at once to their facility at the end of April. Before placing the bears in their spray booth, they had to clean the dirt and mud off them (much of it had accumulated around the feet), sand any issue areas, and paint them white.
"It was a real trick getting the bears propped up in the spray booth so we could spray from the top and bottom," says Jordan Bauer, operations manager at Bauer Sign & Lighting, noting that they used a forklift and carts to move the heavyweight sculptures around their facility.
Each Massimal bear was endowed with a unique color (blue, green, orange, pink, or yellow). Working in their in-plant spray booth, the company applied these hues using paints from Matthews Paint. "Each one took about a day to paint over a three-week period," says Salkin.
"The paint job on these could have easily been ruined if not done properly," adds Bauer. "There are a a lot of nooks and crannies on these bears where paint runs could happen. So we turned the air pressure way down in the hard-to-reach areas and just took our time."
After painting, Bauer Sign & Lighting had to let each bear sit and fully cure before removing it from the spray booth with a forklift. "We couldn't paint any other projects while they were in there," says Bauer. "While some might say they were a real 'bear,' they were definitely fun!"
Bauer Sign & Lighting strapped all the Massimal bears onto a flatbed trailer on the back of their truck for their colorful return to Cathedral Square Park.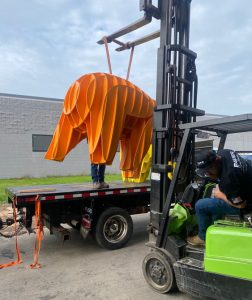 Keep in mind that each of the "Massimals MKE: Rainbow" bears weighs 250 pounds, so this necessitated Bauer Sign & Lighting using a crane to lift them off their truck and trailer and directly to a dolly cart where crew members wheeled them to their resting site and then secured them to their spots in the park. "They had eye hooks previously installed on them which we attached to ground anchors," says Bauers. "Their massive weight adds even more protection."
Salkin says his company looks at these types of installations as public art and admits that this Massimal bears project was pretty unique for a sign company. "Having a spray booth at our facility gave us a leg up on the whole thing," he says.
A ribbon-cutting ceremony to kick-off Jumpst(ART) Milwaukee was held in the park in early June, with the unveiling of the Massimal bears the highlight. According to Yeager, the event was attended by a "good representation" of top elected city and county officials.
The bears also come alive at night. RGB LED spotlights sit atop a pole and shine down on them. Brighter LED color programming was implemented for the summer season, as opposed to the cooler colors used during winter.
Milwaukee Downtown, BID #21 was able to extend the reach of these Massimal bears thanks to area partnerships. PNC Bank signed on to present the new re-installation, and several LGBTQ+ community organizations offered support throughout the project.
They also secured ad placement using images of the bears on the city's Hop streetcar system.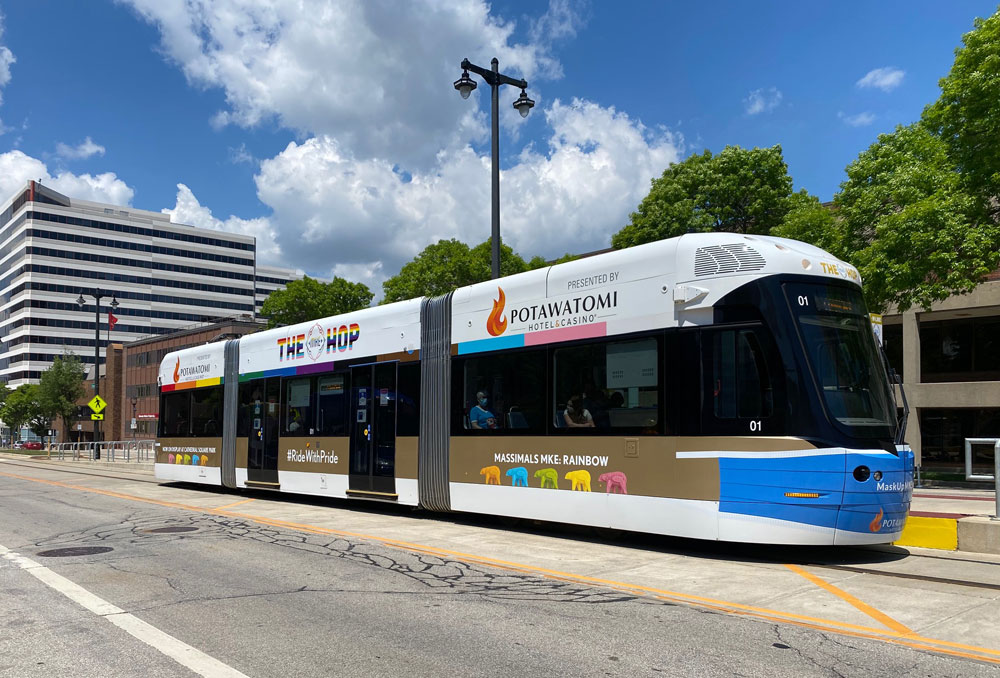 "It promotes Pride Month while also calling attention to the Massimal installation," says Yeager, "which is really nice ad placement since the streetcar literally stops right in front of them at one point."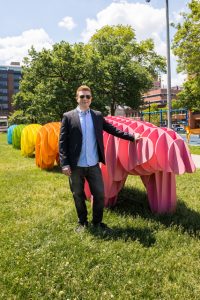 Yeager says that Bauer Sign & Lighting did a great job to meet their restricted budget, which in this day and age can be hard to come by. "Trying to justify project budgets can be challenging. What are we doing again—spray-painting bears?" laughs Yeager. "However we were able to do this thanks to Bauer Sign & Lighting working with us."
Yeager is thrilled he was able to stretch his budget as much as he could with these Massimal bears and get two really unique art installations out of one project.
Meanwhile Bauer Sign & Lighting is again working with Yeager on decorating and installing ACM panels for a mural install in June. "We're constantly coming up with temporary signage ideas for the downtown area. Thank God for [them]!" says Yeager.
By Jeff Wooten