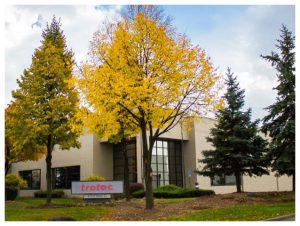 Trotec Laser, Inc., is taking several measures to minimize the spread of the COVID-19 virus — including eliminating all nonessential business travel, drastically minimizing the number of staff members working in the facility, adopting stricter sanitation procedures, and implementing new interactive virtual communication methods — to protect the health of its employees and community and to ensure the company can continue to provide customers with the service and support they need.
"At Trotec, we are committed to supporting our customers and community, and one of the most basic ways we can do this is by taking precautions to help everyone stay healthy," said Warren Knipple, president at Trotec Laser. "We are also committed to providing you with the service and support you depend on, so we have established a business continuity plan to address various threats and vulnerabilities, including a response to the pandemic and high absenteeism."
Knipple explains that the plan involves closely monitoring the impact of the COVID-19 virus at a global and local level for all business units and following the guidelines of the World Health Organization, the Centers for Disease Control, and state and local authorities. Other measures involve offering interactive digital methods for communicating with customers, (including Webinar options for monthly educational workshops), and using livestreaming technology with live interaction to provide virtual product demos and conduct other customer meetings.
All large-scale, onsite social interactions and events have been cancelled for the time being. Please be sure to check the company's event calendar for changes to their scheduled events.
Most of the company's sales and services teams are working remotely and equipped with the tools to handle the majority of your needs virtually. Where an onsite visit is essential, they will call ahead to adhere with your visitation policies and, specifically for service calls.
For more information, visit www.troteclaser.com.