Kemp Signs and Service, Inc., is a full-service commercial sign company based in West Palm Beach, Florida. The sign company began in 1995 providing service and installation throughout South Florida before adding on in-house fabrication in 2010. Kemp Signs started with just one employee and has since grown to thirty-plus employees.
The full-service sign company does everything from routed signs, illuminated signage, and laser engraving to metal/fabric canopies and awnings. The shop also does a lot of sign work and LED retrofits for every brand of gas station. In addition, the company has begun working on more ADA signage projects recently and is branching out into more custom jobs.
What really drives this over-twenty-five-year-old sign company, however, is the work that it does with fast food clients like Burger King, McDonald's, Taco Bell, and Dunkin'.
Order Up!
Kemp Signs has long-standing relationships with many large fast food corporations like Dunkin' and McDonald's, handling the custom fabrication and installation of signage elements for these brands across much of the state of Florida.
"I think the reason why we really started to grow with them is because we can custom make [sign elements] to maximize the size that they need," says Doug Walton, director of Fabrication at Kemp Signs. "We don't just make two or three different size channel letters for the building—we can do whatever size possible to maximize the exposure for the location and get it done in a timely manner.
"Typical larger sign companies dealing with national franchises may make a handful of different sizes, and with the restrictions of local municipalities, sometimes that doesn't fit into their allowable square footages, or it just doesn't look right on the building because of what has been pre-manufactured."
Because Kemp Signs handles everything in-house and very rarely outsources work, they are also able to turn around jobs faster, which appeals to national franchises like McDonald's.
"We do everything from start to finish whether it be the designing in-house and the permitting, right on out to the install and doing the footers. We don't try to sub anything out," says Kemp Signs Owner and President Steve Kemp. "It's my customer, and I want to keep them happy."
Kemp says permitting is the thing that can slow down a job the most.
"The biggest problem in south Florida, and I know across other parts of the country, is that there are issues as far as getting permits, and there are so many code restrictions on sizes and monuments and how tall pole signs can be," says Kemp. "Most places don't even allow pole signs anymore. So with every one of them, we try to max out the square footage.
"We do it right here in-house and can get it done a lot faster, especially when the permitting sometimes takes two to three months. By the time we get the sign permits, they're already done with the building, and we have to jump right on it and get the install done."
Running on Dunkin'
Dunkin' is a client that appreciates Kemp Signs' way of doing things.
The sign company is currently working on one to two sites a week for Dunkin' (many thanks to the company's recent rebrand from Dunkin' Donuts to Dunkin'), but the relationship started with just one ship-in install job for a Dunkin' franchise owner fifteen years ago.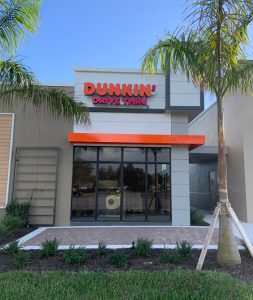 "Once I did one of his sites, he started telling everyone, 'you need to use Kemp Signs,' and I did a lot of the installs," explains Kemp. "Then we got to do the manufacturing, and now we pretty much manufacture everything for Dunkin' in-house except for the menu boards."
Kemp Signs recently completed a job for a new Dunkin' location built on the west coast of Florida. The sign company fabricated and installed metal awnings, canvas awnings, drive-thru canopies, channel letters, and more.
For the aluminum elements such as the channel letters, Kemp Signs routed them out on its CLN 100 Series router and bent them on its CLN Bender Model 7 CNC Auto Bender. Kemp Signs has had a long-standing relationship with CNC equipment manufacturer CLN of South Florida, Inc., which is located only about an hour from their shop. (Note: Kemp Signs also has a MultiCam M-Series router on their production floor.)
For graphic elements, Kemp Signs always uses 3M™, which is the only approved manufacturer of Dunkin's signature orange and pink brand colors.
For painted elements, Kemp Signs used AkzoNobel paints, and they're able to match in-house directly to the color needed. OSRAM LEDs were used for the illuminated parts of the job.
Walton says that the fabrication timeline varies, depending on the location and the number of elements needed.
"The fabrication, depending on the size of the job, can go anywhere from a week to three weeks—depending on if it's a double or single drive-thru, how many wall signs they have, and whether we are doing canopies or awnings," he says. "A smaller store takes about a week for fabrication. A larger one, with two drive-thrus, you're probably looking at three weeks."
For installation, Kemp Signs has excavators to dig their own footings, as well as a fleet of about seven sign cranes from Elliott Equipment Company and Skyhoist.
Installations like the Florida west coast Dunkin' typically take three days.
"With most of our jobs, the first day we'll dig our footers," says Kemp. "On the second day, we'll pour them, and hopefully we can be doing wall signs and things like that while we're waiting for an inspector and a concrete truck.
"And then the third day, we'll install the drive-thru equipment and anything that was poured on the second day."
Epic Signage for Epic McD
Similar to Dunkin', Kemp Signs has a long-standing relationship with McDonald's that started with ship-in installs and progressed to include fabrication. Today they handle the installation of all the standard sign elements for McDonald's across most of Florida.
On a recent project for the largest McDonald's location in the world in Orlando, the franchise needed something different.
The 19,000-square-foot, three-story location is open 24/7 and features a gourmet menu, an arcade, the world's largest PlayPlace, and more. For a location known as the "Epic McD," only the most epic signage would do.
Kemp Signs received a rendering from the architect that called for a custom sign on the second floor depicting an order of fries next to a burger with the word "McDonalds" sandwiched inside it.
"They asked for suggestions on how to build it," says Kemp, who explains they were looking for a neon-inspired look, which his company achieved through a clever use of acrylic and OSRAM LEDs.
"We built the contoured aluminum can, which is the [front], black area, and then we routed out one-inch-thick clear acrylic [using our CLN router] and contoured it to take the shape of neon so that it gave the appearance of neon," says Walton. "We illuminated it with different colors of [OSRAM] LEDs from behind, and it had a remote switch in it that animated it.
"There was a little bit of coordination between having to section off the interior of the cabinet to get the different colors, and then the routing of the controller for the animation."
It took Kemp Signs about two weeks to build out the sign, and they installed it the day after they finished. Installers used Tapcon screws to affix the sign to the interior concrete wall.
By Ashley Bray
Photos: Kemp Signs and Service, Inc.