Fifteen years ago, Atomic Props and Effects of St. Paul, Minnesota built an installation that was almost as tall as the building it clung to: an eighty-foot-tall "beanstalk" replica (complete with a carving of fairy tale hero Jack and a house at the top) that curled around two sides of a bank building in New York City's Times Square.
The company coordinated with engineers, permit providers, and city officials around street closings while designing a safe, sturdy prop that met the client's visual expectations. The end-result really managed to put their name out there for the community to see.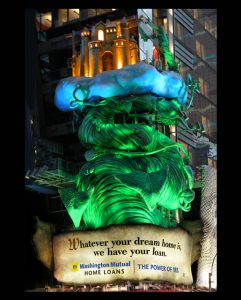 While their projects since then have been more true to life than gigantic, the magic in each of their props and installations often steal the show in public arenas and have allowed this nearly forty-year-old company to grow in bold, new directions.
Atomic Props and Effects was founded in 1980 by husband-and-wife Mike and Patricia Pearson, funded with Mike's final paycheck from his job as an art director at an advertising agency. Today they have grown to a staff of 19, work on 100 projects per year, and generate revenue in the millions.
As is the case with many careers, the Pearsons stumbled into this niche market. "Mike found that he loved to fabricate his own props for photos shoots," says Patricia. "Also his art director contemporaries often asked him to design and make the props they needed.
"When he got too busy to both build and call clients, he asked if I would help out. I didn't know much about building props, but I knew how to talk to people in advertising."
Patricia states that, as with everything advertising-related, "new and never been done," is a hallmark for the industry. She finds that being tied to a business that thrives on uniqueness is both mandatory and exhilarating.
"The market has changed in the same ways most industries have over the past thirty years with the use of computers and new software," says Patricia. "We use that technology in design and fabrication of the props, but just as important, we are integrating technology into props. This gives the user or the customer a new experience that can be shared oftentimes on social media."
The couple used to draw fabrication designs by hand. "That artist may now be working at the computer to digitize the art or program a mill to cut the exact shapes," says Patricia.
Anything carved was once done old school with a block of foam and a filet knife. "We make use of many fabrication modes now—from 3D printing and coding to traditional fabrication techniques like welding and carpentry," says Patricia.
Atomic Props and Effects artists are cross-educated on many facets of this prototype work. "The industry-wide changes make use of technology to surprise, entertain, and encourage engagement with the brand," says Patricia. "We've learned how to integrate technology and re-purpose available elements, along with using traditional skills experimenting with new materials."
The locations where the props are displayed have expanded greatly. "The advertising industry is now taking the brand message to customers when they are out of their homes," says Patricia. "Bus shelters, subway stations, music festivals, malls, airports, and parks are now more typical venues to find our props and 3D displays."
For their client, Madwell, based in Los Angeles, the company created props for transit shelters to promote Verizon Visible, an app-based phone plan. "The transit shelter is a permanent structure that is typically managed by an outdoor company," says Patricia. "They rent out the advertising space to various brands, and in markets where it is allowed, they let brands transform an entire shelter.
"At the end of the advertising campaign, the transit shelter must be returned to its original condition for the next advertiser. We worked closely with the outdoor company to ensure that our props would securely attach to the existing shelter structure, as well as stay within any restrictions they have."
Five unique-themed shelters were fabricated for this campaign, each of which included a special bench seat and custom roof top display that helped identify typical locations where phone signals are challenging to come by. Each shelter featured the interior message applied onto vinyl: "Sign up for phone service from the comfort of your own (fill in the blank) along with the visible.com branding throughout."
The five themes were: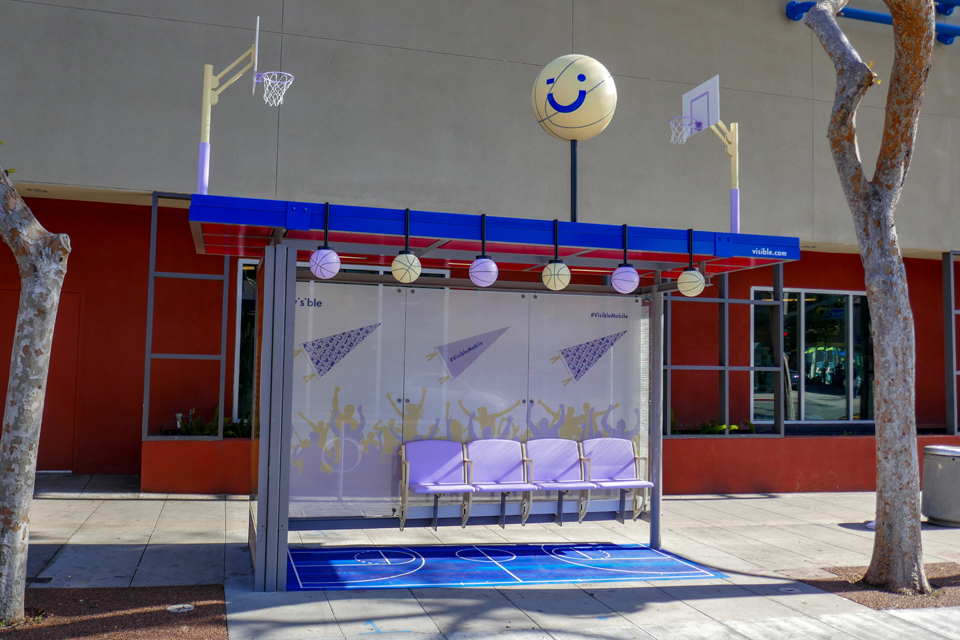 A Campsite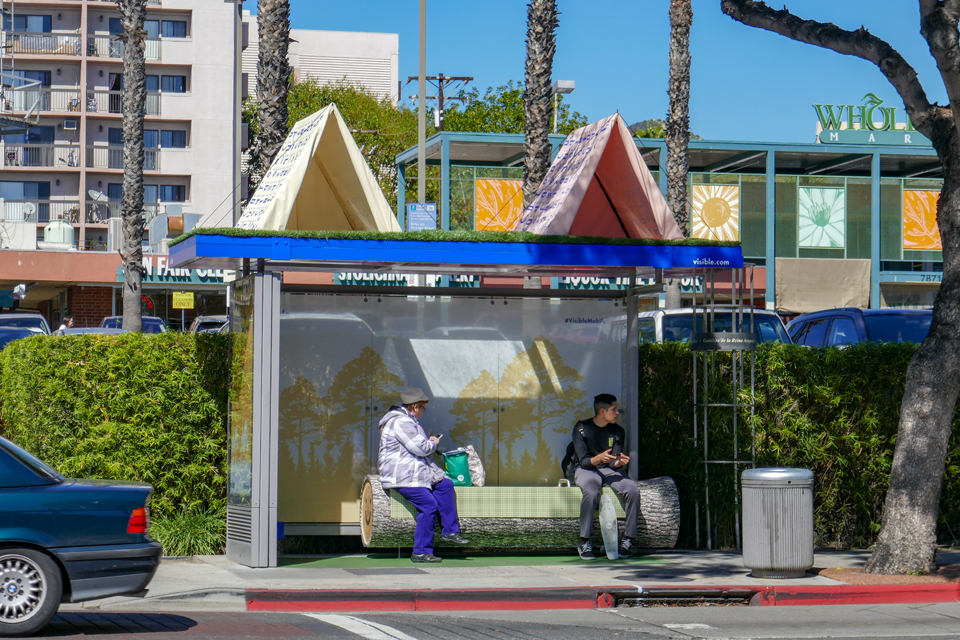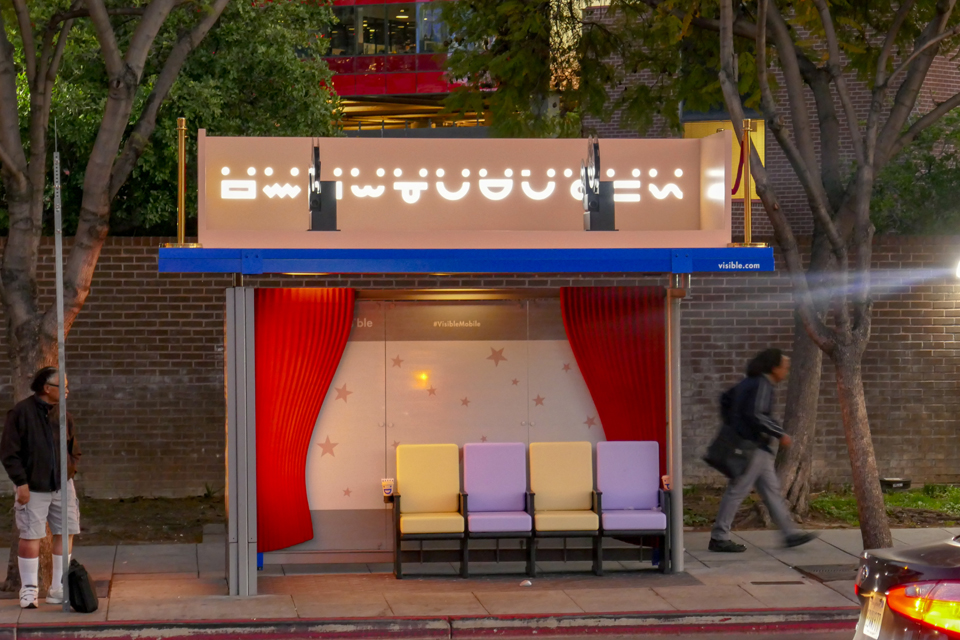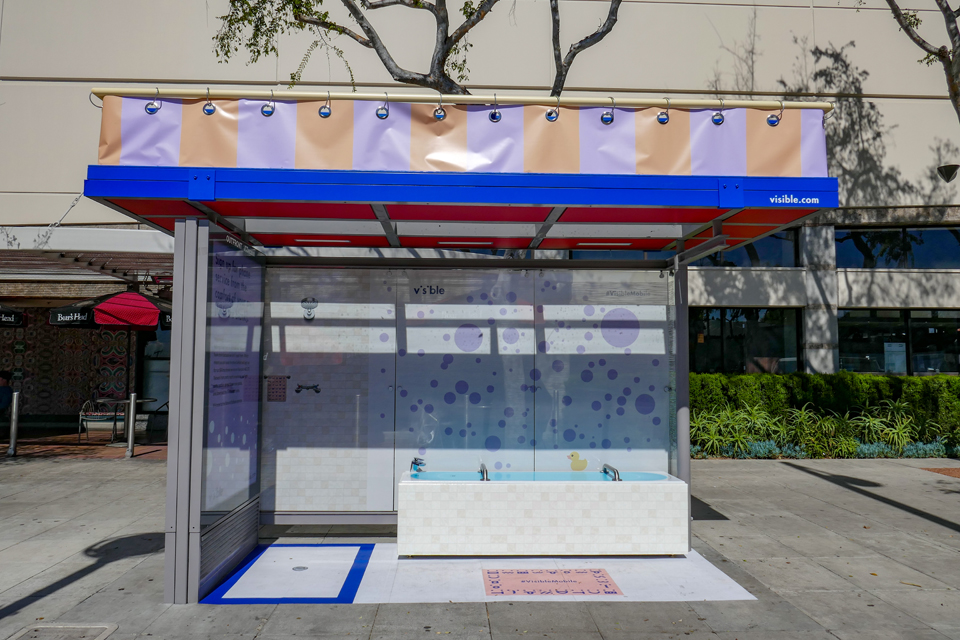 A Ski Lift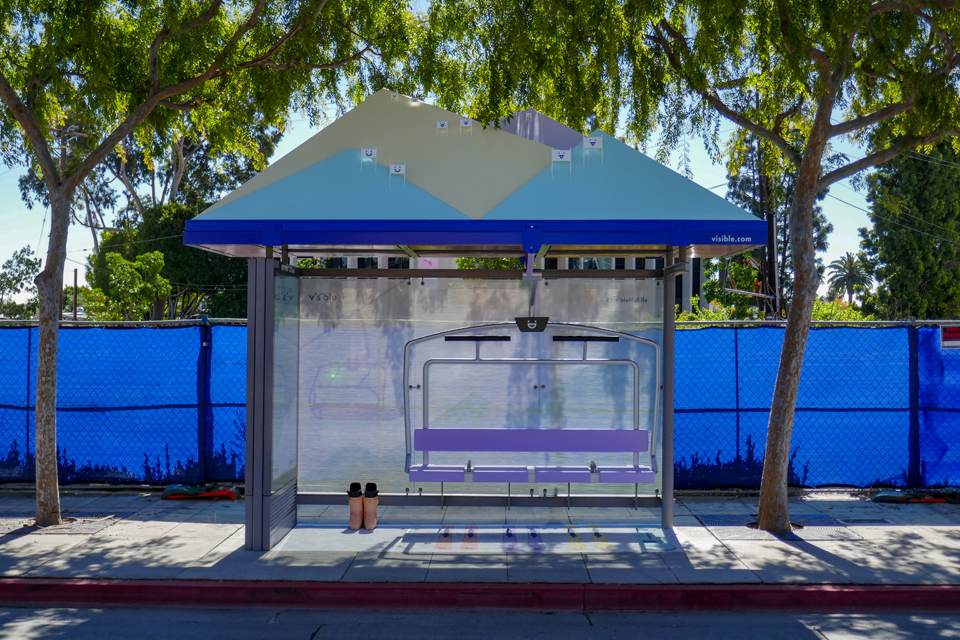 "Prior to beginning fabrication, we created CAD drawings so that everyone is on the same page of what will be fabricated," says Patricia. "We then went into welding the steel framework for the shelter toppers and benches. A combination of foam, sheet goods, paint, and vinyl were used to create each shelter.
"Each prop was shipped with the necessary attachments and instructions to make for a streamlined install."
The company has also been asked to create dimensional and "live" video game characters because the brand wants the fans to be able to engage with them in the world. One such example is Probius the Curious Probe, a five-foot-tall, remote-controlled game character replica from Heroes of the Storm they created and sent to last year's Blizzcon Gaming Festival in Los Angeles.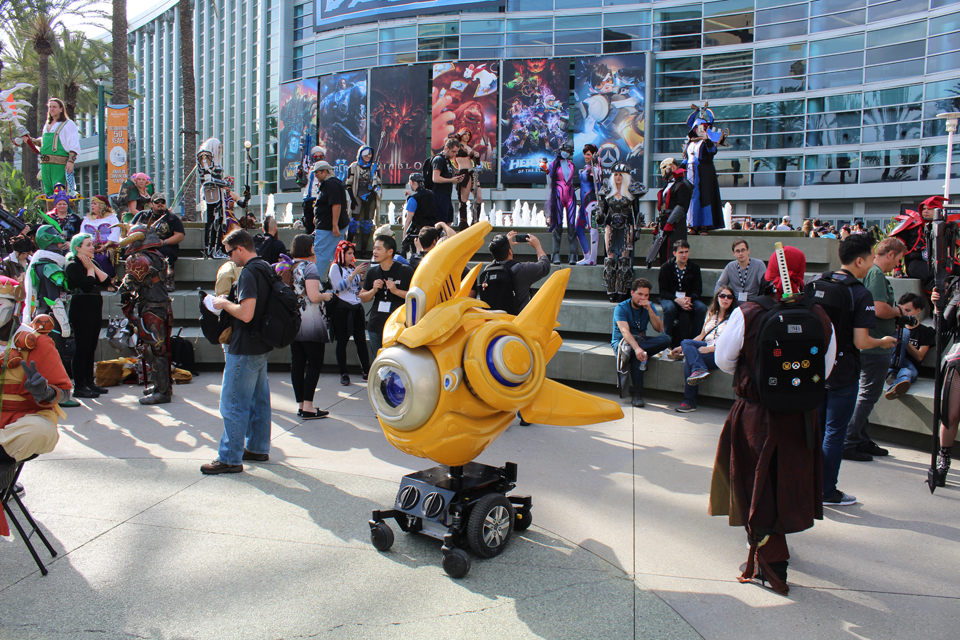 Probius consists of a fiberglass shell, aluminum internal framework, and a base from a wheelchair scooter. "Probius was part carved and part 3D printed," says Patricia. "We received a CGI file and created a solid model of the game character so that we could machine foam molds on our CNC mill. The fiberglass was applied to these molds and then extensively sanded to achieve the shiny automotive finish."
This popular character was integrated with programmable LED lights and sounds downloaded from the game. "The brain of Probius is an Arduino with a custom-coded program that controls light, sound, and movement," says Patricia. The client provided sound files and loaded them onto our program.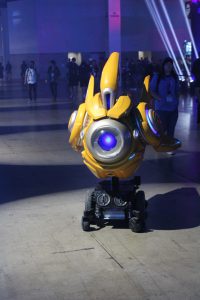 "We created custom lighting to correspond with the sound effects. The light animations were added into the custom program and responded to an Xbox remote."
In addition to triggering the lighting and sound effects, this retrofitted Xbox remote was used drive the character and articulate its head. "We also included a camera for Twitch streaming capabilities that sent a point-of-view, live video stream to the virtual attendees. With all the integration, Probius had a personality and was able to roll through the venue stopping to 'chat' with people along the way. It was a huge hit."
Patricia finds that the most challenging projects for Atomic Props and Effects are those that don't have enough lead time before it's scheduled to hit the streets. "If we take it on, it's typical that we'll have more people fabricating and designing concurrently," she says. "The stress is always around whether or not it will work in the intended manner."
At the completion of the projects, there is no time for a redo. "These projects often will run in tandem with a larger campaign that is quite time-sensitive," says Patricia. "But [our clients] know they can trust us to get it done right, mitigating worry on their end.
From the client side, nearly every client comments on how good the projects look upon installation. "We continuously hear our quality far exceeds their expectations and they know they can trust us to get it done right, mitigating worry on their end," says Patricia. "Our partner installers often comment that our props are easy to install and are built exactly as shown in the CAD drawings, leaving little to no retrofitting on site. Subsequently this saves the client money on install costs."
—Lori Shridhare