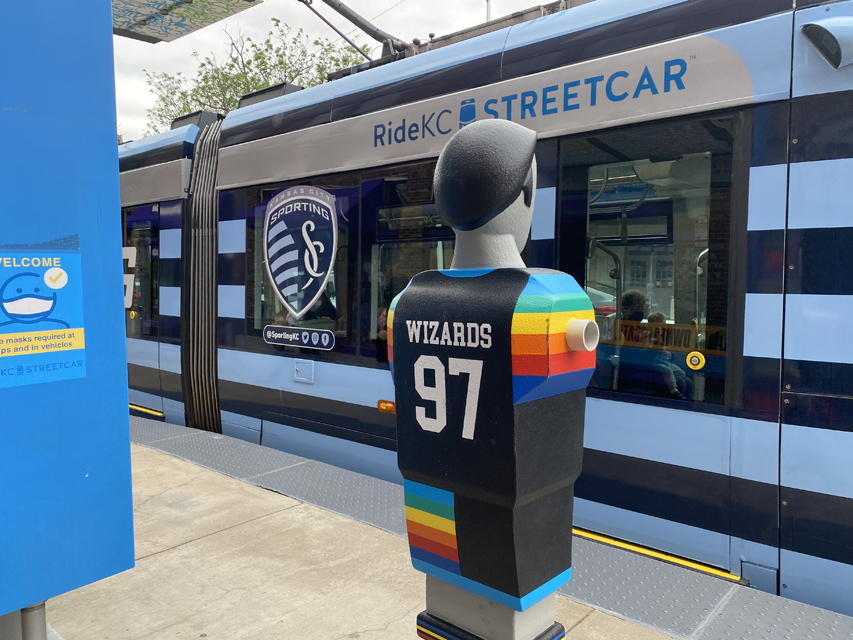 This past April, transit riders at eight stops along the KC Streetcar line in Kansas City, Missouri were greeted by life-sized foosball figures representing Major League Soccer's Sporting KC Club. These colorful sculptures were part of a promotion ahead of the soccer team's first home match with full-capacity spectators at Children's Mercy Park.
Fans were encouraged to visit all the host locations along the KC Streetcar line the day before the big game to scan a photo of the QR Code located on the base of each Sporting KC foosball player in order to redeem exclusive offers from Club partners.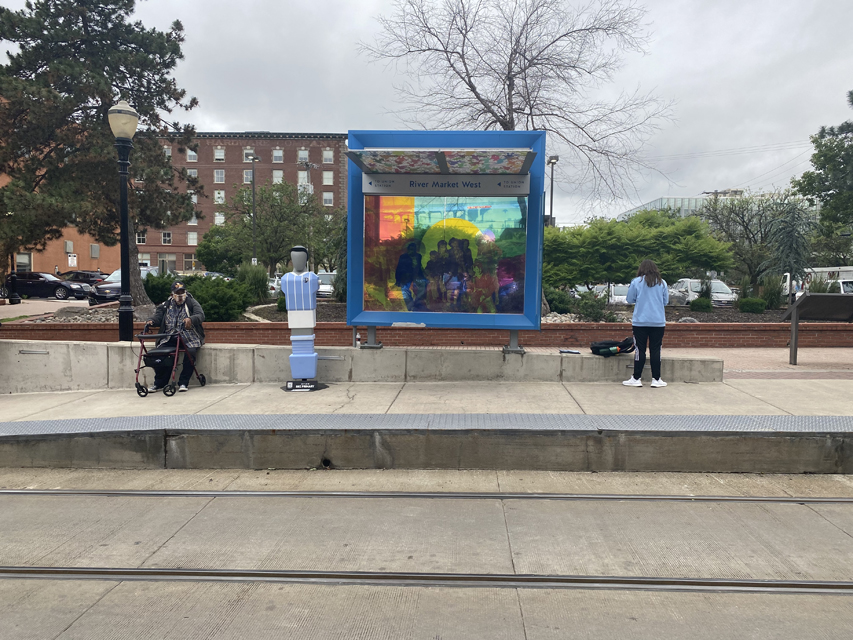 These eleven figures are also a part of Sporting KC's season-long Fountain City Foosball campaign (celebrating the long-time table-based game). Each foosball player-inspired sculpt is decorated with a specific uniform from the club's twenty-six-year history.
Midtown Signs, a full-service sign company in Kansas City, Kansas, took the field to fulfill this sporting project. This sign shop was an ideal choice here since they are always on the lookout to try out new techniques and outside-the-box ideas, plus they have worked with Sporting KC for several years already.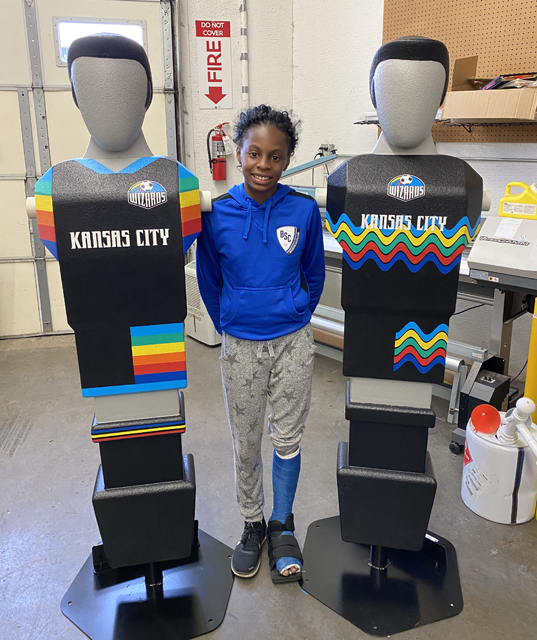 "Sporting KC is always looking for us to make cool signs for their stadium, and they knew we could do something unique for them [with this promotion]," says Dennis Baughman, co-owner of Midtown Signs.
According to Baughman, this project came about because Sporting KC was making foosball beer taps for a new beer they were releasing. Club officials thought that placing these foosball figures all around town would be a way to generate buzz for not only the beverage but also the opening day game.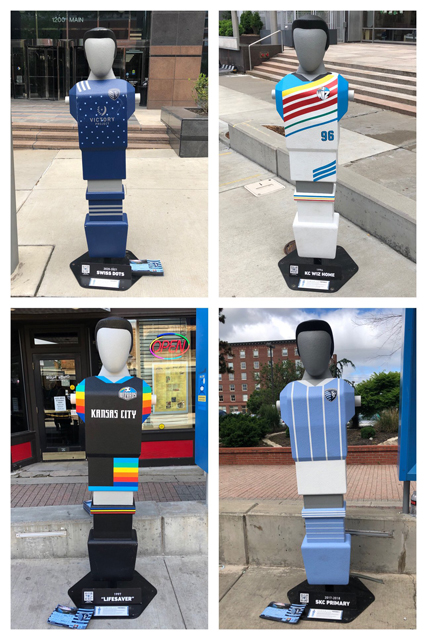 Sporting KC provided Midtown Signs with concept art featuring the foosball players wearing eleven different jersey styles that had been used since the team's inception in 1995. The player number on each figure's back represents the year that the jersey was used.
Midtown Signs Designer/Sign Engineer Jeremy Cadero came up with a 3D model of these figures using Fusion 360 CAD/CAM software. "I designed the sculpted body with a steel pipe through the arms and down through the body into a steel base," he says. "We needed to make sure all the pipes fit snug and were freestanding, if they couldn't be bolted down."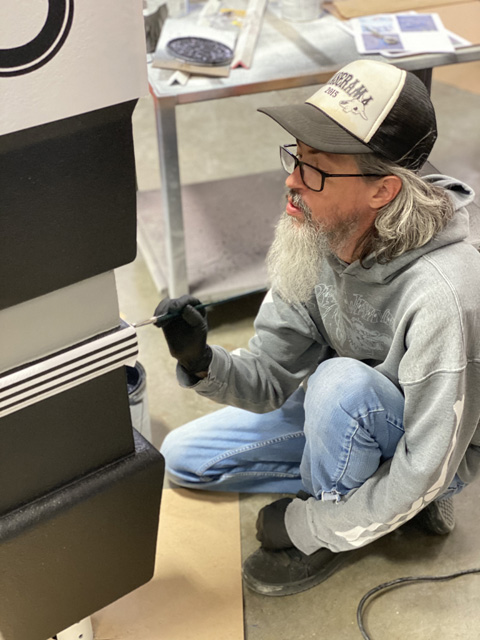 During the project's planning stages, Midtown Signs had to be cognizant of the fact that these figures had to be movable around the city, as needed, by one or two people. Since Sporting KC already wanted the figures to be somewhat lightweight, Midtown Signs knew expanded polystyrene (EPS) foam would be the best substrate here. The company has enjoyed a working relationship with EPS foam supplier and fabricator Signs By Benchmark out of Watertown, South Dakota for many years now and brought them onboard their fabrication team.
Eleven unique foosball figures were made out of one-pound-density EPS foam for this promotion. Each one stands six feet tall and measures twenty inches wide. Midtown Signs was responsible for the base plate and supporting pole, while Signs By Benchmark fabricated the remainder.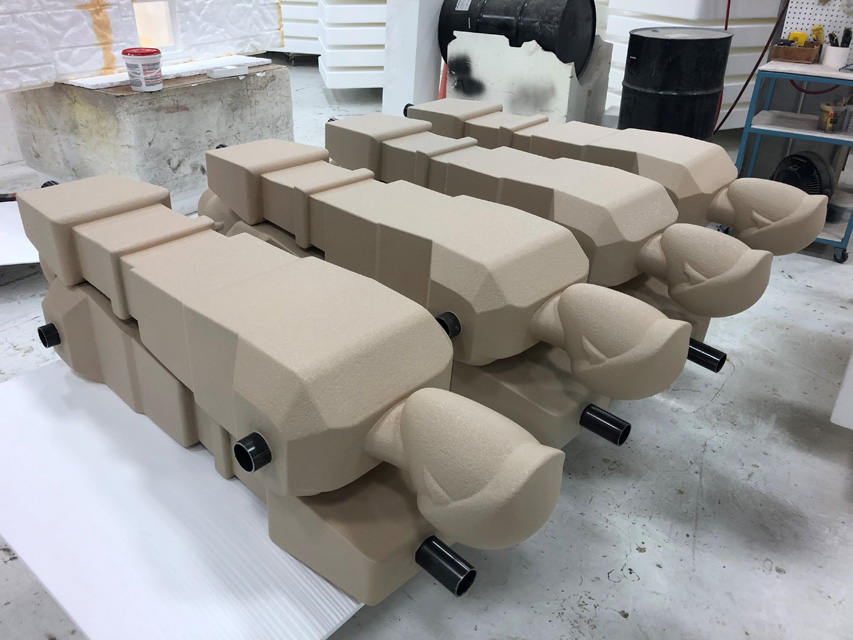 "We collaborated with Midtown Signs on the body and structure of the foosball figures," says Jamie Kakacek, lead designer at Signs By Benchmark.
"Luckily both of us have the ability to work in a 3D environment, so that made creating much easier."
Once Midtown Signs got approvals from Sporting KC, they worked up the 3D models of the upper portion of the foosball figures in Fusion 360 and sent it to Signs By Benchmark for fabrication.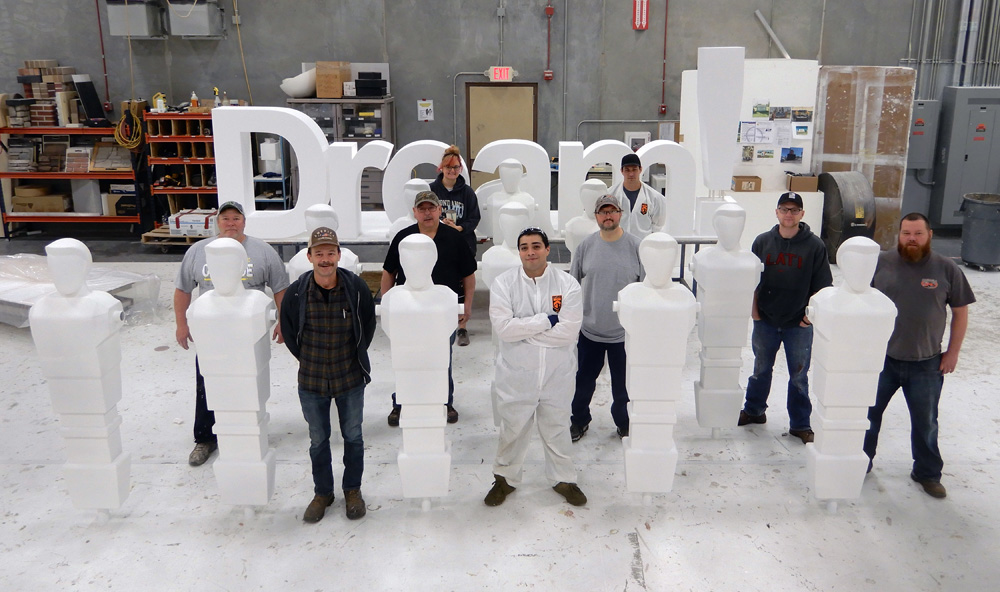 Signs By Benchmark used a combination of CNC hotwire equipment and their MultiCam CNC router. "The head of the figures needed to match existing pieces," says Kakacek. "We were fortunate enough to get a model of the existing piece, which made scaling and cutting much easier."
To help secure the figure onto the pole, Signs By Benchmark pre-drilled holes on the backside of their sleeve so they could be bolted in place.
Kakacek says one idea proposed was maybe later putting the figures together in groups elsewhere, so they pitched installing additional sleeves through the chest in order to connect them like foosball players. "Whether they're used or not, this leaves options open for future installations," he says.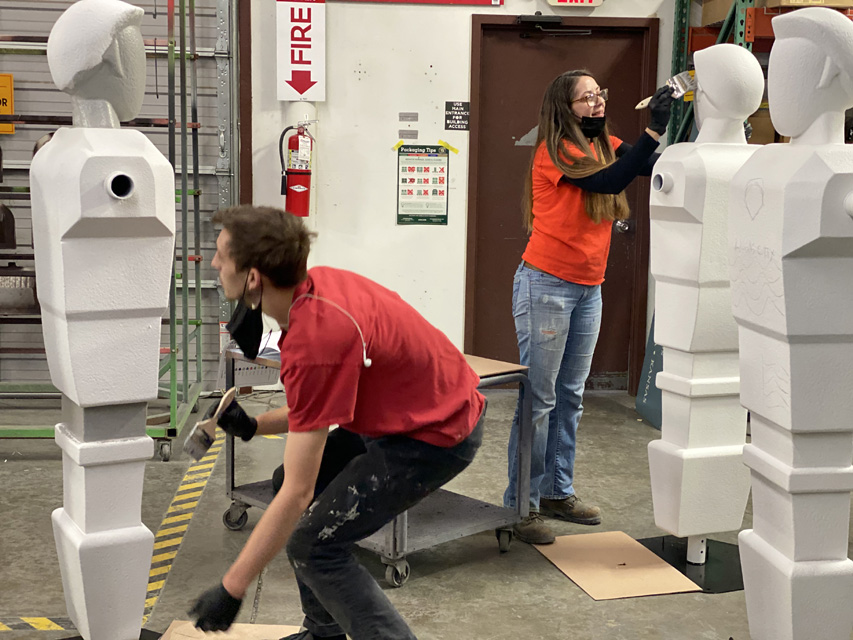 After assembly, Signs By Benchmark coated each figure with their polyurea hard coat and primed it for later painting.
Each foosball figure ended up weighing approximately fifty pounds. "Having to embed a steel sleeve into the body of each figure affected their weight considerably," says Kakacek.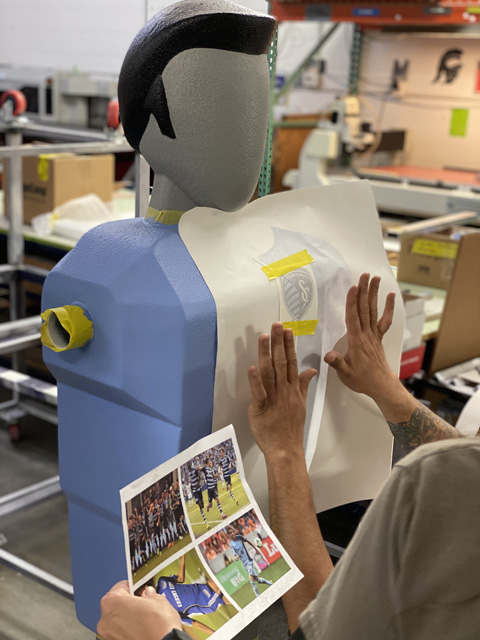 Signs By Benchmark managed to nest all eleven figures into one crate for shipping. Upon arrival, Midtown Signs produced paint masks for them and applied custom-mixed Sherwin-Williams Resilience® Exterior Acrylic Latex paint to decorate the figures. They also added vinyl decals and QR codes to them.
Midtown Signs added mounting holes on the base plates they created so that the figures could be permanently mounted, if needed.
Officials from Sporting KC picked up the eight freestanding foosball figures and delivered them to each location for installation. As mentioned, a central steel sleeve ran up through the center of the body. "All that was needed was to put the base down and slip the Sporting KC foosball figure over the support pole and bolt it to the base plate," says Cadero.
The Sporting KC foosball figures are standing throughout the current MLS season as part of this Fountain City Foosball campaign and are a testament to the creative playbooks that shops can employ to make these types of projects a reality.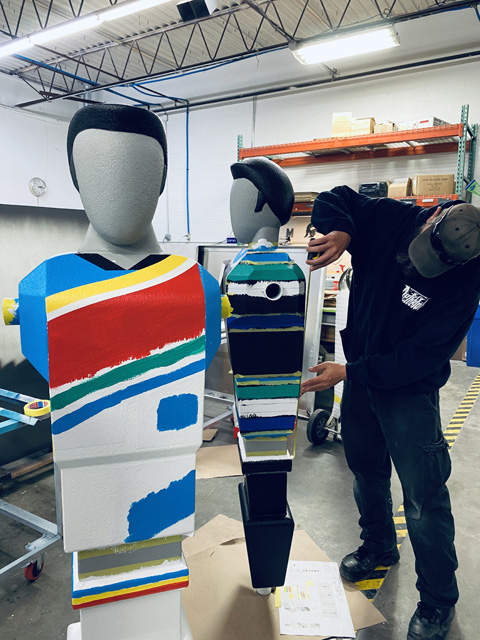 Baughman says this was a fun project for his company to be involved with from concept to 3D to paint. "We would love to make more things like this," he says.
Kakacek adds that this unique installation was one of his favorite projects to work on this year. "These figures embody what's capable with our medium, and I would love to see more of these projects come across our table," he says. "Granted there are some limitations, due to the material and coating process, but many times those limitations can be worked around with minimal changes.
"It's our job to help coach things along so they turn out as intended."
—Jeff Wooten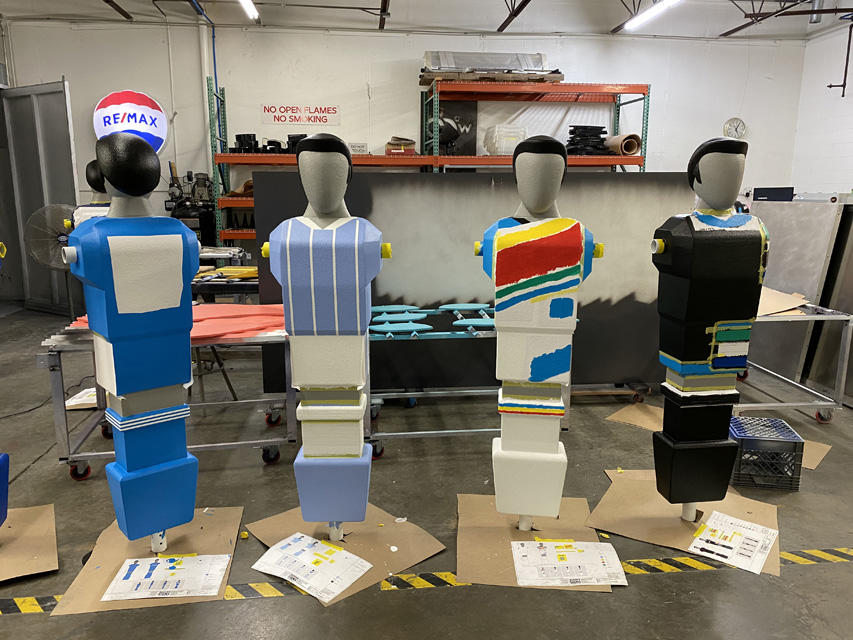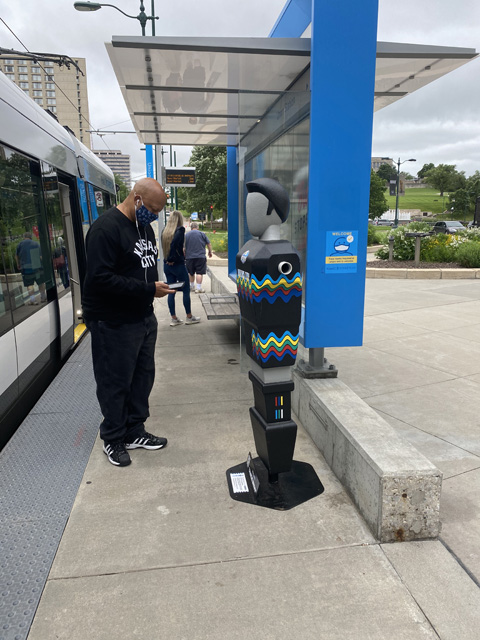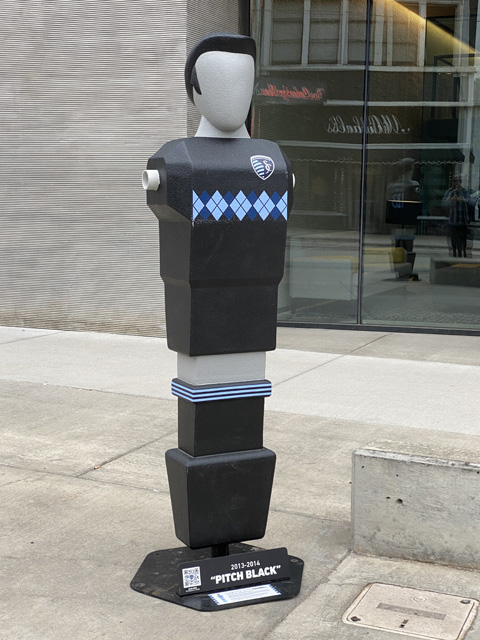 More Videos:
Greeting from the Sporting KC Foosball Figures