Day 2 of the ISA International Sign Expo kicked off on April 8! We covered the highlights of some of the Titan Talks, below.
1. Titan Talk with Samsung's Harry Patz

ISA President Lori Anderson sat down with Harry Patz, Senior Vice President and General Manager, Display Division, Samsung, to discuss the lessons he learned from the pandemic.
Patz had some great things to say:
Coach existing leadership through challenges. Leadership is very important during this time. Hire people for strong leadership qualities as good leaders will be remembered through this. Patz defines a good leader as showing up as their real and authentic self versus a "corporate avatar."
As businesses reopen and learn how to operate in the wake of COVID-19, this time will be a boon for the sign industry, and there will be a great need for signage.
Patz says the pandemic battle tested leadership and businesses, and now it's time to help customers/consumers navigate moving forward.
Corporate business has changed irrevocably and will not return to the way it was. Patz expects employers to no longer require all employees to work in the office—hybrid models and models with more flexibility will become the norm.
2. Titan Talk with NRF's Matt Shay
Anderson also chatted with Matt Shay, President & CEO of the National Retail Federation (NRF) about the outlook for retail and how it could impact the sign, graphics and visual communications industry.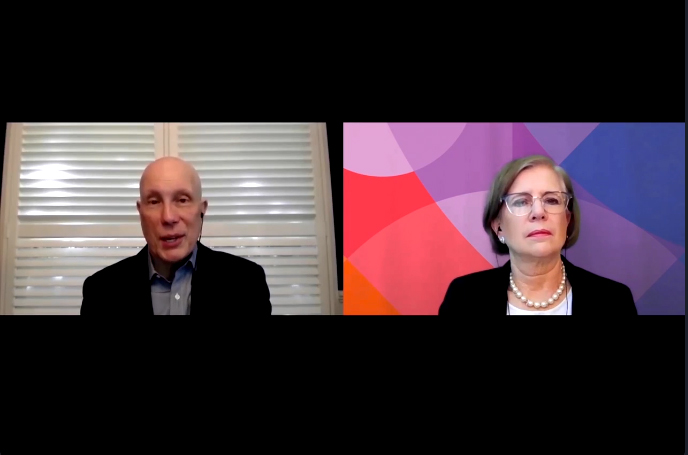 Shay shared a variety of insights:
Businesses found new ways to engage and change through innovation during this difficult time.
Any processes that have eased friction in consumers' lives—such as curbside pickup, online ordering, and improvements in customer service—are here to stay long after the pandemic.
COVID-19 has affected branding and the way retailers speak to consumers. Many businesses acquired new customers during the pandemic, and as a result, have had to rethink their approaches to storytelling and branding.
Shay sees the convergence of multiple channels in the wake of COVID-19, such as between physical locations and virtual/online presences.
Even as we navigate beyond the pandemic, people may be reluctant to return to "normal" right away. As a result, health and safety signage will continue to be important and in use.
Shay says there is too much real estate allocated for the current retail environment, and retail businesses are rethinking the way they're using their locations. Some businesses are partnering with other businesses for stores within stores, some are turning them into distribution centers, etc. This all creates opportunities for the signage market.