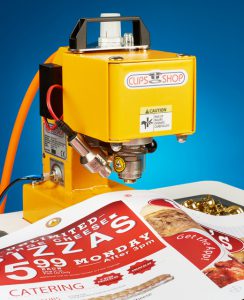 A rugged, portable pneumatic grommet press with self-cleaning dies and a handy slug collection drawer that features a new LED pointer which shows the exact grommet attachment point has been introduced by METALgrommets.com of Dighton, Massachusetts.
The ClipsShop® CS-TIDY-41 Pneumatic Grommet Machine is a compact unit that is designed to accurately attach metal grommets from #XX00 to #5.5 using a foot pedal or a top-mounted push-button.  Fully portable, this lightweight industrial-duty press features a new EyeleD™ pointer to safely identify reference marks or precut holes for rapid alignment.
Consuming very little power and eliminating the health risks and expense of laser-type pointers, the EyeleD pointer is powered by 110VAC or 2 AA 1.5V batteries. The ClipsShop CS-TIDY-41 Pneumatic Grommet Machine weighs just fifteen pounds, has a convenient carrying handle, is powered by standard shop air, and can be setup for right- or left-hand operation. Applications include banners, curtains, draperies, tarpaulins, and more.
The ClipsShop CS-TIDY-41 Pneumatic Grommet Machine is priced from $895.00 (list). A broad range of productivity-enhancement accessories are available and dealer inquiries are invited.
For more information, visit www.METALgrommets.com.