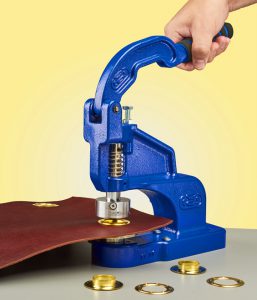 A new, seventh generation metal grommet hand press that is designed for installing grommets into thick leather and similar materials is being introduced by METALgrommets.com of Dighton, Massachusetts. The ClipsShop® CSTEP-2 Hand Grommet Press is portable, easy to operate, and features an ergonomic force-advantaged lever with a comfortable foam handle that creates 1,200 lbs. of attachment force.
Designed to apply large grommets to thick leather and other heavier materials, it has an adjustable bottom stop that prevents over crimping and assures consistent and repeatable grommet applications.
Ideal for low-volume industrial and commercial users, the ClipsShop® CSTEP-2 Hand Grommet Press uses interchangeable self-piercing dies and effortlessly punches X-large eyelets of #7.5 (25 mm), #8.5 (28 mm), and even #12 (40 mm) grommets. The attachment force is 65% greater than other small hand presses, claims the firm. Options include an alignment fixture and an LED alignment pointer.
The ClipsShop® CSTEP-2 Hand Grommet Press is priced from $128.50 (list), depending upon die selection.