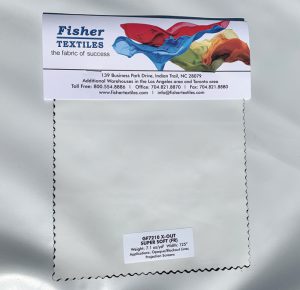 GF 7210 X-Out Super Soft is Fisher Textiles' newest 10-foot-wide, light-blocking fabric liner for pillowcase tension fabric displays and 3-dimensional fabric shapes.
GF 7210 is completely opaque and has a soft acrylic-coated back. It is lightweight (7.1 oz/yd2) and creates a very clean cutting and sewing environment that is dust-free. The fabric is flame retardant and meets NFPA 701 and California Title 19. Sample rolls are
available for testing.
Fisher Textiles is the leading supplier of fabrics for digital printing. For more information, contact Fisher Textiles at 800-554-8886.