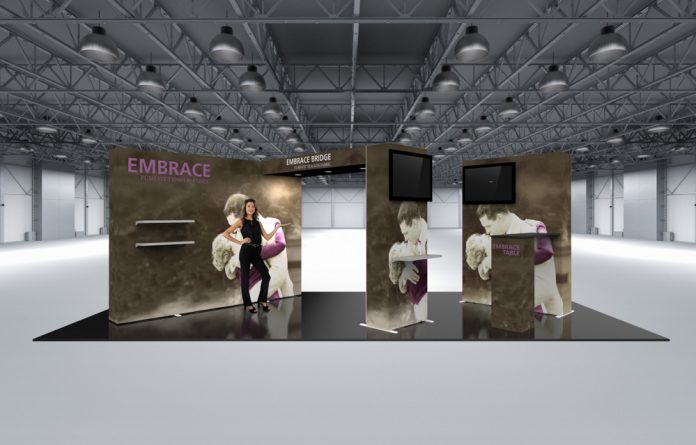 Orbus Exhibit & Display Group®, North America's leading wholesale supplier and manufacturer of display, exhibit, graphic, and event solutions, is thrilled to announce the introduction of over one hundred exciting, new display products including dynamic light boxes, a digital banner, Vector Frame™ hanging light boxes & towers, Embrace™, and Modulate™ accessories, outdoor signs, and more. These impressive new products enhance Orbus' extensive line of portable and modular displays featured in the 2020 Edition of The Exhibitors' Handbook®. All new products can be viewed on the New Product Page of Orbus' online catalog: www.theexhibitorshandbook.com/new-products.
New Dynamic Light Boxes
Orbus introduces over fifteen dynamic and illuminated displays in Vector Frame™ and Formulate® product lines including Formulate Dynamic Backwalls, Vector Frame Essential Light Boxes, Vector Frame Dynamic Light Boxes and the Formulate Essential Backlit Banner that create captivating visual storytelling.
New Hype Digital Banner
Orbus introduces Hype, a sleek and impressive portable Digital Banner features a lightweight frame and LCD screen, designed for digital promotion and advertising in interiors, at events and tradeshows.
New Vector Frame Hanging Light Boxes & Towers
The Vector Frame line of Modular displays now includes twenty Hanging Light Boxes and twenty-four Towers, offering standard, illuminated, and monitor mount display options. Vector Frame displays feature seamless, push-fit graphics and easy-to-assemble aluminum frames.
New Embrace & Modulate Accessories
Orbus' popular Embrace collapsible and Modulate fabric display lines now include a number of accessories to add even more functionality and features to the displays. Accessories include Embrace Bridge, table, shelves and monitor mounts, and Modulate ladder accents.
New Outdoor Sign Solutions
Many new, versatile outdoor signs have been added to Orbus' vast range of outdoor displays including Contour, contour-cut signs available in six shapes and two base options, Twirl (a display that twirls in the wind), Swing, and Ace-2 sidewalk signs. A new tent lighting kit is also introduced to illuminate tents after dark!
Orbus is a proud member of ISA, SGIA, ASI, PPAI, UPIC, and SAGE; the company boasts G7 Master IDEAlliance certification, and is registered to ISO 9001:2015 for the highest manufacturing quality standards and ISO 14001:2015 for its environmental management system and "green" efforts.
Orbus' supply and manufacturing facilities reside in Woodridge, Illinois and Las Vegas, Nevada. For more information, visit www.orbus.com.
—Press Release