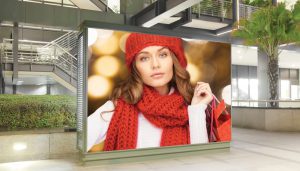 Printed fabrics offer an unparalleled opportunity to combine vivid, durable, high-quality graphics with incredible versatility, in turn allowing them to be used throughout many indoor environments.
Increasingly high-end clients are turning to fabric graphics providers for a wide variety of projects. These high-end applications can be extremely lucrative business for sign shops able to provide upscale fabric graphics that not only look great but also meet these customers' needs.
"Fabric displays, structures, and backwalls are used prominently in tradeshow and exhibit spaces, as well as many other interior environments such as retail, hospitality, medical, entertainment venues, and more," says Alex Frederick, marketing supervisor at Orbus Exhibit and Display Group. "These displays also provide an excellent opportunity for businesses to switch out branding or messaging as needed."
According to Nelson James, COO of Signs.com, fabric materials are also perfect for indoor pole banners—similar to the ones you see on a light post or telephone pole. "They can also be hung from rafters in sporting arenas or used as a backdrop for a photoshoot or a red carpet event," he says. "Table runners—graphics that are placed on top of and hang over tables—are typically made of fabric."
"Fabric is the media of choice for silicone edge graphics (SEG), tension shapes, stadium wraps, step and repeats, translucent banners, and feather flags," says Sharon Roland, director of marketing at Fisher Textiles. "They introduce the sense of touch and have a much more luxurious appearance than vinyl and foam board."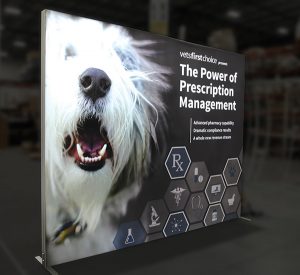 Eric Tischer, president of Verseidag US, agrees, "Fabrics offer a softer, more natural look than their rigid and vinyl counterparts, and a number of today's widely used graphics applications are actually much better suited for fabric.
"[And] being able to fold the fabrics without damaging the print also improves logistics and lowers shipping costs compared to rigid substrates or products that need to remain rolled to avoid damage."
Frederick explains fabric displays are also well suited to be adapted for specific needs. "For example, fabric kiosks and iPad stands are the perfect solution for self-check-in stations," she says. "Fabric hanging structures are ideal for visual labeling and separation in grocery or retail environments and over product displays.
"Fabric backwalls and banner stands can be combined to make impressive displays that serve to promote, advertise, and add artistic shapes and functionality. A good venue for this would be at movie theaters."
Printing Onto Fabrics
Applying images to fabric, rather than vinyl substrates used for many other signage applications, requires a different process. Although multiple techniques can be used to print fabric graphics, some methods are far better suited to high-end applications than others.
"Vinyl products are typically printed with UV, solvent, eco-solvent, and latex inks," explains Mike Compton, product marketing manager for Top Value Fabrics. "Fabrics are mostly printed with water-based dye sublimation or direct disperse inks on polyester because they offer vibrant color, light-fastness, no odor or harmful chemicals, as well as excellent crock (rub and abrasion) fastness and wash-fastness. Polyester fabrics also mimic fabrics such as cotton, silks, sheers, and others that are tastefully printed."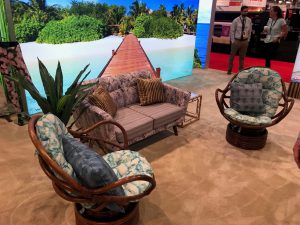 "The most durable and wash-fast method to print fabric is through dye sublimation, where the graphics are printed on paper then put through a heat transfer machine against the fabric at extreme temperatures," says Roland. "The ink from the paper turns into a gas and sublimes into the fiber of fabric where it turns back into a solid."
Printing fabric graphics using dye sublimation inks allows a sign shop to print a wide range of vivid colors and high-resolution images for high-end clients that will hold up well and retain the soft feeling of the fabric substrate, introducing the sense of touch to the graphics experience.
"Scratchability and color vibrancy are best too because the print is ingrained into the fabric, although other technologies are making advancements to rival sublimation's results," says Roland.
Tischer says, "Dye sublimation inks are often used with fabric graphics, due to the vivid colors the output provides, along with the hand of the fabric remaining the same as its original soft hand. These advantages allow print providers the opportunity to customize displays with numerous shapes and stretch characteristics without damaging the graphic.
Shining a Light Onto Fabrics
Meanwhile indoor environments—especially higher end ones—make extensive use of purposeful lighting to direct attention or create a desired ambiance. Fabric graphics incorporated into such environments can be made even more impactful by incorporating lighting into the display, and there are many options that can be used to fit the application.
"Lighting has become an important factor in interior graphics; this is especially true of backlit graphics with LED light sources that can be dimmed for environmental esthetics as well as various color hues that can accent color chosen by the client," says Compton. "The same is true of front-lit graphics, as many museums, art galleries, and interior design firms choose various LED light sources.
"LED lights provide archival quality for prints to keep them from fading and to enhance color in printed graphics."
According to Frederick, illuminated and backlit fabric displays are extremely popular because they make these already impressive displays stand out even more. "Dye-sublimated graphics [already] create realistic, color-rich visuals," she says. "Adding lighting to this sort of display makes the colors 'pop' and draws attention to the messaging."
Conclusion
"Time and again, we see customers who buy fabric for the first time who are blown away by the combination of versatility and print quality that results in a fantastic display option for them," says James.
Compton advises to consult with fabric suppliers when choosing the best fabrics for your interior design and printing solutions. "This is an extremely fast-growing market and opportunity for print providers," he says.
By Jim Cirigliano
Photos (top to bottom): Fisher Textiles, Orbus, Top Value Fabrics, Fisher Textiles