By Ashley Bray
This past July, women-owned and Chicago-based hard kombucha company Luna Bay Booch opened a seasonal pop-up located at 160 N. Morgan in the Fulton Market area of Chicago.
Luna Bay Booch is a naturally brewed hard kombucha (a fermented black or green tea drink) with wholesome, ethically sourced ingredients. It is vegan, gluten free, low in sugar, and naturally fermented to 6 percent.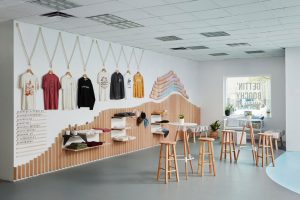 The female-owned brand was started and is run by a team of women passionate about wellness, adventure, community, and fun—all of which can be found at the new pop-up.
Officially dubbed the "Boochquarters," the 2,600-square-foot pop-up space, scheduled to be open through the end of the year, includes a custom bar, merchandise displays, photo ops, lounge areas, working and collaboration spaces, and a variety of events on nights and weekends.
To welcome guests to the new pop-up, the outside of the building is attention-grabbing as well, thanks to a giant, colorful mural painted on the exterior of the building.
To make both the interior and exterior of the pop-up a reality, Chicago-area experiential producers Groundswell Experiential brought on multidisciplinary design and fabrication studio AllKinds, which is also located in Chicago.
AllKinds specializes in the creation of custom art installations for events, interiors, brands, and movements. As its name implies, the company uses all kinds of materials and techniques—from metals, clay, and paint to laser cutting, 3D printing, and more.
"We thrive on creating unique and clean-looking, but technical, pieces of art," explains Crystal Hodges, founder of AllKinds.
Hodges's company also values sustainability and makes every effort to use salvaged materials in its designs. At the completion of a project, it aims to repurpose, recycle, or donate as many materials as possible.
"We value sustainability, and we are trying to improve our own environmental footprint and be more conscious every day while creating our beautiful and expanding portfolio of work," says Hodges.
Like Luna Bay, AllKinds is also a women-owned business, so Groundswell felt they were the perfect fit to take on this pop-up project. Groundswell had also worked with AllKinds pre-pandemic and liked the design work the studio did.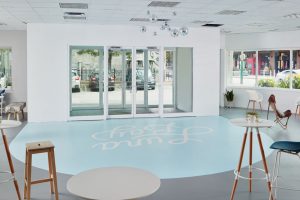 AllKinds handled the entire buildout of the pop-up's interior—designing and fabricating everything in-house—which included a number of visually interesting displays and elements.
Visitors to the pop-up are welcomed by a number of vinyl features including window graphics and a large floor graphic at the entrance that says "Luna Bay" in white script on a light blue background. The floor graphic was created using ORACAL Oramask stencil vinyl.
AllKinds also designed and built a custom bar for the pop-up that used simple materials like plywood and a faux-handmade terrazzo top. The front of the bar was handpainted with the words "Luna Bay."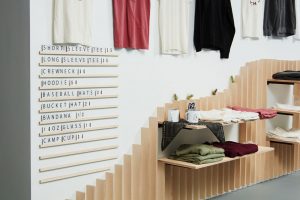 AllKinds prides itself on taking everyday objects and transforming them through extraordinary techniques to create custom works of art that are innovative, elevated, contemporary, and timeless. This technique was at work on the Luna Bay pop-up through a collection of interesting architectural design elements.
Features include a swooping rope installation on the ceiling above the bar, an illuminated wall sign spelling out "Luna Bay Booch" using LED rope, and a series of built millwork features highlighting the merch wall.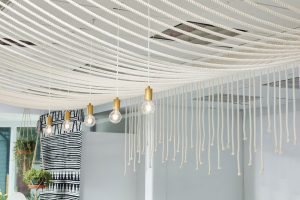 For the mural on the exterior of the building, AllKinds created a design inspired by Luna Bay's unique flavor profiles as well as its playful branding and company culture.
"We aimed to mix all of these elements into the mural so passers-by would know they are entering a playful, happy, and healthy space," explains Hodges.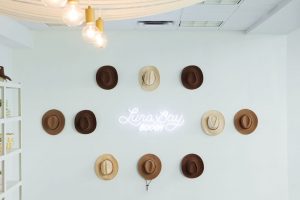 AllKinds laid out the design in their Illustrator program, which incorporates green leaves, colorful fruits (like lemons, blueberries, and oranges), and the name "Luna Bay."
When the design was complete, AllKinds projected it onto the building at night and traced the elements. They filled everything in by hand during the day using exterior latex paint.
"We brought our scaffolding and a couple ladders on site to reach the highest points, [and we used] a mix of rollers and brushes and of course—the human eye!" comments Hodges.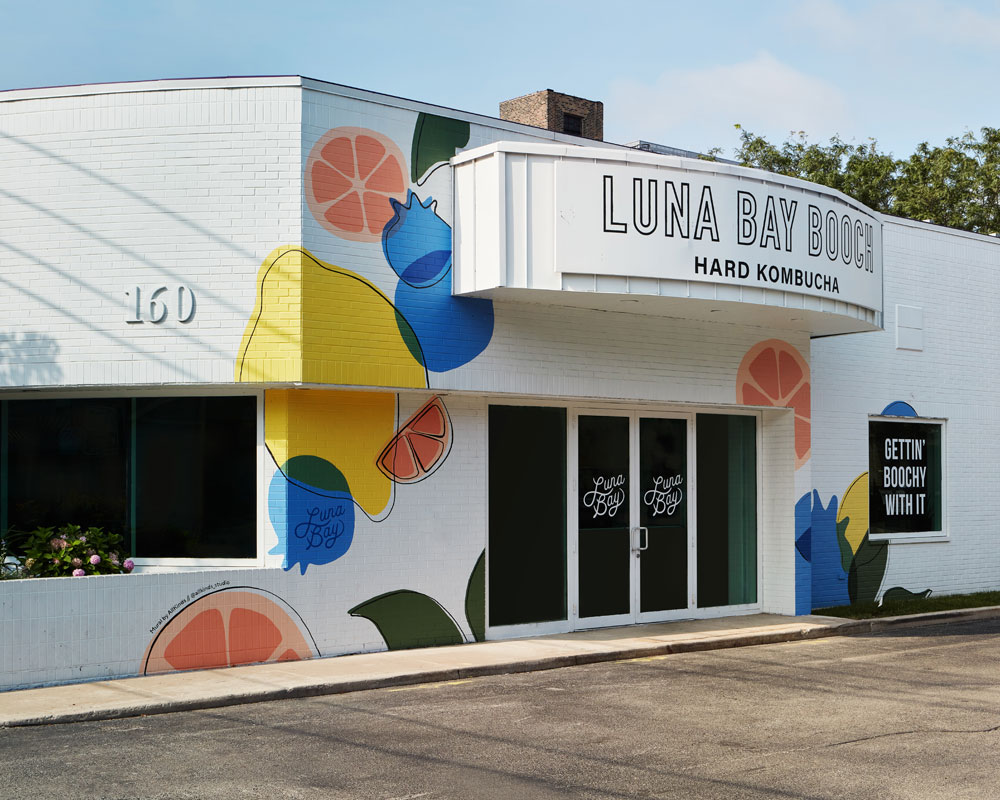 In total, it took about a week to complete the mural, as some rain delayed the schedule a bit. "[It was] nothing we couldn't work around," says Hodges.
The project was an especially important one for AllKinds as it was helping another women-owned business.
"It is inspiring to meet other female identifying business leaders and minority-owned businesses," states Hodges. "We will continue to find ways to support each other and grow these networks; it is truly a continual effort to put thought into how we can do better, be more supportive, and work towards a more equitable future for women, minorities, artists, and others.
"It means a lot to me as a business owner, as a mother, and as a leader of a team of talented women to continually broaden our opportunities and keep growing together."