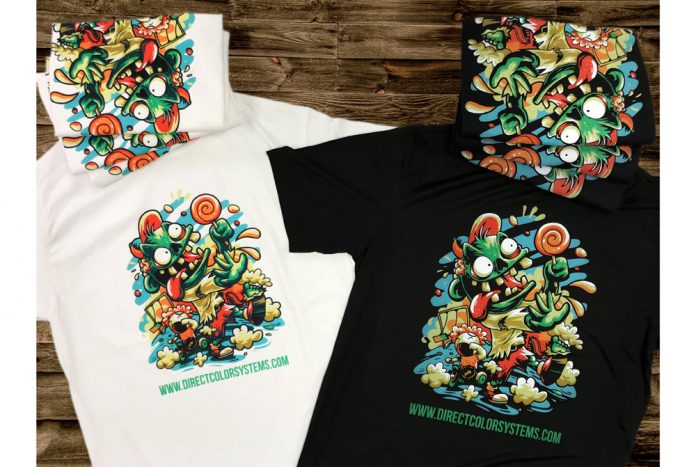 Building on their patent-pending DTG application with UV LED ink, Direct Color Systems® further refines this ground breaking combination of UV print technology, ink formulation, and process steps with the F6T white ink. Used in conjunction with standard F6 CMYK+Cl inks and compatible F6T Edition Direct Jet UV LED printers, operators are relieved of the task of using harsh chemical pretreatments for dark garments, both synthetic and cotton. The process steps are timesaving, simple, and easy to follow.
"Not only does this release continue to build our momentum in the competitive DTG market, but it also provides another application, or avenue, for our smaller customers to expand their product offerings with a UV LED printer. They can easily go from ADA-compliant/Braille signage and bottles to wall décor and t-shirts with a single piece of equipment," says Matt Sands, product manager for DCS. "A lot of hard work and testing went into this release and we are proud of it. We are really excited about how the F6T white ink performs in the DTG arena and with rigid materials as well—a wonderful combination."
Just like the IRF4 and IRF6 inks that came before it, the F6T white ink is complete with CPSIA test results. For the purpose of this testing, DCS provided cured swatches of IRF6T white ink and cured IRF6T white ink printed to a black Gildan, OEKO Tex certified shirt. Please visit www.directcolorsystems.com for complete CPSIA test results or to request a sample.