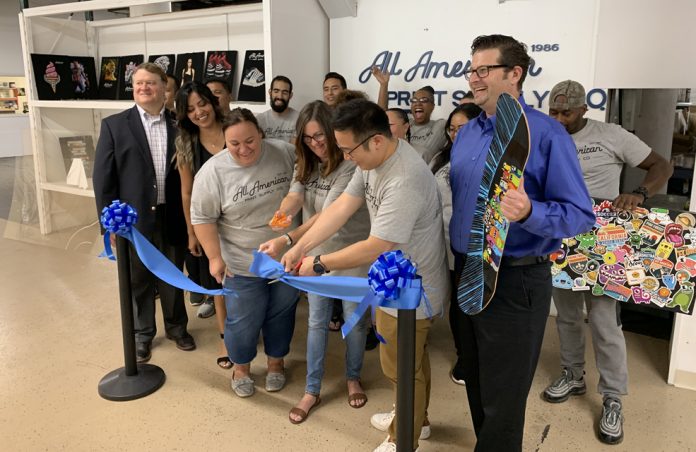 Epson has announced that All American Print Supply Co., has opened its Epson Certified Solution Center in Philadelphia. The Solution Center will showcase the comprehensive portfolio of Epson printing solutions, including its direct-to-garment solutions, allowing All American to create a space for its customers to receive hands-on demonstrations, engage with product experts, view creative print applications, and run test prints using their own files.
"All American prides itself on being one of the most experienced and knowledgeable suppliers in the DTG industry," said John Meyer, director of sales, Wide Format Channel, Epson America Inc. "The addition of the Epson Solution Center brings further opportunities for All American to offer in-depth demos and showcase cutting-edge applications to its customer base."
This new Epson Certified Solution Center is located at All American's offices in Philadelphia. It will provide customers with an immersive experience, including:
Full suite of SureColor® production equipment
Extensive print samples and applications
Comprehensive customer training opportunities
"We are dedicated to offering a high level of customer service and on-site training," said Jason Kim, marketing director, All American. "Installing this Epson Solution Center allows us to deliver on those promises and further hold true to our motto of 'your success is our success' for our customers, which is the most important aspect of our business."
The Epson Technology Center showcases unique Epson printing solutions and applications, and provide a comprehensive, hands-on experience for customers and dealers with the full Epson wide format printing portfolio. For additional information or to schedule a visit at the new All American Epson Certified Solution Center, visit https://dtgmart.com/.
About All American Print Supply Co.
Since 1986, All American Print Supply has been a provider of printing equipment and supplies to various industries around the world. All American is one of the largest suppliers in the DTG industry and is known to be the most experienced and knowledgeable. For additional information, visit http://www.aaprintsupplyco.com.