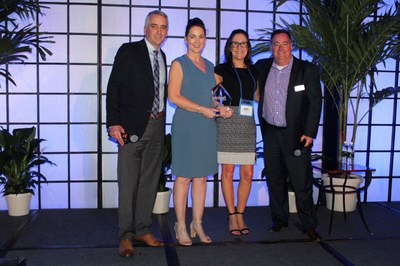 Canon Solutions America, Inc., a wholly owned subsidiary of Canon U.S.A., Inc., proudly celebrates being named Company to Watch at the 2019 Inkjet Summit. The annual Inkjet Summit, held this week at the Ponte Vedra Inn & Club in Ponte Vedra Beach, Florida, is designed for senior managers and business executives in the print production industry who want to better understand how current and future inkjet production printing technology, software, and solutions will impact their business and investment decisions.
The three-day summit consisted of keynote presentations, interviews, panels, breakout sessions, case study presentations, and networking events. The Company to Watch award was voted on by summit attendees out of more than fifty eligible sponsor companies.
"We are honored to receive this recognition by the hosts and attendees of the Inkjet Summit," said Francis McMahon, Executive Vice President, Production Print Solutions, Canon Solutions America. "There's an exciting future ahead for inkjet and we are pleased to have had the opportunity to provide our customers and prospects with insights and information that may help influence their investment decisions around digital printing and production. It means so much to us that the summit attendees voted for Canon Solutions America for the Company to Watch award, based on our overall presentations, case studies, and 1:1 interviews. Thank you to NAPCO Media, Printing Impressions, and In-plant Impressions for another productive summit."
"At the Inkjet Summit, our goal is to bring printing professionals and company executives together with leading analysts and suppliers to discuss the latest trends, challenges, and opportunities for businesses across all industries to stay ahead of the curve with the advancement of technology," said NAPCO Media Executive Vice President & Inkjet Summit Event Director David Pesko. "Continuing to innovate is the key and this year Canon Solutions America earned the Company to Watch award for their efforts to further advance their solutions. We look forward to seeing what's ahead for the production inkjet market."
For more information, visit http://csa.canon.com.
—Press Release