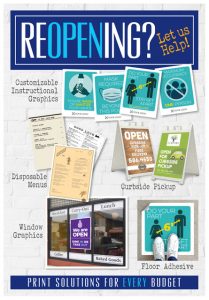 As businesses settle into their "new normal," many have had to implement several changes to ensure the safety and well-being of their customers. One company in particular that is here to help during these unprecedented times is Canon's customer City Blue Imaging, located in Rochester, New York.
The New York State Finger Lake region, which includes Rochester, has currently entered Phase 3 of the reopening period, and with that, several businesses like food and personal care services can now open their doors with ample safety and precaution. To support their reopening, City Blue Imaging is producing signage and wall coverings designed with COVID-19 safety regulations in mind utilizing Canon's imagePRESS technology. Offered in a variety of sizes and papers, including self-adhesive, these printed materials have helped encourage customers of local businesses, as well as hospitals, to be aware of safety protocols upon entering.
"As our local businesses prepare to reopen, we saw the need to develop signage to help keep customers aware of safety regulations and made the quick decision to use our expertise and technology to design banners, posters and wall decals for these businesses to display," said Mark Cleary, president, City Blue Imaging. "This would not be possible without Canon's support—through the imagePRESS's fast speeds and high-quality output, we have been able to quickly meet the needs of our community and its cherished businesses as we begin to get back to a sense of normalcy."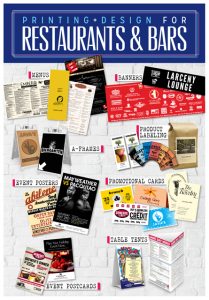 These challenging times have enabled companies to think creatively and develop new applications to meet customer needs. With Canon's imagePRESS technology, City Blue Imaging has also been able to support their customers from traditional sign and banner printing to creating synthetic, or high quality, disposable menus specifically to support restaurants as they reopen. The synthetic menus are water resistant, allowing them to be easily cleaned.
City Blue Imaging is currently offering next-day shipping to further help companies as the demand for proper signage can be vital upon reopening. To learn more, visit here.