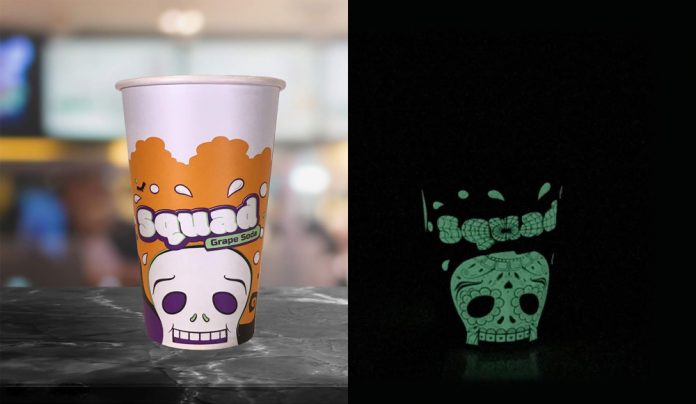 With growing interest from the world's largest consumer packaged goods (CPG) brands for customer-engaging glow-in-the-dark (GID) inks on food and beverage packaging, CTI (Chromatic Technologies Inc.) has introduced its highly anticipated water-based GID formulas for paper and film substrates.
CTI's new water-based GID inks offer an alternative that's as easy to print and that glows as strongly as UV or solvent ink systems. A single print station with a 10-13 (BCM) anilox allows print operators to deliver the same glow strength as CTI's solvent-based GID ink.
"It's a real break-through that converters have desired for years," says CTI Chief Technology Officer and Founder Lyle Small. "Conventional wisdom says that phosphorescent pigments and water-based vehicles don't go together very well. We are pleased to offer a product that goes against the conventional wisdom and performs so well."
CTI's R&D team developed two formulas—one for paper substrates such as QSR cups and secondary packaging, and another for film substrates typically used in food package laminated structures. Both have great laydown and no "hard settling" in the container when handling guidelines are followed.
For a limited time, CTI will support press qualifications with free water-based GID ink for select customers.
For more information, contact CTI.
CTI is the world's largest supplier of smart, specialty, color-changing technology that responds to temperature, light, and pressure. The company pioneered the industry's best GID ink formulas, available in Metal Deco, UV Flexo, UV Screen, UV Wet and Dry Offset, High Speed Solvent and now Water-Based Flexo, and Gravure.
Known worldwide as the technology company that makes the mountains turn blue on every chilled Coors Light aluminum can, CTI offers a full range of thermochromic, photochromic, fluorescing, and pharmaceutical cold-chain technologies, all delivered through commercial printing inks.
—Press Release