FuturePrint has provided further details on the upcoming Leaders Summit, taking place 23-24th March 2021. The virtual event is dedicated to leadership, vision and inspiration for the future of print technology, and will feature global leaders from industrial, packaging and labels, commercial, and wide-format printing sharing their insights and perspectives as we prepare for the next stage.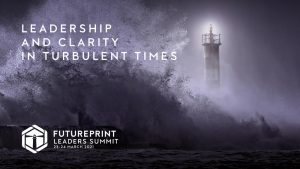 View the full schedule here.
As well as leading C-Level executives, the event also includes two powerful keynote sessions, with Simon Burton's inspiring 'Storytelling for Business' and leading behavioural economist Roger Martin-Fagg delivering a session focusing on 'Getting Ready for the Coming Boom'.
Marcus Timson, FuturePrint co-founder, comments: "When we made the initial decision to co-ordinate virtual events at the onset of the COVID-19 pandemic, it was in part due to a lack of leadership, and the FuturePrint Leaders Summit is the culmination of that desire for clear direction in the industry. If you're someone with a vested interest in the future of print, this event is sure to inspire you and help equip you for what's to come.
"The speaker line-up itself is so impressive – it's not often that we get to the opportunity to take advantage of wisdom and acumen from print leaders at the very top, particularly one where anyone and everyone can enjoy the content for free, and we're proud to be providing that platform."
Leaders Speaking Include:
Christoph Gamper, CEO, Durst
Martin Schoeppler, CEO, Fujifilm Dimatix
Gary Falconbridge, CEO, Colordyne Technologies
Jean-Pascal Bobst, CEO, Bobst
Mary Ann Rowan, CXO, Solimar Systems
Bill Cortelyou, CEO, Phoseon Technology
Christian Compera, General Manager, Ricoh Industrial Print Global
Thomas Kirschner, CEO, Colorgate
Pascal Juery, CEO, Agfa
Simon Biltcliffe, CEO, Webmart
Mike Rottenborn, CEO, Global Graphics Software
Dr Rene Pankoke, CEO, Hymmen
Ford Bowers, CEO, PRINTING United Alliance
Frank Mallozzi, Chief Revenue Officer, EFI
Nova Abbott, CMO, Kavalan
Mark Bale, CEO, DoDxAct
Dave Tomer, GM, HP
Anthony Carignano, Director, ACTEGA North America Technologies
Richard Darling, Strategic Sales, Ricoh
Ken Stack, President, Proximus
Simon Burton, CEO, Exposure
Peter Bergstein, CEO, Bergstein
John Mills, CEO, Xaar
Roger Martin-Fagg, Economist
Peter Wolff, VP, Canon Europe
Peter Gunning, CEO, Nettl
Robin East, CEO, CMYUK
Steve Wood, Commercial Director, Fujifilm Ink Solutions
Graham Kennedy, Director of Industrial Print, Ricoh Europe
Steve Wilson, CEO, Inca Digital
John Corrall, CEO, Industrial Inkjet
Brendan Perring, General Manager, IPIA
Charles Jarrold, CEO, BPIF
Shaun Holdom, Board Member, ISA UK
Wouter Mooij, Managing Editor, EISMA
Lesley Simpson, Editor, Image Reports
Adrienne Palmer, Editor, The Big Picture
Jos Steutelings, Managing Director, VIGC
Tim Sterbak, CSO/CTO, IST Metz
Shaun Holdom, Council Member, ISA UK
Dick Searle, CEO, The Packaging Federation
Register for your place at the FuturePrint Leaders Summit here.