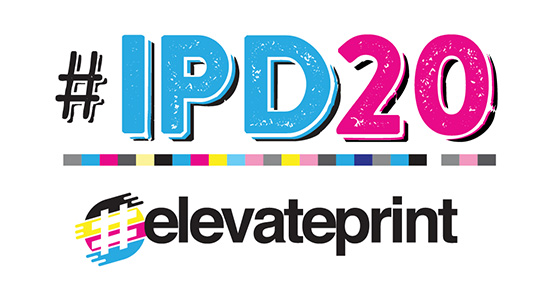 International Print Day 2020 (#IPD20) prepares for its seventh year, and print will once again trend the planet through 24 hours of social media sharing. The celebration gets underway at 6PM ET* in the United States on October 20 (11AM NZT in New Zealand / 9AM AET in Australia on Oct 21) and finishes 24 hours later in the United States at 6PM ET on October 21.
The global print community will use social media to network, exchange knowledge and information, and proclaim their love for print and the people that make it possible by following and sharing using the hashtag #IPD20. Last year's event generated more than 12 million impressions, with more than 100 million impressions recorded to date, and #IPD20 will be adding millions more to that figure this year. Print fans can support this year's theme by also using the hashtag #ElevatePrint, continuing the Print Media Centr mission to help raise the industry to the next level through partnerships, products, and services as well as through diversity and inclusion.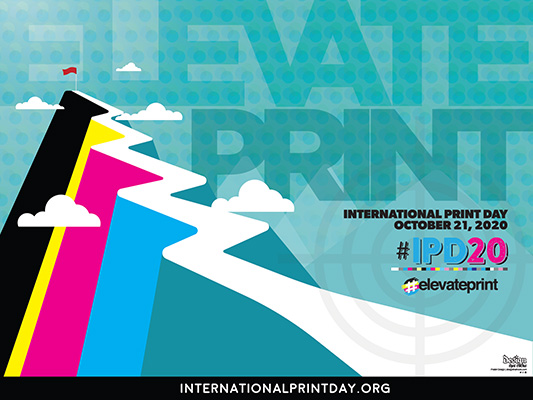 IPD always takes place on a Wednesday to coincide with #PrintChat, a lively and informative Twitter chat taking place every Wednesday at 4PM ET. With more than 1.7 billion social media impressions under its belt to date, joining #PrintChat on October 21st is a perfect way to expand your network and exchange ideas with the global community. Learn more about #IPD20 at internationalprintday.org.
This year, #IPD20 will also mark the countdown to the PRINTING United Digital Experience, which will include three comprehensive weeks of cross-segment programming and new product launches taking place online from October 26 to November 12. Save the dates and visit printingunited.com for details.
The print celebration doesn't stop there. October 22 marks this year's #GirlsWhoPrint Day, which is going virtual for 2020 and will include the presentation of the Girlie Award and the annual Women in Leadership panel, which has become the cornerstone of the event. The seventh recipient of the award will be in esteemed company, joining previous winners Pat McGrew, Cary Sherburn, Deborah Corn, Trish Witkowski, Jules Van Sant, and Sabine Geldermann. To find out more and to register for the Girls Who Print Day Conference, visit girlswhoprint.net.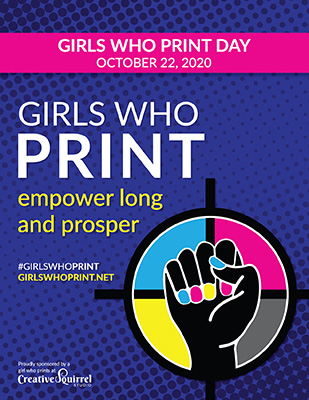 Deborah Corn, Principal at Print Media Centr, Founder of International Print Day and Girl #1 at Girls Who Print, says: "Despite these challenging times, there is a trifecta of 'printspiration' for print lovers to look forward to in October. The International Print Day theme of #ElevatePrint is especially poignant and hopefully punctuates that getting back to "normal" shouldn't be the goal of the industry. Girls Who Print Day follows on the 22nd with the support of more than 60 industry partners and the PRINTING United Digital Experience gets underway on October 26. It is so important that we keep participating in initiatives that are bringing us together—even through a screen. Together, we are better; together, we find a way to make it happen; together, we 'Print Long and Prosper.'"
Connect with International Print Day on Twitter @IntPrintDay and on Facebook/International Print Day. Visit internationalprintday.org for more information.
Connect with Girls Who Print on Twitter @GirlsWhoPrint, go to girlswhoprint.net, and join the Girls Who Print LinkedIn group: linkedin.com/groups/1969742/.
*Check your local time zone for accuracy with Eastern Time in the US due to rolling global clock changes.
About International Print Day
International Print Day is an annual celebration of the global print industry that provides education through twenty-four hours of open knowledge sharing on social media. The day provides participants with access to a wealth of information on global companies, products, and services from the print and integrated marketing community, and serves as a platform for global networking opportunities.
International Print Day's official website can be found at internationalprintday.org. For more information about how to collaborate and participate, or to let the organizers know of your International Print Day participation or event, contact [email protected]
About Girls Who Print
Now in its eleventh year, Girls Who Print provides women in print and graphic communications with information and resources to help them navigate the industry, and their careers. With a focus on community building and open knowledge sharing, the Girls Who Print LinkedIn group has grown to 7,000 global members.
Connect with the Girls Who Print Community at girlswhoprint.net.