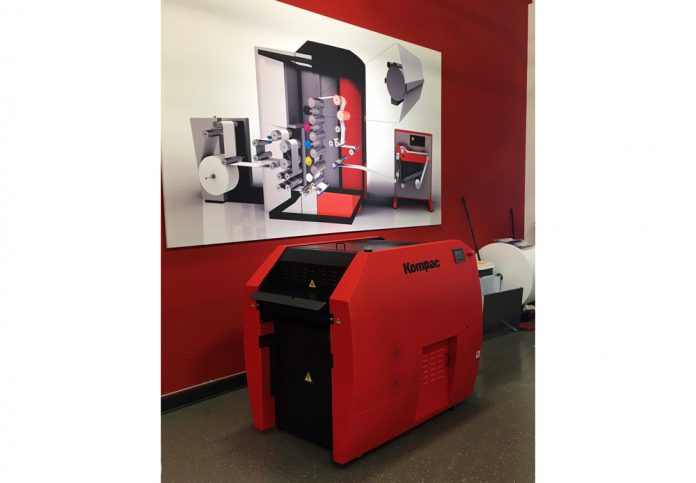 Kompac is pleased to announce they have recently partnered with Xeikon, and installed an EZ Koat 20 Plus at their new Itasca, Illinois demonstration facility to show UV/aqueous coating capabilities when paired with Xeikon technology. Following the placement was the North American edition of Xeikon Café, where the team was invited to speak with both Xeikon owners and those considering acquiring a Xeikon press, about how the two technologies can be paired to create more efficient workflows and provide opportunities they may not have previously known about.
"Taking part in the North American edition of the Xeikon Café allowed Kompac to work directly with printers, converters and suppliers who own Xeikon technology, and show them how our coating systems can work directly for them to. These solutions can be for both cut-sheet and web applications, and provides a host of opportunities for Xeikon users looking to increase their offering with UV/aqueous spot and flood coating," said Chris DuFour, Director of Sales and Marketing. "Since the event, we've seen a great deal of interest from people who attended, with installs to take place before the new year."
"We value the partnership with Kompac in meeting the needs of our mutual customers. Our label, packaging, and direct mail customers are looking for high-quality UV and Aqueous systems, just like those offered by Kompac. We appreciated their presence at the inaugural Xeikon Café serving the North American market and look forward to their participation in future events and at our new Innovation Center." said Donna Covannon, Director of Marketing NA at Xeikon.
For more information, please email [email protected] or visit www.kompactech.com.