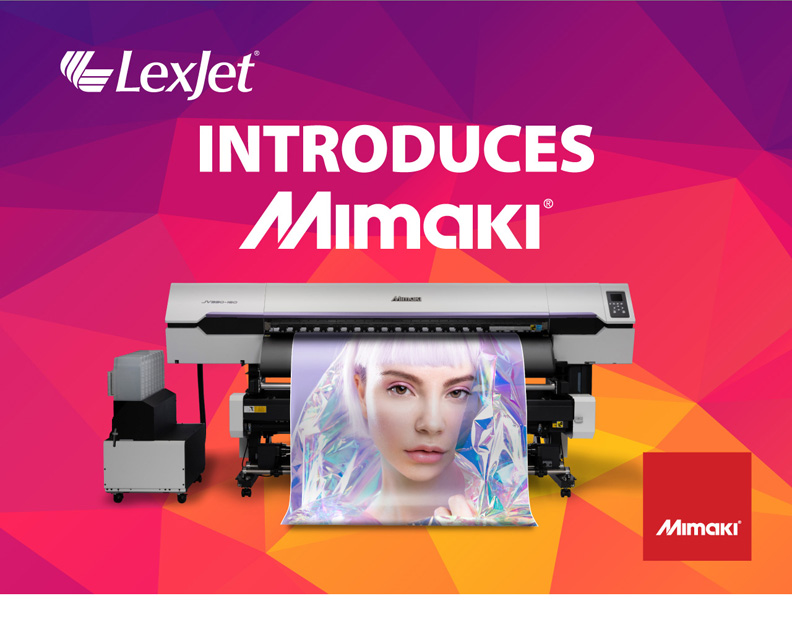 LexJet, an S-One Holdings Company and a leading distributor of wide format and grand format equipment, supplies, and materials, announces a new partnership with Mimaki USA. LexJet will carry the full line of Mimaki printers and consumables.
Offering the Mimaki brand is a critical component of LexJet's ongoing mission to provide its customers with the best technology and service.
Included in the lineup are the two flagship models introduced in the 330 series—the JV330-130/-160 and CJV330-130/-160. Catapulting from the highly popular 100 Series, these new printers offer impressive image quality, high productivity, and value-added functions, providing new middle and high-end buying options.
Since introducing the world's first eco-solvent inkjet printer, JV3-130S/160, to the market in 2002, Mimaki has led the industry by always focusing on customers' needs for high image quality and quick delivery. The new 330 Series rises to that demand and delivers "Something New and Something Different."
The Mimaki portfolio includes more than fifty products that provide a total workflow solution for the sign graphics, textile, and apparel, as well as industrial and 3D markets. Mimaki engineers more intelligent machines that help their customers improve workflow and grow their businesses.
"We are excited to offer the entire suite of Mimaki technology," stated C.J. Forker, vice president of Sales at LexJet. "Mimaki's cutting-edge technology and history of innovation allow us to further expand our best-in-class equipment offering.
Mimaki products are built on a forty-five-year foundation of proven, reliable print solutions that allow customers to drive efficiencies and maximize total up time."
—Press Release