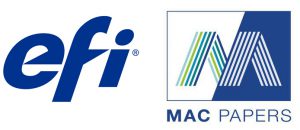 Mac Papers, one of the largest merchant distributors in the Southeast U.S., has announced an agreement with Electronics For Imaging, Inc., to sell and service EFI™ Wide Format printers across Mac Papers' extensive distribution footprint.
Headquartered in Jacksonville, Florida, Mac Papers is one of the largest wholesale distributors in the Southeastern U.S. The company is a distribution partner for paper and print, packaging, facility supplies, and office products.
"We are extremely pleased to become an integral part of EFI's sales network in the Southeast," said Marty Davis, director of wide format and graphics for Mac Papers. "EFI is a premier provider of wide format printers and services, in fact, one of the largest in the world, and being a member of their partner program enables us to offer even more value-added solutions to our print and sign and display customers."
As an EFI distributor, Mac Papers sells and supports an extensive range of EFI Wide Format printers, including the VUTEk® H2000, EFI H1625, EFI Pro 24f and EFI Pro 16h. The latter printer is scheduled to be installed at Mac Papers' Orlando-based wide format demo center, which opened in May.
"Mac Papers is committed to helping commercial printers and sign and display businesses optimize their wide format printing programs and excel in this growing and dynamic segment," added Davis. "Our partnership with EFI is perfectly aligned with that commitment."
Mac Papers operates wide format demo centers in Atlanta, Jacksonville, Nashville and Orlando, providing customers with hands-on wide format equipment and media experience. The centers are open for appointments Monday through Friday from 8:00 a.m. to 5:00 p.m. To schedule a visit and demonstration, call 844.MAC.WIDE (844.622.9433), or email [email protected].