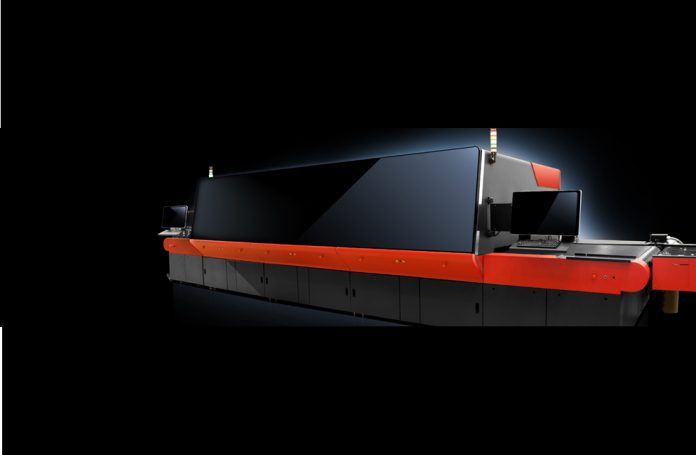 Mid-America Display, the custom product display and signage division of St. Louis corrugated packaging provider Boxes, Inc., will offer new, higher levels of supply chain and production efficiency on high-end display graphics with the purchase of one of the most advanced, breakthrough digital innovations in the corrugated industry—the EFI™ Nozomi C18000 single-pass press for direct-to-board printing.
Manufactured by Silicon Valley print technology company Electronics For Imaging, Inc. (Nasdaq:EFII), the award-winning, ultra-high-speed LED inkjet press will give Mid-America unprecedented new capabilities for fast-turnaround, print-on-demand products that reduce the warehousing and waste associated with analog printing. As a result, Mid-America's customers will gain much greater flexibility in customization and versioning for high-end display designs.
Mid-America and Boxes, Inc.'s production capabilities currently include analog direct-print flexo and litho-lamination as well as some short-run direct-to-digital printing. Presently scheduled to be installed and in production during the fourth quarter of 2018, the press significantly expands Mid-America's digital capabilities for medium-run and versioned jobs that are too costly to produce using analog processes. Mid-America's customers, in turn, will be able to capitalize on a key trend that digital print makes possible: more-targeted, high-quality display campaigns that drive better marketing results.
"I believe that digital is the future of the packaging and display industry and the future is now," said Mid-America Display and Boxes, Inc. President and CEO Mike Patton. "We strive for excellence in all areas of our business and the EFI Nozomi has exceeded our expectations."
Mid-America's central U.S. location in St. Louis provides a strategic advantage in product distribution, as the company can efficiently and cost-effectively deliver products anywhere in the continental U.S. within two to four days. The new Nozomi press magnifies Mid-America and Boxes, Inc.'s capabilities in terms of delivering products wherever they are needed with shorter lead times and fast production cycles on new designs.
Mid-America's press will be among the first EFI Nozomi presses in the Midwest, and one of several installed in the U.S.
The award-winning press features a single-pass, piezo grayscale inkjet writing system that delivers accurate, high-fidelity color, including excellent, consistent reproduction on solid areas.
With its 71-inch printing width, the EFI Nozomi press takes digital corrugated printing to new levels of productivity, operating at speeds up to 246 linear feet per minute to print up to 10,000 35-by-35-inch boards per hour two-up. Mid-America's press will offer superior-quality, expanded-gamut imaging with matte, satin, or glossy finishes with six-color process imaging, plus white ink.
The press's size format gives Mid-America an important advantage in transferring greater volumes of analog work to print-on-demand digital printing production. "Many of our designs are built to optimize our 66×110-inch rotary format," says Patton, "and with the Nozomi we can offer high-quality, on-demand printing that meets our large-format capabilities."
EFI's Fiery® NZ-1000—the ultra-fast digital front end (DFE) print server and production system used to drive the press—is a bladed-architecture, high-performance offering that features industry-proven job management, variable-data printing, versioning, and automation tools for peak operator efficiency. The Fiery DFE also includes advanced tools for color consistency, color accuracy, and advanced color management for Mid-America to reliably and faithfully reproduce essential brand colors in its clients' high-value display graphics campaigns.
Additional EFI Nozomi features and benefits include:
A 100 percent in-line image quality inspection system that actively manages and optimizes inkjet nozzle alignment and uniformity errors for the highest possible imaging quality;
A high-productivity, permanent head architecture that eliminates the downtime associated with replacing consumable printheads;
Compatibility with the broad range of boards Mid-America produces, from N-flute to triple-wall board, and including traditional Kemi, mottled, bleach and kraft materials – with all of them printing full press-rated speeds;
Assured sustainability with output certified for OCC recyclability and repulpability by the Western Michigan University Recycling, Paper and Coating Pilot Plant—a leading certification organization for corrugated recycling.
"Mid-America Display is taking an early lead in the transformation of high-quality, highly effective, single-pass corrugated display manufacturing with the EFI Nozomi press," said José Luis Ramón Moreno, vice president and general manager, EFI Industrial Printing. "The on-demand, ultra-high-speed digital LED inkjet capabilities this company is adapting will help ensure that Mid-America is second to none in terms of the versatility and superior value it delivers to customers."
Mid-America Display's new ultra-high-speed inkjet press is part of a complete ecosystem for corrugated manufacturing available from EFI, with leading edge inks, Fiery DFE technology and a complete EFI Corrugated Packaging Suite business and production management workflow. For more information about advanced digital corrugated production with EFI technologies, visit www.efi.com.