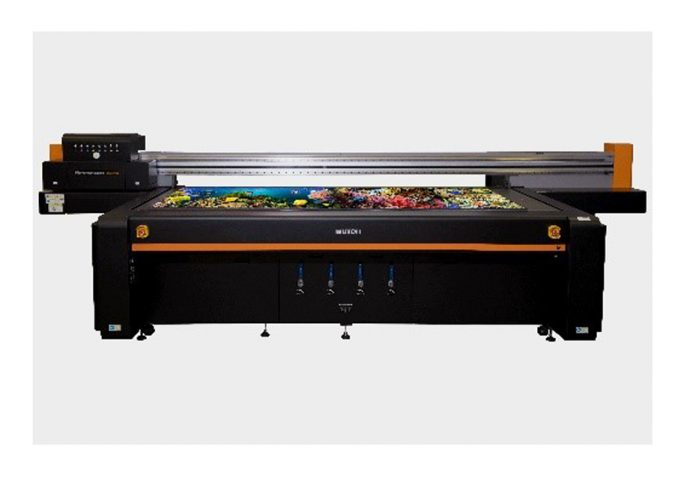 Mutoh Industries Ltd., a leading manufacturer of wide format inkjet printers, affiliated with Mutoh Holdings Co., Ltd., has announced the new "PerformanceJet 2508UF," Mutoh's first true 4-by-8-foot UV-LED flatbed printer, will soon be released to the industrial printing market. Prior to the formal launch, the "PJ-2508UF" will be exhibited at the ISA (International Sign Association) Sign Expo 2018, the largest sign and graphic exhibition in the US, to be held in Orlando, Florida from March 22-24, 2018.
The PJ-2508UF is the latest performance model in flatbed printing with field upgradable head configurations of up to eight sets. Four sets of staggered printheads are installed as standard, achieving high-speed printing. In addition, the maximum resolution of 600-by-1200-dpi and the latest printing technology, enables the PJ-2508UF  to achieve high image quality and outstanding performance. The PerformanceJet is equipped with automatic media thickness detector supporting media up to 4 inches/100mm 50kg/m2 (92.15lbs./sq.yd).
The printer also comes standard with an automatic media registration pin system and a vacuum table with "blow-back" feature for easy handling and positioning of heavy media. The vacuum table is divided into four zones firmly fixing various media sizes and improving work efficiency.
The PJ-2508UF will expand a print shop's production capability and product offerings such as promotional items, directional signage, awards, specialty, labels and packaging prototypes.
The features of the PerformanceJet 2508UF UV-LED flatbed printer include:
Expandability: Four printheads included as standard with the option to expand to six or eight as your business grows. It features high speed and high-quality printing.
Auto Media Thickness Detector: Automatically detects thickness of media and adjusts printheads for printing on substrates up to four inches thick.
Four Zone Vacuum Table: Firmly fixes various media sizes and improves work efficiency
Automatic Media Registration Pin System and Vacuum Table with "blow-back" feature: Make handling and positioning of heavy media easy.
The Maximum Print Resolution: The maximum resolution of 600-by-1200-dpi enables high-image quality and outstanding performance.
Mutoh UV-LED Hard Ink: Available four or six colors (CMYK or CMYK, White & Varnish) with excellent durability and color gamut, suitable for various media.
Static Elimination System: Standard system to enable printing on media vulnerable to anti-static electricity.
For more information, visit www.mutoh.com.