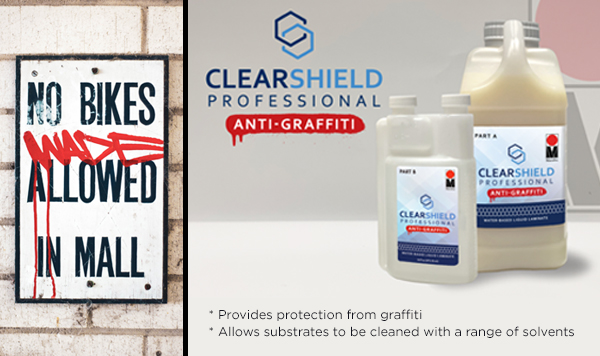 Marabu's new ClearShield® Anti-Graffiti is an innovative liquid laminate designed for use as a protective coating on digitally printed signage, billboards, and banners that are at risk of destruction from graffiti. This amazing new coating provides protection from aerosol and latex paint.
Graffiti can hurt business, impact the ability to communicate important messaging and devalue property. With ClearShield Anti-Graffiti, spray-painted graffiti can be removed with acetone or paint thinner without harming the printed substrate below. This coating is specifically formulated for severe exterior applications where hardness, flexibility, and superior protection are required.
ClearShield Anti-Graffiti is a two-part, water-based liquid laminate offering industry-leading UV protection and chemical- and mar-resistance.
BMG is a worldwide distribution partner representing Marabu.
For more information on the new ClearShield Anti-Graffiti, watch the Application Guide or visit marabucoatings.com. To order, call (888) 893-4668.