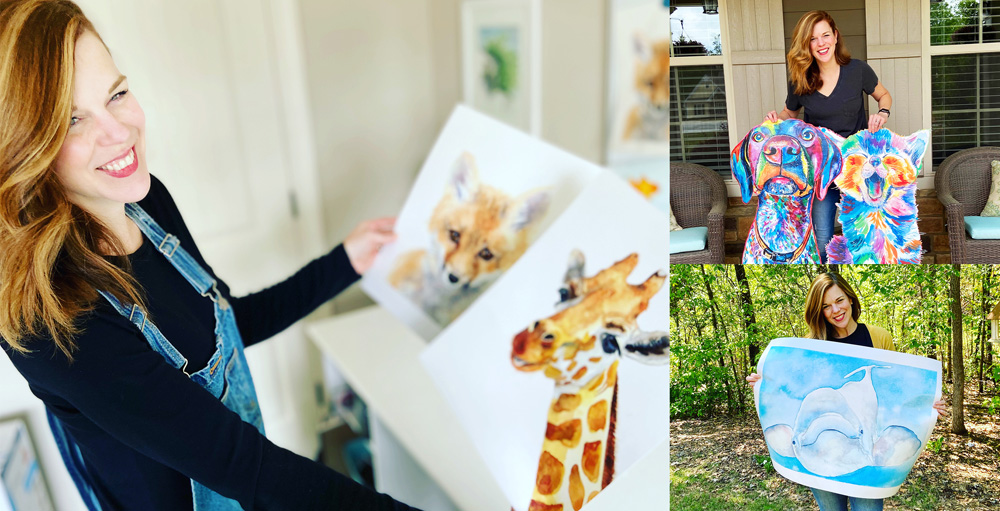 Working with her local Minuteman Press printing franchise in Fayetteville, Andrea Nelson has turned her passion for painting into a growing business by selling prints of her artwork in all different shapes and sizes.
Andrea started her own business selling her artwork in February 2020. Since that time, she has sold prints of her work online and at art shows.
Minuteman Press Fayetteville owners Rex and Pam Green, along with their graphic designer Courtney, have been instrumental in working with Andrea to bring her art prints to life and help spur her sales.
As a way of supporting local business and saying thank you to Minuteman Press, Andrea posted a TikTok video showing how she gets her prints. The video ended up trending and racked up thousands of views.
Check out the Q&A below and see how this partnership between Andrea Nelson and Minuteman Press in Fayetteville all came together.
How long have you been doing your own art?
Andrea Nelson: "I've been painting seriously for about six years, but I just started my business in February 2020, and it became my full-time focus this February.
What gave you the idea or motivation to start producing prints of your artwork?
Andrea Nelson: "I think anytime you do something creative and someone shows an interest in buying it, your confidence builds. So, when people started asking for prints, I decided to try it. I had been thinking about it for about a year before I actually did it."
When did you start working with Minuteman Press on these prints? How did you meet?
Andrea Nelson: "I started with Rex and Pam in early January 2020, before I even got my business going. I have a friend who was working at the shop and she had seen people encouraging me to do prints on social media so she reached out and told me to come by the shop. They made the process very easy and totally walked me through it, which was perfect because I had no clue what I was doing."
Rex Green: "Andrea showed up at the shop one day and spent some time speaking with Courtney, one of our graphic designers. Andrea and Courtney knew each other and she wanted us to print her artwork prints for her. Over the past year, we've come to know Andrea really well, and it's been an absolute pleasure working with her to help grow her business."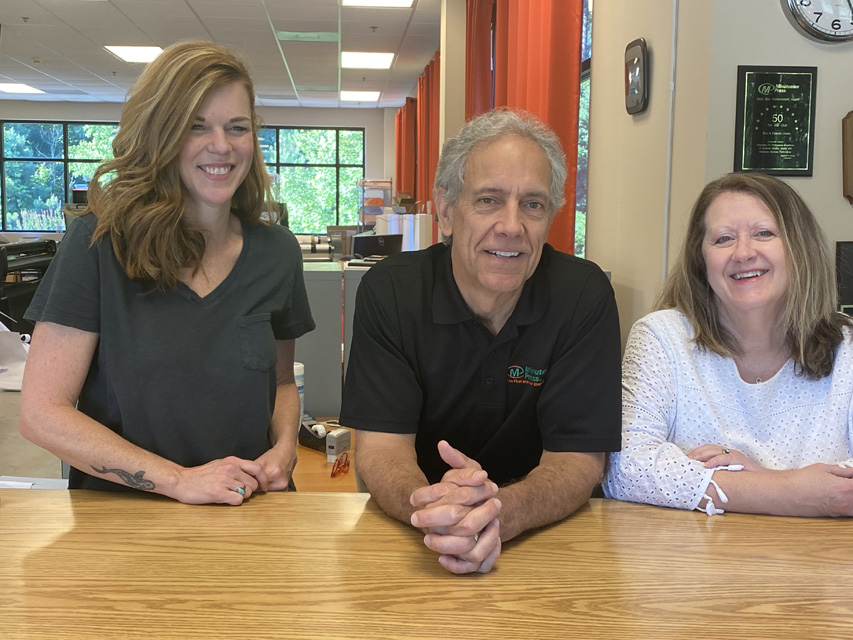 What was your reaction when you first saw the prints of your artwork?
Andrea Nelson: "I was totally blown away. Honestly there were prints that I liked better than the originals. The colors are true to my paintings, but the crisp white background of the Lynx cardstock really makes it pop."
Rex Green: "We love Andrea's art because so many of her subjects are animals, and we're animal lovers. Our shop is even a donation location for the local humane society. She paints realistic images as well as pop-art images, and they all bring a smile when you see them.
It's satisfying knowing we're helping so many others enjoy Andrea's work as we do."
How did you decide on the sizes you wanted and what other related items have you had printed?
Andrea Nelson: "I knew I wanted standard sizes for framing so I got 8×10 and 11×14. In addition, I do 5×7 notecards, which people often frame.
"I've also had people special order poster-sized prints, which are beautiful, and we've done removable adhesive vinyl and the latest thing is bookmarks. I have the large vinyls in my candy store and I just love them!"
Rex Green: "We print note cards and frameable prints, as well as anything else Andrea needs in print. Additionally, we've done posters as large as 24×36 and wall vinyl as large as four-feet square.
"A large part of what Courtney has done for Andrea is size her work so proportions are retained and removed random bits of color prior to creating print files. Then production dials in the colors and retains the settings so the color is reproduced accurately from run to run. We tested paper from different mills before settling on Lynx as the favored stock."
What has the response been like for these prints?
Andrea Nelson: "I've only gotten positive feedback on the prints and cards, and I'm selling a lot of them! I have a website, an Etsy page, a wholesale site, and I sell at an artisan market and in my own brick-and-mortar candy stores. I just recently got into another local shop.  Everyone loves them!"
Rex Green: "Andrea has been very complimentary of our work and gracious in sharing her experiences with us on social media and via word of mouth referrals. The response has been overwhelmingly positive."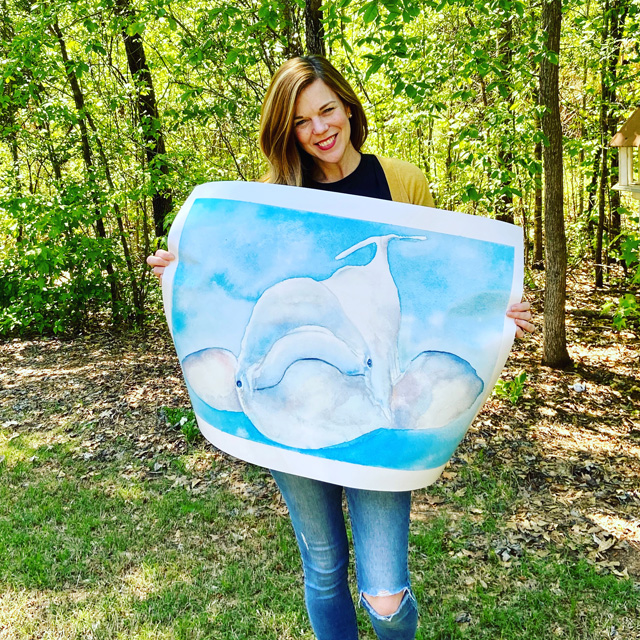 What has your experience been like with Minuteman Press?
Andrea Nelson: "I absolutely love everyone at Rex and Pam's shop. They are all incredibly supportive and helpful. Everything I get from Minuteman Press is key to my business, which is why I've been trying to spread the word about my experience on social media. Other artists are looking for places to make affordable prints, and they just don't know how to go about doing it."
What are you looking forward to next?
Andrea Nelson: "I am just really excited to keep painting and growing my business to see where I can take it. And I am all about helping other artists and small businesses, so I hope to continue to do that through social media and Minuteman Press!"
Rex Green: "We absolutely love working with Andrea and would love to help other local artists bring their prints to life as well. Fayette County, where we're located, has an active artists' community. My wife Pam is part of that community, so artists know us and know where we are.  If they don't know us, then they just have to search for Minuteman Press in Fayetteville, and there we are."
—Press Release