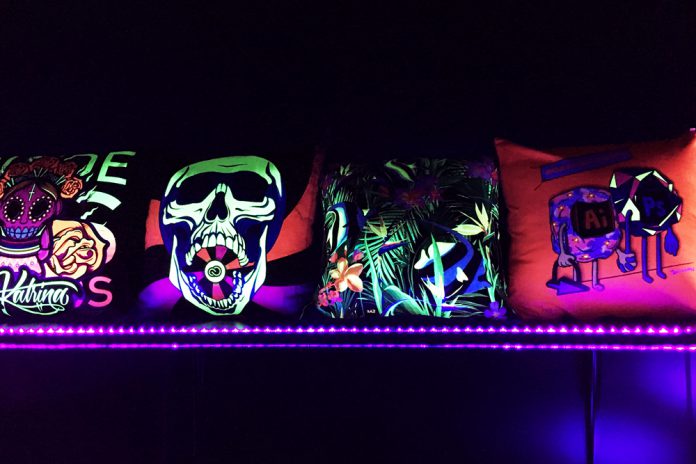 Roland DGA recently partnered with Adobe®, the world's leading design software manufacturer, at Adobe MAX in Las Vegas, providing advanced digital wide format printers for unique interactive attendee workshops. The event attracted thousands of designers, photographers, web developers, video makers, illustrators, educators, and other creative professionals from around the world for seminars, workshops, networking, and more.
Roland equipped the popular Russell Brown workshop, this year themed "Max Madness & The Circus of Light." The resulting exhibit was a special black-lit showcase featuring fluorescent graphics on decorative pillows, printed with a Roland Texart™ RT-640 dye-sublimation printer. Under black lights, the work of accomplished art directors, designers, and photographers was on full display in eye-catching neon color.
Meanwhile a joint project with Coca-Cola®, Adobe, and Roland in the Adobe exhibition booth enabled visitors to design and print graphics for their very own, personalized bottles of Coke®. Attendees used Adobe Illustrator® to create their custom label designs and a Roland TrueVIS™ VG-640 printer/cutter to print and cut the labels in one step.
One of the many participants in this interactive experience was Jeremy Dixon, a Mountain View California-based designer (pictured, left). "I really enjoyed bringing my design to life in the form of Coke labels," said Dixon. "Being able to hold a printed version of my own creation made me appreciate the connection between design and technology that much more."
"Like Roland, Adobe MAX is all about creativity, inspiration and innovative technologies that help talented individuals transform their ideas into reality," noted Roland DGA President Andrew Oransky. "We were thrilled to contribute once again to the overall success of this world-class event."
To learn more about Roland DGA, or the complete Roland product lineup, visit www.rolanddga.com. For more information on Adobe MAX, visit www.max.adobe.com.