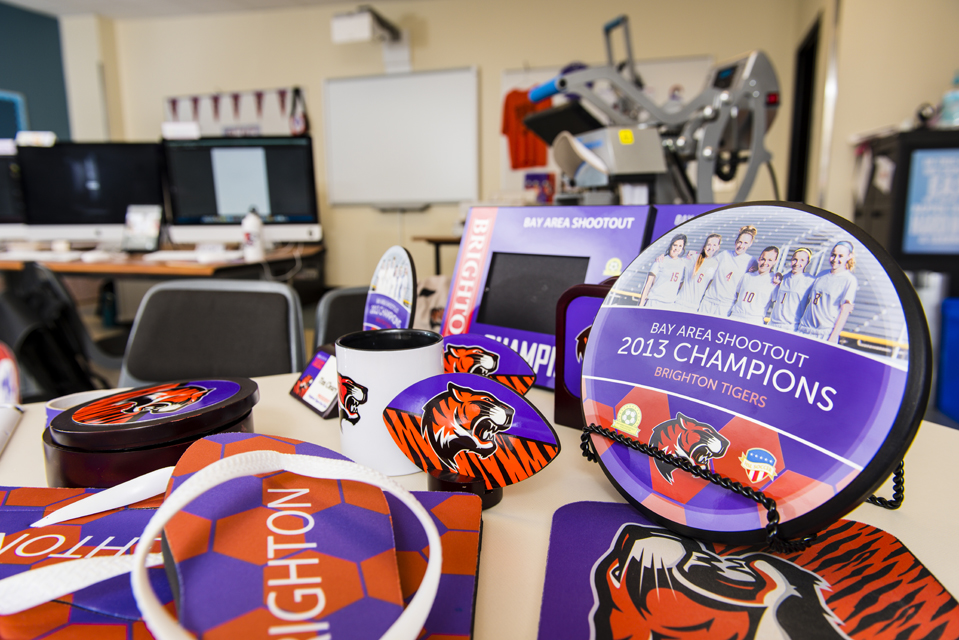 Though every market has its own nuances, advantages, and challenges, it is good, strong business strategy and research that are at the very core of running a successful sublimation business. Sawgrass Education Manager Jimmy Lamb offers some advice to help product decorators build effective strategies to generate sales in just about any target market.
"If you think about it, you're never selling just a product," said Lamb. "You're selling value, memories, even business opportunities. It's not about the product itself; it's about the value of that product to the market. Figuring out what that value is and how you can deliver it is the key to unlocking any market."
Lamb details five steps for methodically targeting a market you're interested in gaining a foothold in and building strategies for success.
Identify a Market to Target.
Choosing a market that you have a special knowledge about is a good place to start. For example, if your children are in the local school system, you have specific knowledge about product needs within the local education market. There are many opportunities to sell to schools, ranging from administrations that need name plates, awards and signage, to PTOs and booster organizations looking for spirit products—all of which you can provide as a sublimated product decorator.
Ideally, if you can "walk the walk, and talk the talk" you'll ultimately be better prepared to face the market you are targeting head-on. The more you know about the organizations and/or people within this market segment, the more prepared you will be to develop a sales and marketing approach. The key is to have a unique perspective in terms of your products and services.
Don't forget to look for opportunities in sub-markets—other related markets that you can pursue. Identifying them may transform what initially appeared to be a tiny marketplace into a much broader scope of sales opportunities. Make a list of other prospects that you can go after using the same or similar samples and sales presentations.
Create a List of New Product Ideas.
Growing sales means constantly having fresh new product ideas to show clients. Essential questions to ask: What are their needs? Where are the product gaps? Can you develop a new product that appeals to the clients in the market?
If you are selling products to resellers, do your products have the potential to bring in new customers for the reseller? If you can show your resellers how to make more money with your products, you, in turn, will make more money. Thus, you always want to have new, unique and different products to offer.
New products can include unique substrates, designs or even services. In the world of sublimation, there are literally hundreds of blanks that can be decorated quickly and easily—everything from flip-flops to thermometers to cookie jars. The question is, which are right for YOUR business.
For example, if your target market is pet owners, then personalized pet food bowls would be a big hit. You could easily create packages of personalized items that might include bowls, collars, leashes, pet clothing, etc. Owners like to show off their furry babies. Personalized products like apparel, holiday ornaments, photo gifts, mobile device covers, coasters, mouse pads, laptop sleeves and more, let pet owners celebrate their pets at home, work, and play.
Develop Sample Kits.
Regardless of your market, one critical factor to making sales is having a high-quality set of samples that show what you offer. In addition, your sample kit should encourage larger orders by having multiple unique pieces that are interrelated. Remember, your clients don't know what you can do until you show them. Even if they only ask to see a single piece, make sure you show several other products to open their eyes and expand your sales potential.
Once you have a good-quality list of product ideas, start turning them into samples. Focus on samples that can be shown to multiple customers and be prepared to modify or update your samples as you develop your niche. Though you may have to invest a sizable amount of money and time into your sample kits, this is a critical step for making sales.
Develop a Winning Sales Pitch.
Just as important as showing your products is developing the right pitch. Many times, your words alone will determine the perceived value of the product, so invest time creating a script that positions your product at the highest level of value possible. There are no magic words here. What you say and how you say it should be determined by the target market itself, which is another reason why research is vital to successful selling.
The first thing to understand is that you are not selling sublimation—and for the most part, you aren't selling products either. You're really selling something that fulfills the needs of the market. A sublimated water bottle is not just a water bottle when it has a company logo on it. It is a billboard for promoting someone's business, summed up in one simple word: advertising.
In marketing terms, this approach is referred to as "spinning," which basically means elevating an everyday item to superstar status by changing the context in which you frame it. A customer needs a good reason to spend money with you, so you must come up with a compelling reason why they should.
Reach Your Market.
Knowing exactly who you want to reach and what the appropriate message should be allows you to spend your time and money wisely. Instead of wasting time and money on hit or miss options that are spread out across a large segment of clients with no common thread, you're targeting exactly whom you need to hear your messages.
Face-to-face sales are one of the best solutions for reaching your niche, when practical. Ensure you have a specific set of samples with a specific pitch, then search for individuals or organizations that fit your niche. Work on approaching them, even if it means "cold call" sales. And remember that your chances will be improved because you have a focused approach, rather than a general pitch.
Joining your local chamber of commerce is also a simple task that can have some nice benefits—if you pursue it correctly. First, get a member list—which equals sales leads! But to really make it pay off, be active in the affairs of the organization so that you get your name out in front of other people and organizations.
You can also use online methods, as most niches have active networks and are engaged in social media. Finally, don't expect overnight results. Utilizing these online resources should be one of many tools to keep your name in front of people.
For more information, contact Robin Kavanagh at [email protected] or visit SawgrassInk.com.