Sawgrass invites sublimators worldwide to share their most creative and best-selling designs and products for a chance to win a mystery box full of substrates. One winner will be chosen out of all the entries and will be announced the first week of March.
"Every product decorator loves to experiment with new products, and we wanted to encourage that with this month's contest prize," said Robin Kavanagh, PR Manager for Sawgrass.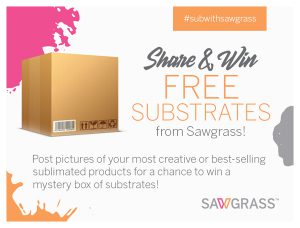 "The #SubWithSawgrass monthly contests were designed to celebrate all of the creativity that you can find in markets all over the world, and bring people together through their passion and trade. Giving away substrates to create new designs for or even use as sales samples, we feel, is a great way to accomplish these goals."
To enter the #SubWithSawgrass contest, sublimators can click HERE. They can also upload pictures of their products as public social media posts on Facebook, Instagram, or Twitter with the hashtag #SubWithSawgrass.
The contest will run until the last day of the month, and one winner will be announced within a week of the closing date. Tongela Bruton of Ohemaa's Custom Creations was the winner of January's #SubWithSawgrass contest.
For more information, contact Robin Kavanagh at [email protected] or visit SawgrassInk.com.