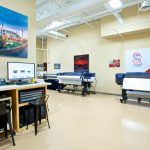 Trigon Imaging Solutions has opened its Epson Certified Solution Center in Milford, Ohio, outside of Cincinnati. The Solution Center will showcase the comprehensive portfolio of Epson printing solutions, providing customers the opportunity to view creative print applications, engage with product experts, participate in demonstrations, and run test prints using their own files.
"We recognize and embrace that each customer's needs are unique and should be taken care of as if it were the most important project on the table," said Benjy Weisenburgh, partner, Trigon Imaging Solutions. "We support a variety of industries here in the Midwest and this new Solution Center serves as a product demonstration, training and sample production site that gives our customers the opportunity to get hands-on with print and finishing equipment that will help them grow their business."
This new Epson Certified Solution Center will provide customers with a comfortable atmosphere and immersive experience, including:
Full suite of SureColor® production equipment
Extensive print samples and applications
Comprehensive customer training opportunities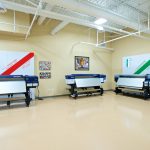 "We are committed to helping print service providers create a space where their customers can come and fully understand the breadth of Epson's offerings," said John Meyer, director of sales, Wide Format Channel, Epson America, Inc. "This new Solution Center will allow Trigon Imaging Solutions to showcase best practices and provide hands-on demonstrations for their customers."
For additional information or to schedule a visit at the new Trigon Imaging Solutions Epson Certified Solution Center, visit http://www.trigonimaging.com.