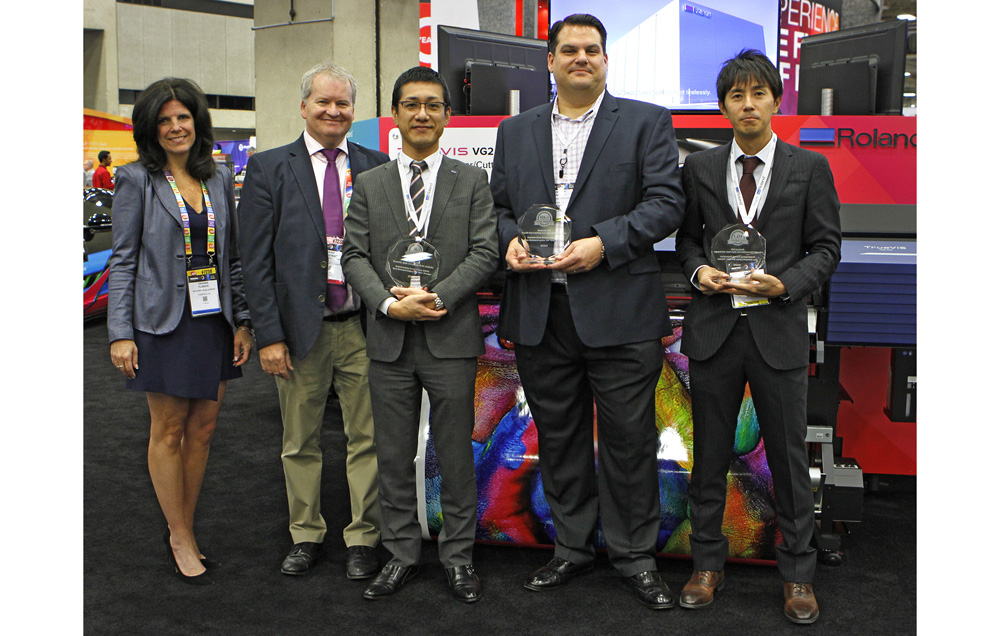 Roland DGA has announced that its next-generation TrueVIS™ wide-format inkjet printer/cutters have earned top honors in three categories of the 2020 "Pick Awards" from Keypoint Intelligence's Buyers Laboratory (BLI). This marks the second year in a row that Roland products have been recognized by BLI (the original TrueVIS VG series won two Pick Awards in 2019). Roland DG Corporation's Digital Printing Division President Kohei Tanabe accepted the 2020 Pick Awards from Buyers Lab Director of EMEA/Asia Research & Lab Services David Sweetnam during a morning ceremony in Roland DGA's booth on the first day of Printing United 2019.
Taking first place in the Outstanding Gamut Expansion Eco-Solvent/Latex 54"/64" Printer category were the TrueVIS VG2 series 8-color printer/cutters with Orange ink (CMYKLcLmLkOr). In the Outstanding Enhanced CMYK Eco-Solvent/Latex 54"/64" Printer category, the VG2 series 8-color printer/cutters with White ink (CMYKLcLmLkWh) came out on top. The third Buyers Lab Pick Award—for Outstanding Entry-Level CMYK Eco-Solvent /Latex 54"/64"—went to Roland's recently launched TrueVIS SG2 series 4-color printer/cutters.
Sweetnam summed up the capabilities of Roland's TrueVIS series printer/cutters, "They can reproduce stunning, vibrant graphics with photographic quality – even at high speed," he said. "These inkjets feature a host of technical advantages to help create graphics that will truly captivate. They're capable of printing smooth and balanced gradations across a wide color gamut, with accurate and reliable color reproduction."
Additionally Sweetnam noted that models equipped with orange ink exceeded the Adobe RGB color space in the orange region of the spectrum, earning the TrueVIS series a top score among the products tested. "PANTONE color matching capabilities ensure superior color reproduction even with four-color models, which means color matching of corporate colors that had traditionally been considered difficult can now be done quickly and easily," he pointed out. "This high level of reproduction is achieved not only in high-quality print modes, but also in high-productivity print modes."
Roland DG's Tanabe said, "It's a great honor to receive top scores in three categories from the trusted and proven Buyers Lab. We developed the TrueVIS series with the goal of creating a printer capable of delivering the 'Power to Excite' to leave a lasting impression on people. The new lineup has already earned recognition from organizations and at events throughout the digital printing industry since it was launched in March of this year. These latest results are further evidence that the TrueVIS series is truly a winner when it comes to quality reproduction – a feat that we are indeed proud of. We are committed to developing products that allow customers to unleash their imagination with creative possibilities, as well as helping to bring advancements to the digital printing industry."
The Roland TrueVIS family is comprised of five models, including the high-end VG2 series and the entry-level SG2 series. Offering a host of advanced features, new TR2 ink and a "True Rich Color" preset, TrueVIS printer/cutters have redefined product performance for the wide-format inkjet category.
To learn more about Roland DGA Corporation, or Roland DGA's complete product line, visit https://www.rolanddga.com. For more information on Buyers Lab, or the Buyers Lab Pick Awards, visit https://www.keypointintelligence.com/news/awards.