The new Vastex E2-CTS Computer-To-Screen exposing unit offers a high-speed, space-saving solution for shops creating print-ready screens using computer-to-screen digital printers.
Digitally printed CTS screens slide on edge into place for secure, light-tight exposure, without the need for glass panels, vacuum hold-downs or rubber blankets associated with conventional exposing units. Vertical orientation of the CTS unit requires about one-third the floor space of horizontally-oriented designs.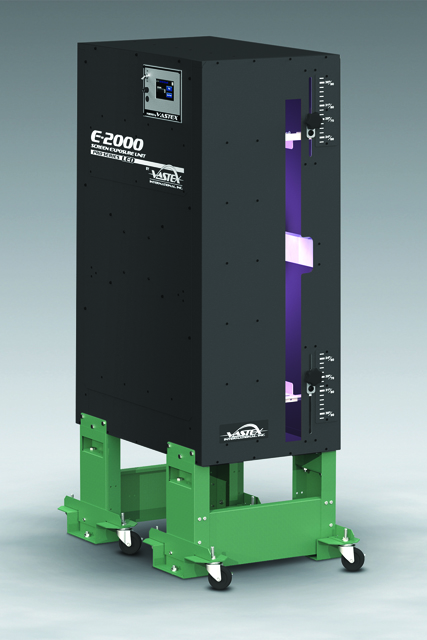 Touch-screen operation and adjustable screen guides allow the operator to select the screen size to be exposed, slide the screen into the chamber and expose it. The E2-CTS unit allows for up to ten exposure settings to be stored as pre-sets for rapid production.
The high-output LED light pack, with six thirty-inch light bars, exposes screens in seconds while producing high-resolution half-tones up to 85 LPI and crisp detail in ultra-short exposing times. Vastex's proprietary high-output LEDs can cure (crosslink) any emulsion rapidly. The unit operates efficiently at 20 percent of the power required for metal halide, provides uniform lighting intensity cycle-to-cycle and remains cool during operation.
Mounted on sturdy full-width legs with casters for mobility, the unit accommodates screen sizes up to 24-by-36-inch O.D. and is available wired for 120V or 240V.
It is covered by a three-year warranty against manufacturer's defects and a five-year warranty on the LED lights.
Vastex also offers nine other models of exposing units from small, entry-level ultraviolet light boxes to ultra-fast, extra-large LED models to satisfy virtually any screen exposing requirement.
Other Vastex screen printing equipment includes manual screen printing presses, athletic numbering systems, infrared conveyor dryers, flash cure units, screen drying cabinets, screen registration systems, washout booths and complete screen printing shop systems. The company also offers a comprehensive range of training classes for entry level, intermediate and advanced screen printers.
For information contact Vastex International, Inc., call (800) 482-7839 or visit www.vastex.com.