Sponsored Content
For large-format print providers, white ink can be the "killer feature" that wins business and boosts margins.
"All that glitters is not gold," goes the aphorism. Perhaps not. But a highlight in an illustration – for instance, for a window graphic or a vinyl cling—grabs the viewer's eye and draws them in. For advertisers who need high-impact promotional material, that can be the difference between success and failure.
That's why many advertisers and creatives are turning to large-format printers, able to produce high value prints with the broadest range of medias to produce the richest possible output with vivid and highly saturated colors. One of the most surprising ways they're doing this is by using white ink.
"In the large-format business, using white ink gives the printer a great way to print neater image outlines, to add more contrast with colored or dark supports. It also improves color rendering when it's used as a base ink on translucent or transparent supports. All of these properties help print providers make a higher margin" says Tom Wittenberg, HP Large Format Events and Industry Relations Manager, NA. "Our studies show print providers who use advanced latex printing technology, capable of printing in white ink, can drive an increase in average gross margins."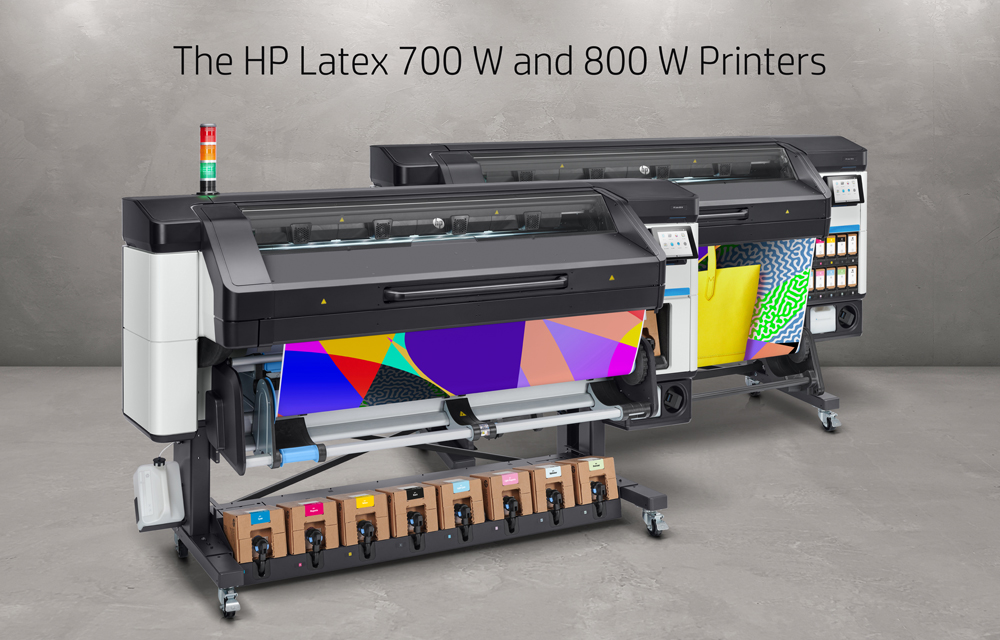 The Applications of White Ink
Using white ink helps print providers produce high-margin graphics, for example: a contour-cut window graphic with white ink can drive increased profitability by up to 13 percent. Yet this is by no means the only use for white ink in large-format printing.
Other uses of white ink in large-format printing include:
Applying white ink to signage to increase vividness
Add a background layer to CYMK images, for instance backlit signage, to make them more vivid
Improved colour rendering when used as a base ink on translucent or transparent support
Giving images sharper edges, for greater impact
Increasing contrast with coloured or dark supports to improve visibility.
How the Right Ink Will Put a Glint in a PSP's Eye
One of the toughest things of the last year, has been finding new types of print jobs—to replace those which have fallen by the wayside during lockdown—as well as differentiating yourself from all the other print providers who are trying to do the same thing.
Investing in latex printing technologies is one way for print service providers (PSPs) to stand out from the crowd and to offer customers services that their rivals lack. In fact, when you invest in a high-end latex printer, capable of printing the highest value jobs in a broad range of medias, your erstwhile rivals often become your customers.
According to recent research by Keypoint Intelligence, PSPs outsource 46 percent of high-value, high-complexity jobs[1]. By choosing the right technology, you can win some of that business and reduce risk.
Making White Ink Easy to Use
Many white inks for large-format printers have a reputation for causing clogs, usually due to the size of the pigment particles, which were larger than those in other inks. However, in its current generation of HP Latex 700 and 800 Printer series, HP has prevented this potential issue from happening.
The latest HP white latex inks have an innovative fluid management technology. This continually recirculates the ink both within the ink delivery system and at the printhead, preventing clogging. There are even ink pumps on the printhead that keep the ink flowing and in a ready-to-print state.
Using an HP Thermal Inkjet permits the user to remove the white printhead when it is not in use, so they can store it safely in a rotating chamber, minimising ink waste and ensuring that it remains in a consistent liquid state. You then simply reinsert the printhead into the printer when you need to use it.
"Investing in a large-format printer able to print with white ink is a great way to gain a competitive edge and increase margins," says Tom Wittenberg. "Investing in HP Latex printers, such as the HP Latex 700 and 800 Printer series, gives you just such an edge. They allow you to offer high-impact graphics which earn higher margins and make you a go-to destination for anyone who needs a valuable large-format printing partner."
As the market evolves and shifts even more, in response to factors ranging from digital transformation right through to the ongoing public-health crisis, the print vendors who continue to prosper will be those that are most adaptive and who are able to offer something their competitors cannot.
To find out more about these game-changing printers, join us at one of our HP Latex 700/800 Academies. They're a quick ninety minutes and give you the entire rundown of the products—advantages, benefits, and applications—plus the opportunity to speak up and get your questions answered by the experts.
—HP Large Format Marketing
About Tom Wittenberg
Tom Wittenberg is the HP Large Format Events and Industry Relations Manager for North America. He has been in the printing industry for nearly thirty-six years. As a turnaround professional, he has led successful sales, operational, and financial overhauls of three global printing companies to double and triple sales and profit in three years, prior to joining the HP Marketing team.
[1] Based on a research conducted by Keypoint Intelligence July 2020 and commissioned by HP, over 100 print service providers across the U.S., Europe, and India.
© Copyright 2020 HP Development Company, L.P. The information contained herein is subject to change without notice. The only warranties for HP products and services are set forth in the express warranty statements accompanying such products and services. Nothing herein should be construed as constituting an additional warranty. HP shall not be liable for technical or editorial errors or omissions contained herein.