Replay Lincoln Park in Chicago is already a fun place to visit thanks to its mix of pop culture, alcoholic drinks, and arcade games. However Owner Mark Kwiatkowski was looking to find a way to make his trendy establishment stand out even further using graphics.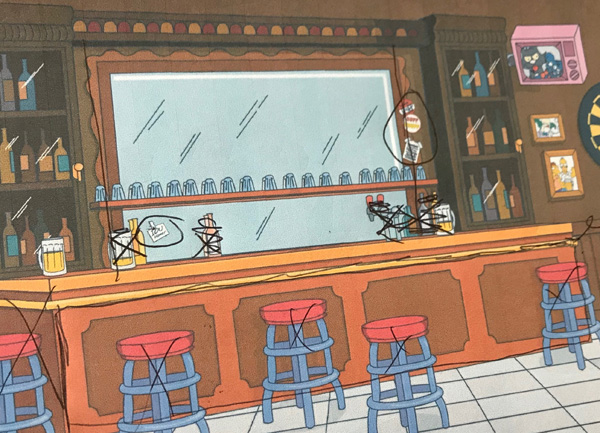 This past October, he decided to transform the interior into a real-life version of Moe's Tavern straight from the popular, long-running animated television series The Simpsons.
According to Kwiatowski, his goal was to "bring attention to his bar and his brand" and attract people to visit it around Halloween. Needless to say, the end-result exceeded his expectations!
Simpsons-inspired artwork and iconography could be found throughout Replay Lincoln Park during this short-term branding campaign.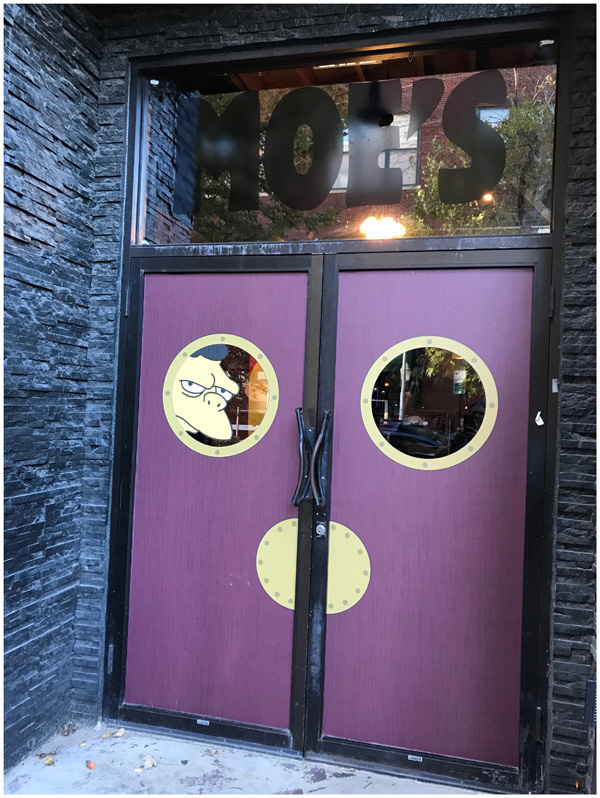 Painstaking research into details of the TV show combined with the latest technology resulted in large 3D wall murals, floor and window graphics, foam-core cut outs, and blackout and textured vinyl applications.
There was a printed stand-up of Moe the Bartender cut out from black foam-core, as well as a foam-core replica of the Love Tester featured in some episodes. Bar taps were wrapped with Duff Beer logos. A vinyl-covered cocktail menu promoted Moe-themed drinks like the "Flaming Moe" and the "Frozen Squishee." Colorful posters for the Isotopes baseball team and the Android's Dungeon comic book shop were adhered to the refrigerated glass doors of the bar area. A wall mural recreating the Moe's Tavern mirror lined up behind the counter. A graphic of a drunken Barney was sprawled on the floor.
And there was much, much more for Simpsons fans of any level to appreciate!
The even funnier thing about this project is that Kwiatowski initially had no idea what he wanted to do in order to transform his bar.
The only sure idea that Kwiatowski had was that he wanted something fun that would completely change his bar environment. So he started searching for a set designer to help him accomplish his vague vision.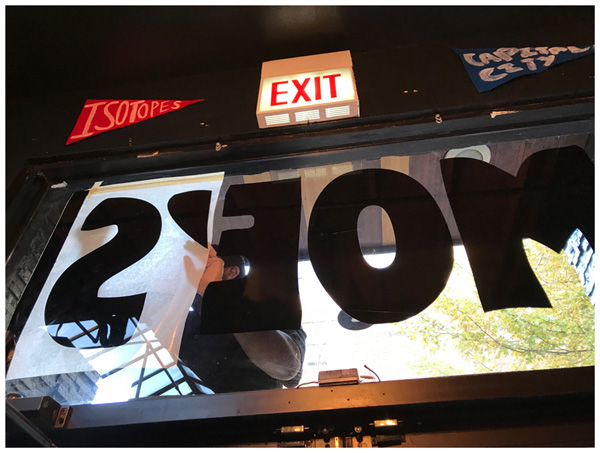 Enter Shira Kollins, owner of SpeedPro Imaging Chicago.
Kollins graduated from DePaul University in 1998 with a degree in graphic design and started work in the marketing world at an ad agency where she ran their large format output for years. She later became an art director for CS magazine, a national publication focused on modern luxury.
Kollins opened her "boutique" SpeedPro Imaging Chicago location back in 2010 and has been doing lots of set designs and backdrops for local theaters, corporate events, and even the Joffrey Ballet. Kollins and her team have also created large format graphics for other Chicago landmarks like Soldier Field, Field Museum, and Hilton Hotels. One of her first jobs involved designing, producing, and installing 60,000 square feet of signs and 3D lettering for the Mario Batalia's Eataly restaurant.
Today Kollins runs her shop with two other employees—a production designer and a sales manager. (Note: She brings aboard another production manager during busy periods.)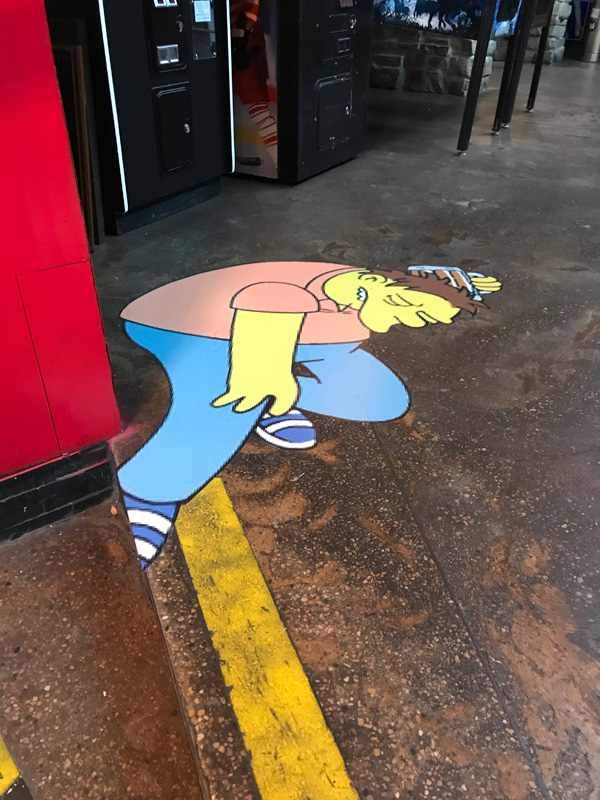 Their projects are 100 percent designed by them from scratch. "Our production and design strength is stellar," says Kollins, noting that she also has a network of twenty installers nationally and five installers locally. "You have to really celebrate the team when you have a good team."
They also do lots of office space build-outs with wall murals, frosted glass, and abstract designs. "We specialize in [projects] that aren't normal," she says. "However transforming people's workspaces with experiential graphics is one of my favorites."
The trend of Experiential Graphic Design (EGD) is improving the consumer experience and the bottom line for businesses nationwide, as they connect people to a place or brand, boost sales, and create memorable experiences through graphic design applications.
Kollins starts her projects going over the budget with her client. Her goal in these initial conversations is to arrive at more than just a generic work order. "I'm very involved," she says. "I make stock art folders of what my client will like and share those with my team to see what we can do."
One of the things Kollins likes to do is get her clients to think creatively with her and her team about what can actually be produced. "I explain the process to them," says Kollins, "which sometimes helps us get a lot of information."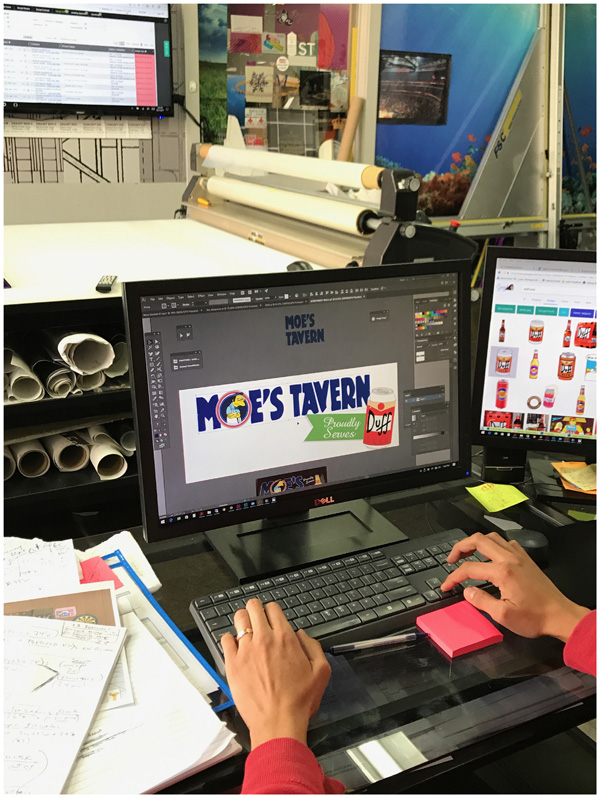 While Kollins had never met Kwiatowski before this project, she was already familiar with his Replay bars when he approached her asking for ideas about what her business could do for his establishment.
One of Kollins's main goals for any project is to figure out the client's personality and what would work best for them. "I spent five hours measuring Mark's bar, taking photos, and talking about what would appeal to him," she says. "I found out that he was a Simpsons fan, and that really clicked. One of the big icons featured on the show is Moe's Tavern, so this seemed perfect!"
Kwiatowski had a trivia night scheduled, so Kollins and her team pulled out all the "bells and whistles" to make sure that he would have his Moe's Tavern recreation up and running by then.
There was never an exact list of what needed to be included in the project. "I really just culled the best imagery I could find and then our production manager redrew it from scratch," says Kollins.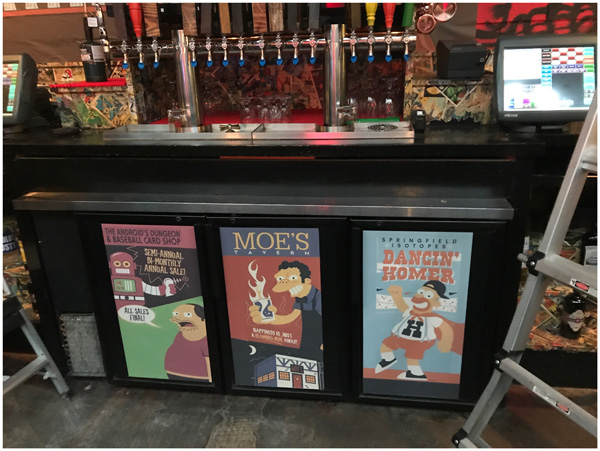 For the Moe's Tavern EGD transformation, Kollins studied the areas where she thought graphics would make sense and designed from there. She spent half the day picking out the artwork and making sure it was what Kwiatowski wanted, retouching it and adding Simpsons-related hidden Easter eggs for die-hard fans of the series to notice.
"It was the best five hours I could spend with Mark. He was pulling up Simpsons stuff on his phone, and I was taking pictures of these images while measuring," says Kollins. "I then used the Omega app on my phone to upload and share all the pictures with my project manager and sales manager. Our sales manager transferred them to our server while reviewing them to come up with a quote for him."
The entire bar transformation took place at once. Designs were quickly worked up in half-an-hour. Everything was manufactured on their Roland SOLJET Pro 4 XR-640 printer, a seventy-inch plotter, and a GBC cold laminator. (Note: These are the sole pieces of equipment in Kollins's SpeedPro Imaging studio.)
"We ran the big stuff during the day, and we paired up the material to run overnight because it ended up being less than forty-eight hours until the install needed to happen," says Kollins, noting it took a full day to trim, laminate, and cut the vinyl.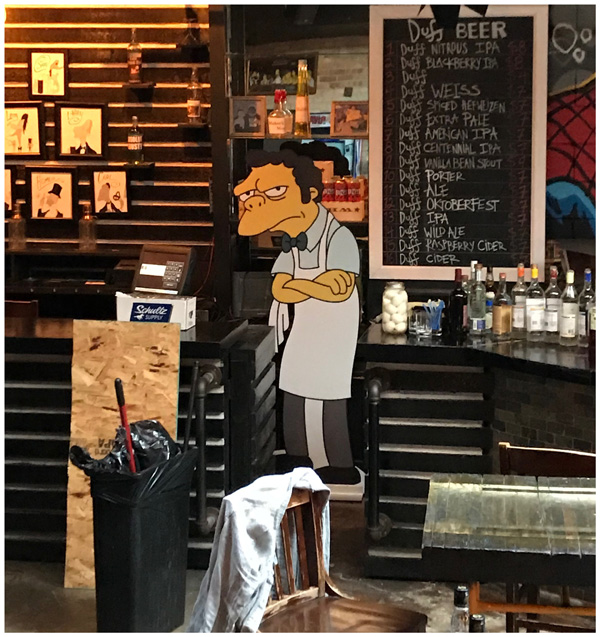 General Formulations White Matte Concept® 202 flexible calendared vinyl film was used for most of the project wraps, while Concept® 234 GraphiTex™ wall fabric was utilized for the textured vinyl pieces and Concept® 226 matte semi-rigid calendared vinyl film for blackout vinyl over the doors with porthole windows on them. Concept® 222 was applied onto the Moe the Bartender and Love Tester black foam-core stand-ups.
This excellent, full-immersion Moe's Tavern EGD drew media coverage in newspapers and on television, which resulted in more than a million dollars in media value for the bar. Social media provided an added boom in exposure, as well, thanks to customers experiencing the nostalgia of being at Moe's Tavern and sharing this with their friends.
Meanwhile this short-run, Simpsons-related EGD campaign ended up being such a success that Kollins completed another full bar transformation for Kwiatkowski this past Christmas.
And the popularity of EGD is continuing to put her shop at the forefront thanks to the combination of designers and graphics providers working under Kollins's guidance. — Jeff Wooten