For a few years, Loris Printing, Inc., in Sandusky, Ohio, a union print shop specializing in commercial, social, and wide-format printing, has been assisting construction and residential equipment company, Tuffman Equipment and Supply, also located in Sandusky, with its marketing and branding efforts. So, it came as no surprise when Tuffman approached Loris Printing for assistance in updating its current external building wall graphics with new, larger graphics that reflect the company's latest marketing design.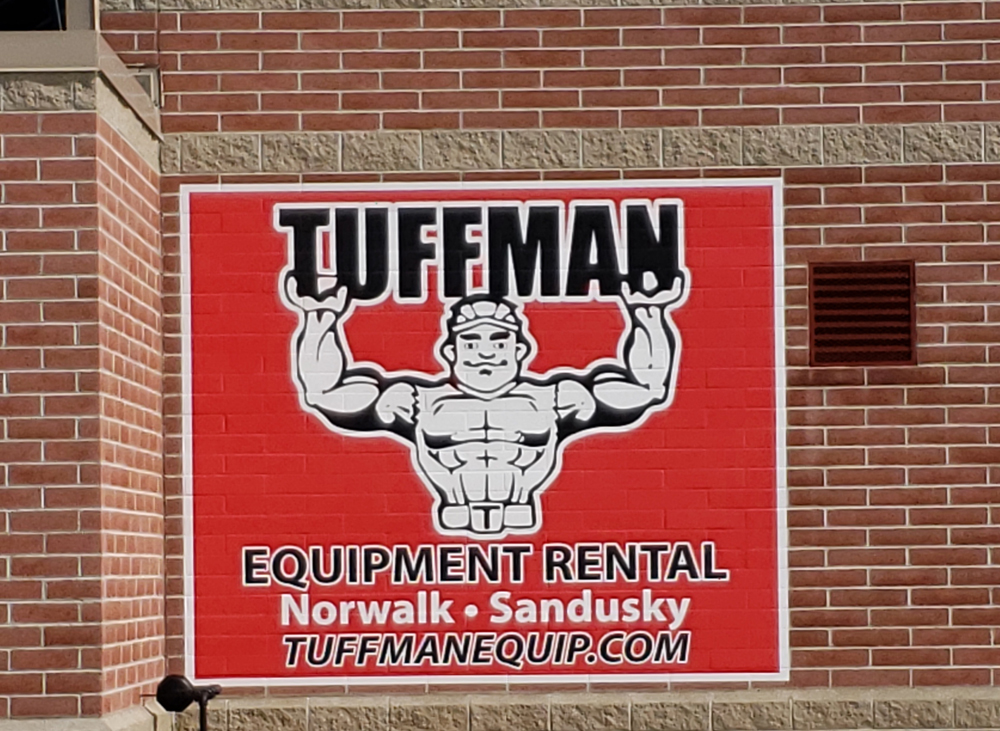 The current graphics, which were created using Mactac's IMAGin® RoughRAP™ wall wrapping film, had been on the brick exterior of the building for four years. When the Loris Printing team removed the graphics, they were impressed with how clean and easy the process was; the old RoughRAP material left no adhesive residue behind. Additionally, they received numerous positive recommendations about RoughRAP from others in the industry.
That was all the convincing needed—Loris Printing moved the new branding project forward with RoughRAP™ and Mactac's accompanying PERMACOLOR® RAYZor™ clear matte overlaminate.
RoughRAP is a 2.1-mil gloss white high-performance vinyl designed for application on brick walls and other rough, textured surfaces. When used in conjunction with the 1.5-mil PERMACOLOR RAYZor clear matte overlaminate, graphics have added benefits, such as maintaining brick's original appearance, enhancing protection against outdoor elements, and more.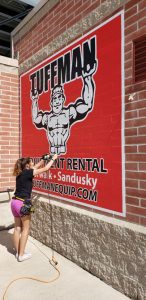 Loris Printing used a ValueJet 1624X large-format printer from Mutoh America to print the 4-panel 10-by-8.5-foot graphic. The team installed it using a heat gun from the bottom up, over a period of 2.5 hours, while battling 10-20 mph winds. Loris Printing said the installation was incredibly easy, and the finished results were amazing, like that of paint on brick.
"At the time of this installation, we had only used RoughRAP in training, not for a complete install, but this was one of the easiest materials we've put on in a long time," said Craig Hofer of Loris Printing, Inc. "It was an absolute breeze to install. Now, we are doing more installations than ever with this media."