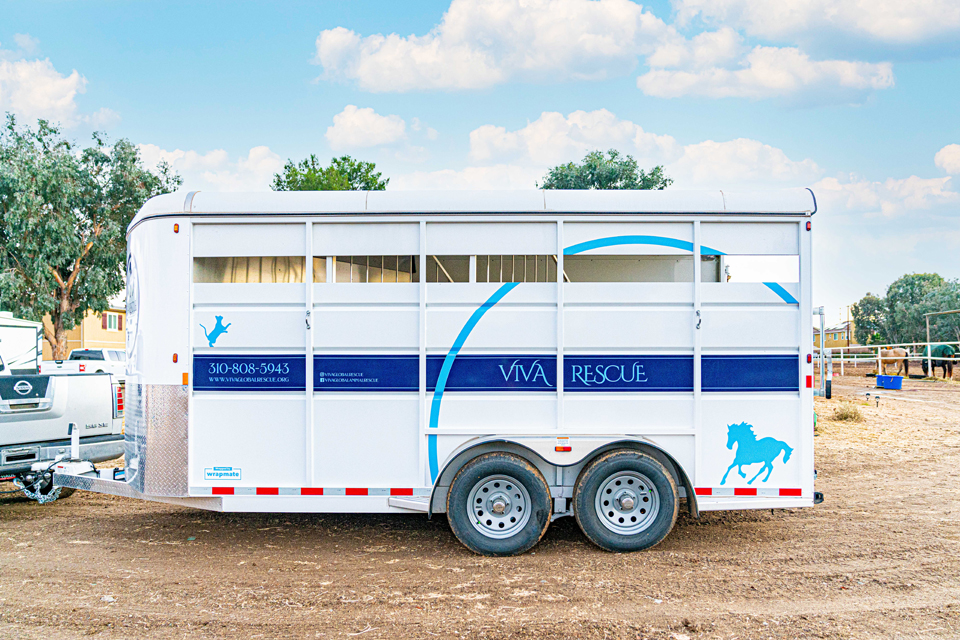 Viva Rescue is a 501(C)(3) non-profit animal rescue and sanctuary that focuses on the rescue and rehabilitation of equines and other farm animals in the Southern California region. This grassroots organization was co-founded by Maya Benperlas and Kallie Quigg in 2019, and they've managed to make a difference in improving the lives of such abused and neglected animals during this short time.
However Benperlas and Quigg wanted to bring more attention to their efforts and their on-premise programs. They decided their then-plain-white horse trailer would be a good canvas to host an informative wrap that could get their message out to more people. "We figured we could help even more animals if our trailer actually said what it is we do and showed the services we provide," says Benperlas, "and at least be easily readable."
The challenge here was that Benperlas and Quigg had no idea about what goes into an effective wrap design, nor how they could get their horse trailer wrapped. "It's obviously a big expense for us as a small organization," says Benperlas. "We both work fourteen and sixteen hour days and don't have a lot of time to go through the process."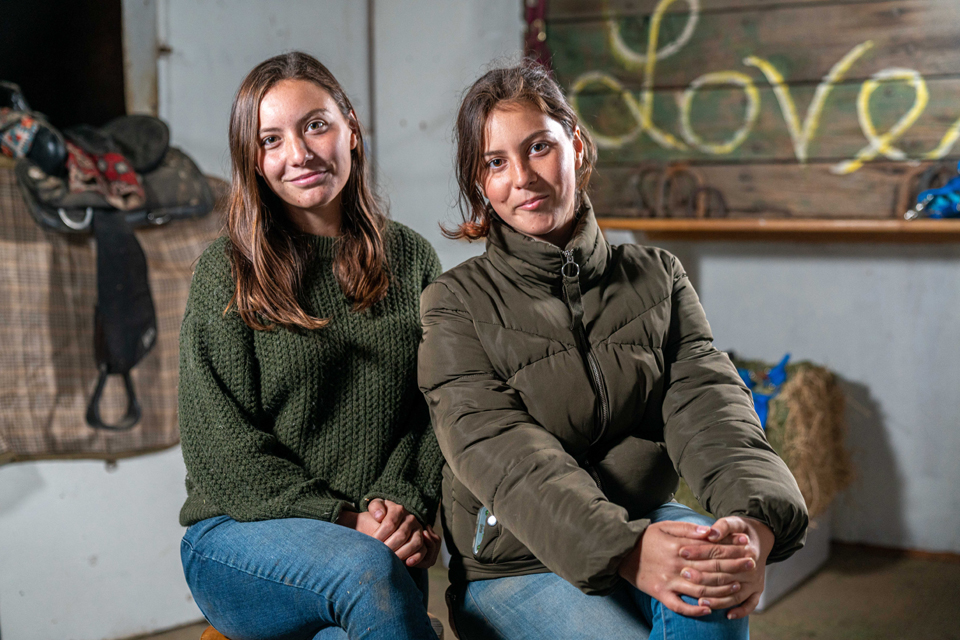 Benperlas searched Instagram and found Wrapmate, an end-to-end digital platform for consumers to get their graphics projects designed, printed, and installed. Through back-and-forth email conversations, she provided them with Viva Rescue's logo featuring a cat and horse and their color palette, as well as a list of the things they wanted to feature in the design.
Wrapmate inquired about early on the exact measurements of the trailer and any shared templates. The overall square footage requirements of this wrap project were a bit limited, but they were able to successfully make the most visual impact by strategically spreading out the cat and horse design elements across various spots on the trailer. Scrollwork elements were also added on the back of the trailer and door to give it a contemporary classic feel. Detailed vector art of the logo is featured on the front of the trailer. Meanwhile Viva Rescue's friendly light blue/dark blue color theme is consistent throughout.
"They came up with such a beautiful design," says Benperlas. "It was everything I could've imagined but didn't know how to design myself."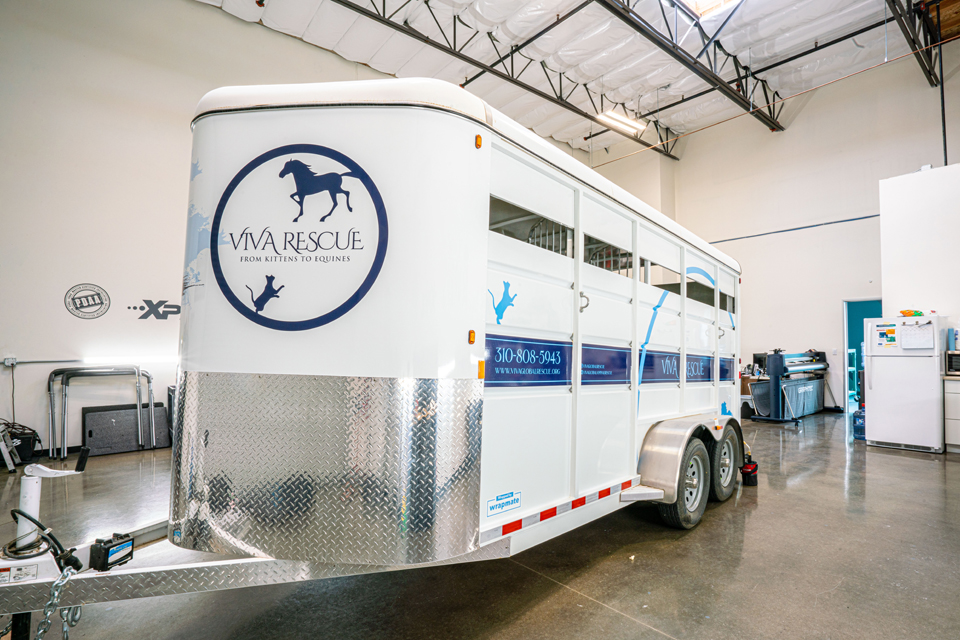 Next Wrapmate tapped their network and had their local Pro complete production and installation of the trailer wrap—in this case, C.P. Richards Signs in San Diego, California.
C.P. Richards (CPR) Signs is a PDAA-certified, full-service shop that has been around since 1948. Its current owner, Chuck Higgins, took reins of the business back in 2003, and he had a bit of an inside track here. "My daughter's great-grandfather actually started it," he says. "Fortunately I was still close to my ex-father-in-law (who also happened to be the owner at the time), and I really loved the business."
Higgins' shop moved into vehicle wraps after purchasing their first large format printer a year after he took over. Today CPR Signs expertly prints, laminates, and installs vinyl graphics for not only their customers but also other shops all over the country needing help.
Higgins enjoys being part of the Wrapmate Pro network, as well. They sent him the project outline and asked him if they would be interested in working on it. Once he agreed, Wrapmate sent the "squared-away" wrap artwork to him at full scale.
When it comes to what makes a good wrap, Higgins shares that it always starts in the design phase and knowing what one can and cannot get away with. "There are designers who can make these awesome renderings on a flat screen but don't translate well in the real world. They don't understand that a vehicle is not a flat box," he says. "Most vehicles have some compound curves, and some of them have radical compound curves. If a person doesn't design vehicle wraps on a routine, regular basis, they can get into trouble here."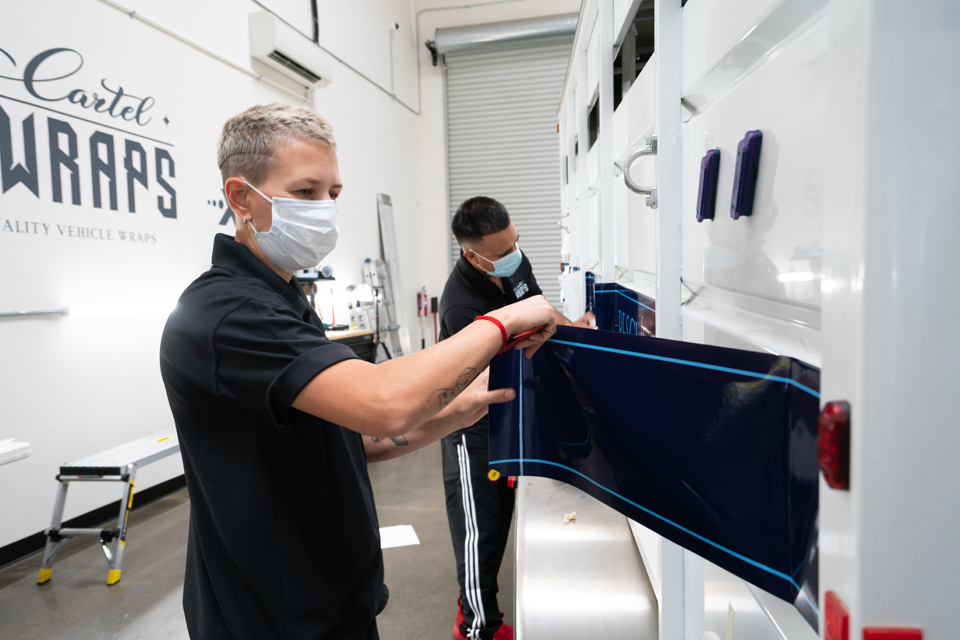 C.P. Richards Signs used their HP570 Latex to print out these wrap graphics onto 3M IJ180mC-10 vinyl. They use this printer for about 90 percent of their wraps. "If there are some really strict color guidelines, we will use our Epson 80600 ten-color printer," says Higgins.
For lamination, CPR Signs used 3M 8518 Gloss laminate. "We have an AGL heat-assisted laminator for lamination," says Higgins. "For the stuff that we contour-cut, we used a Graphtec FC9000-160."
Higgins says his shop follows a pretty set procedure when in comes to vehicles brought to them for wrapping—no customer is different. "We tell everybody the vehicle has to be clean," he says. "It doesn't need to be detailed, as I don't want wax on it. It just needs not to be covered in dirt, dust, mud, or anything else."
The reason for this is related to efficiency. "I tell our customers if they bring the vehicle to us dirty, then it's going to be an additional fee," he says. "Using air hoses to blow off dirt can take an hour-and-a-half or two hours. You have to go into every seam, every crevice, and every crack. And we're honest with customers—we already have two people working two to three hours just getting it ready after it's been cleaned the proper way."
Higgins always tries to get vehicles needing a wrap dropped off the day prior. "That way, it sits inside in our temperature-controlled installation bay when it's clean, and we let it air dry," he says.
Following Higgins' preparation instructions, Viva Rescue removed all the stickers and decals from the trailer and gave it a good washing. "Because we are on a horse ranch, there is a lot of dirt everywhere," says Benperlas, noting they immediately took it to CPR Signs upon finishing this.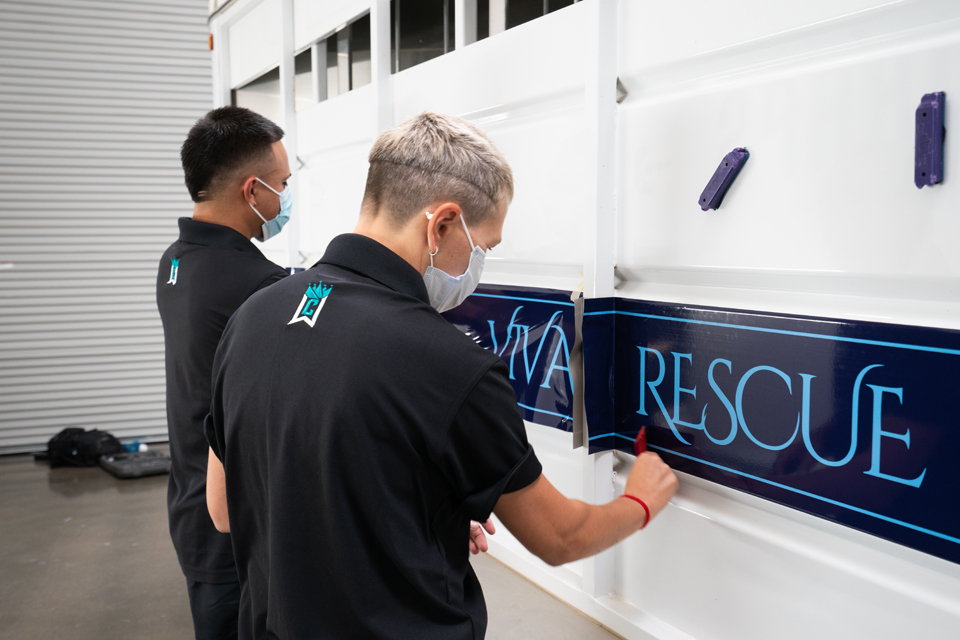 The Viva Rescue horse trailer wrap is not a full wrap; think of it more as spot graphics. C.P. Richards Signs installed the vinyl panels to the front, the rear, and both sides of the trailer.
CPR Signs used 3M gold squeegees, Bernzomatic torches and Steinel heat guns for vinyl application, as well as various worker-preferred wrap gloves (Avery, Ghost, Geek Wraps, etc.). They also used various X-Acto® (NT) cutters. "I prefer the NT yellow cartridge cutter, while some of my installers prefer the NT 'red dots'—whatever works for them and works best. I like the cartridge ones. You can have five blades in it and you don't have to stop when one breaks off.
"With the red dots, you go through that one blade and then you have to stop, change it out, and put a new blade in."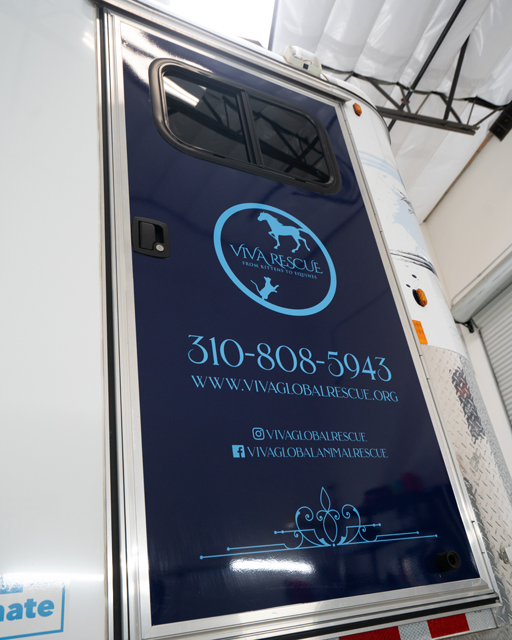 It took two days for CPR Signs to wrap the trailer. Higgins says it could have been finished sooner but Viva Rescue hired a videographer to document the stages of the install for a promotional video. Still Benperlas ended being amazed at how fast CPR Signs wrapped the trailer. "We thought it was going to take a week," she says.
The new wrap is heavy-duty and promises to withstand the ranch life and the contaminants in the Southern California air. "Vinyl on horizontal surfaces can take a beating," says Higgins. "UV rays and contaminants can float around and get stuck to the wrap, causing it to discolor and eat the vinyl."
As far as maintenance of the trailer wrap, Higgins advised Viva Rescue to not wash it for a week or two and to let it sit in during this timeframe. Higgins says that he gives all his wrap customers a 3M Wrap Care bulletin that contains advice for caring for the vehicle graphics, as well as a list of Frequently Asked Questions. "3M warranties the film, and we warranty the installation for the life of the film," he says.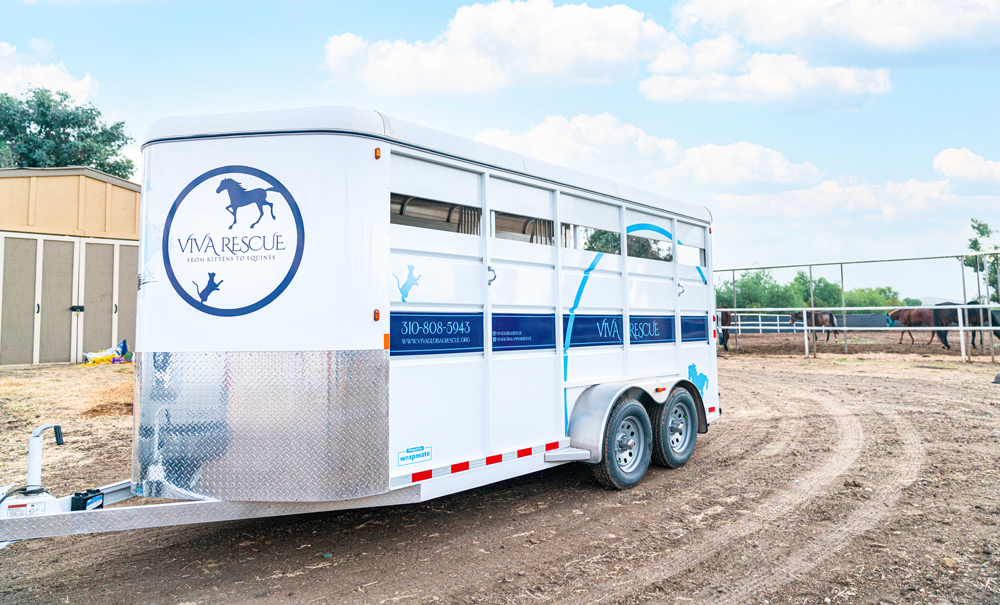 Everyone loves the new trailer wrap. "We've gotten such an increase in calls in regards to our services,"says Benperlas. "It's just amazing to know the trailer is really serving us a mobile advertisement for Viva Rescue and is really reaching that many people. A lot of people tell us, 'That's so cool,' and since it's a permanent mobile advertising for an animal rescue, we think so too. It's just driving it around and getting the word about what we do and the services that we offer.
"A wrap is a really incredible investment for any business or organization."
Higgins found that this was a fairly easy project. "It could have been fairly difficult, but Wrapmate set everything up correctly for us," he says. "Their trailer was delivered when it was supposed to be. I wish all my projects were this easy."
—Jeff Wooten