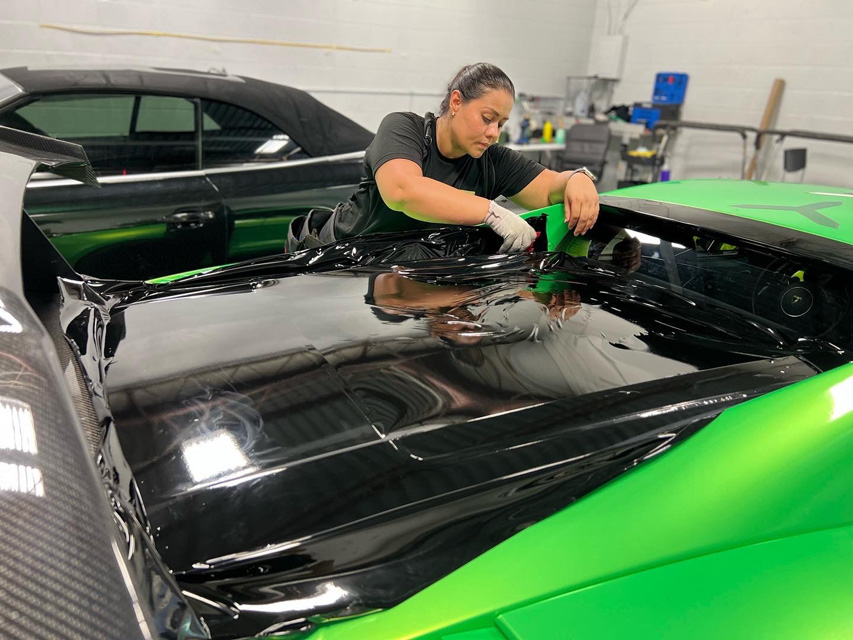 By popular demand, the Avery DennisonⓇ Graphics Solutions Supreme Wrapping™ Film Training Class is back, with a November 15-16 class specifically created for the wrap installer seeking training and instruction in Spanish. Avery Dennison also announced that it will be including Spanish-language classes as a regular part of its 2023 vehicle wrap training program.
For the November 15 and 16 class, installers will be instructed by wrapper and trainer Ana Rios at 2CT Media in Mesa, Arizona, to enhance their skills in the art of color change vehicle wraps. This 2-day, hands-on workshop will teach attendees how to install a professional quality color change wrap in one to two days, versus the industry average of four days.
The Supreme Wrapping Film two-day class is $995. Each class participant will receive an application kit filled with tools for installing, a roll of film shipped to you (following class completion) and a 1-year, 33 percent discount to The Wrap Institute, a combined value of over $800. Classes run from 9 a.m. to 5 p.m. local time on both days.
Date: November 15 & 16, 2022
Place: 2CT Media
7931 E Pecos Rd Building 4 – Suite 169
Mesa, AZ 85212
2023 Training Class Schedule Announced
In addition, Avery Dennison is announcing its complete training and certification class schedule for 2023 at SEMA, November 1-4 in Las Vegas. Classes include Wrap Training and Certification, Paint Protection Film Training and Automotive Window Film Training. Classes and Certified Wrap Installer (CWI) certification are offered nationwide and available in both English and Spanish language instruction where indicated online.
Avery Dennison offers two hands-on wrap training courses—Full Print Digital Wrapping Class and Supreme Wrapping Film Class—and a certification exam that together provide a full coverage platform of success for any wrap shop or freelance installer. All skill levels are welcome to participate in these classes and no previous experience is required.
The classes and certifications were developed by internationally renowned wrap installer Justin Pate. Ninety percent of the class is hands-on, with multiple vehicles and plenty of practice material to improve cutting skills, learn properties of the material and installation techniques.
Paint Protection Film (PPF) and Automotive Window Film classes offer live demonstrations and hands-on practice with renowned trainers who have been in the PPF and Automotive Window Films industry for more than twenty years. All classes offer benefits such as a free roll of practice material and installation tools.
Find more information about the Avery Dennison 2023 wrap classes, PPF and Automotive Window Film classes, and certification schedules here.