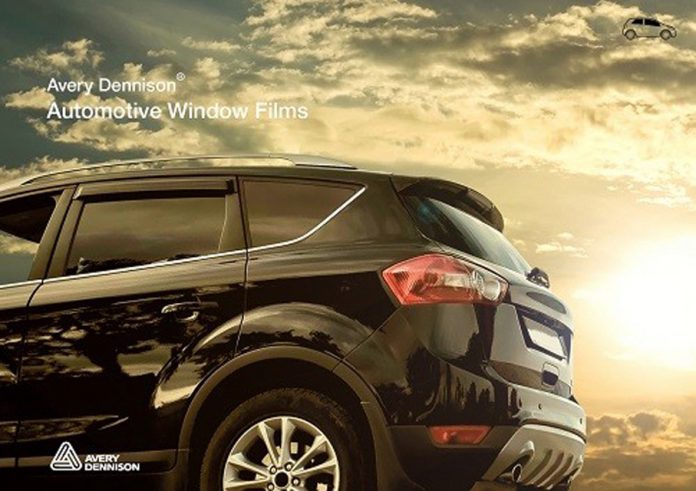 Avery Dennison Graphics Solutions has launched two new ranges of vehicle films addressing comfort, safety, and value protection. The new solutions were introduced in Berlin at FESPA, Europe's largest exhibition for the wide format print industry.
Three new series in Avery Dennison's Automotive Window Film (AWF) range are designed to enable highly creative vehicle restyling as well as safety enhancements and heat and glare rejection. Another material range, Avery Dennison Supreme Protection Film XI (SPF-XI), offers self-healing protection for vehicles and resists damage caused by stone chips, road debris, insect stains, and weathering.
Oliver Guenther, senior director, marketing and channel strategy for Avery Dennison, said that the new window film portfolios are especially attractive to installers because they allow material characteristics to be matched very precisely to user needs: "There are seventeen distinct materials in the window film portfolios. It means that whatever aesthetics and level of light transmission a customer wants—from 6 percent to optically clear—one of these materials will be a good choice.
"In addition, Avery Dennison adhesive technology enables very good dot matrix fitting and easy installation."
Window film options include High-Performance Films, Infrared Films, and Non-Reflective Films. Pascal Braker, key account manager for Avery Dennison, said he expects a high level of interest in the new films: "These materials offer outstanding performance both during installation and over time. They add very significantly to vehicle comfort, and allow some arresting designs to be created by installers."
AWF Non-Reflective Films use nanotechnology to reject heat. Light transmission ranges from 5 to 50 percent, with 99 percent UV block and up to 94 percent glare reduction. They do not contain a metal layer, so they create no interference with electronics.
The AWF Infrared Film rejects heat radiation while allowing visible light and blocking 99 percent of UV light. High clarity means it is suitable for front-cabin installation.
The largest of the new ranges is the AWF High-Performance Films portfolio. Twelve different films, each available in three widths, allow for the desired level of cost, solar, heat, and safety performance.
The range's HP Pro films give outstanding shrinkage performance, quick drying time, and ease of handling—at four different light transmission levels. Also with four transmission levels, the HP Films are cost-effective metal-dye hybrid materials with good dot matrix compatibility.
The portfolio's HP Safety materials are designed to keep shattered glass in place and use a specialist adhesive that ensures no smears or smudging, with outstanding clarity and color stability.
Avery Dennison Supreme Protection Film XI (SPF-XI) improves and safeguards vehicle aesthetics, while helping to retain resale value. It uses a high-quality, self-healing thermoplastic polyurethane (TPU) film that is easy to apply, and ultra-clear to ensure excellent aesthetics.