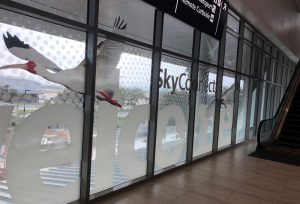 According to experts, three factors are driving the popularity of glass finish vinyl graphics amongst end-users today—decorative customization, corporate branding, and privacy.
"Clients are using glass as a surface to communicate with their customers, to create an aesthetic ambiance around their facility, as well as to promote their own brand or services," explains Tammi Johnson, business development manager at 3M Commercial Solutions Division, manufacturers of 3M™ Fasara™ glass finishes. "Glass finish materials can also be used to help control light in the building and aid overall viewing within an area."
The good news is that advancements in vinyl materials mean that you don't have to take classes in etching or sandblasting to achieve these effects. And there are lots of opportunities available for you to pursue the art of applying vinyl films to glass surfaces (doors, windows, partitions, mirrors, etc.).
"You might be surprised to learn that many of your clients aren't necessarily utilizing existing glass surfaces to their fullest advantage," says Johnson.
"Glass finishes are another channel for revenue and a chance [for providers] to offer a multipurpose, printable window film solution that is currently being underutilized," remarks Josh Barnard, product manager at Avery Dennison, manufacturers of the Avery 100 Window Graphics Series.
Even more important in today's "don't say 'no' to a customer" business atmosphere, "Adding window and glass finish graphics to their portfolios also allows print providers to become a one-stop shop for their clients," adds Brittany Eppley, marketing communications manager at Mactac, manufacturers of MACmark Glass Décor 700 Series films.
Depending on the application (branding or privacy), glass finish media typically consists of clear or perforated see-thru vinyl and specialty vinyls (frosted, crystal, etc.). The material you use will depend on what your customer is trying to accomplish on glass. "You have to figure out how much transparency or opacity is needed in the area to gain the biggest impact for your application," suggests Johnson.
A Window Into Your Markets
There are a lot of potential markets for vinyl glass finish projects—commercial, office, retail, small businesses integrating it into their branding, etc. "If they have windows or glass at their home or facility, then graphics can be applied to them," states Eppley.
"Our recommendation for the most successful use of this product would be to work with an artist to bring your ideas and branding to life," says Barnard, noting that he sees these films transforming the retail industry, offering a unique solution for homeowners, and providing an economical option for corporate spaces looking for a change. (Note: "Economical" is a big selling point, as one of the most valuable uses of vinyl glass finishes is that clients are able to repurpose their space in a cost-effective way.)

Avery-Dennison points out that hotels are a great example of an industry that's making these films work in outside-the-box ways, particularly when it comes to privacy. In rooms built as a studio concept, the film can be used on glass bathroom walls as a way to create privacy yet still maintain an open space. "And in banquet halls, where clients still want natural light but also some concealment, an architectural window film is a great solution to achieve this," says Barnard.
Educational facilities are also choosing glass finish decorations for use in learning areas. "This film allows for an open learning environment while still offering privacy to students," says Barnard.
3M Commercial Graphics adds that healthcare facilities are also receptive to glass finish graphics. "Patients and providers want a level of privacy, yet facilities don't want something that completely blocks their view, for security purposes," says Johnson.
Interior window applications are becoming more popular thanks to the increasing popularity of open concept layouts in office environments these days. "Many corporate offices have moved towards environments that include glass meeting rooms; however they later realize these spaces lack the privacy needed to conduct business," says Barnard. "Architectural window films can solve this problem without changing existing construction. These products could be valuable to anyone with glass in their building, such as retail, corporate offices, and even private, residential homes."
Think of glass finish graphics as something that's more long-term or even permanent. Because of this, you're not going to see these types of films utilized as frequently in Quick Service Restaurant (QSR) venues because their campaigns are geared more toward short-term promotional cling materials. "It's when you get into some of your high-end restaurants with glass partitions or privacy areas between booths or areas of their facilities like a meeting room or a separate eating room where glass finish films tend to be utilized," says Johnson.
Designs on Display
When it comes to using glass finish films for branding, Eppley suggests that a plotter-cut design with a frosted media results in a clean, professional, and practical appearance. "Printing an image or design with color onto a clear media can add extra 'pop' to the environment," she says.
White inks are also allowing print providers the ability to create multi-layered effects with graphics on glass. "This allows you to have one image on the exterior to draw somebody in and a different image or message on the interior side as they're leaving or moving through that facility," explains Johnson.

There is also the capability of mixing and matching printed graphics with a static design on glass. "There are two layers of the glass that are transparent, you have two separate surfaces to install graphics or glass finishes on. You could apply a color-shifting material on one side and another patterned or intricate design on the other layer," says Johnson. "This can create dual-layer effects or even a 3D effect."
Johnson points out that crystal films can be cut to very intricate designs and finds that sign shops are being very creative with this technique, citing beautiful window graphics installed throughout U.S. Bank Stadium, home of the NFL's Minnesota Vikings. The team's Viking logo is reproduced onto vinyl and applied to interior windows and glass surfaces throughout the complex. "So if you apply portions of your cut design to both surfaces of the glass and slightly offset the images, you can create 3D effects," she explains. "The beauty of a dusted or frosted film is that you can replicate a sandblasted or etched glass effect at a fraction of the cost.
"A lot of times, people think it's custom glass when it's actually a film that has been applied to the surface."
A Clean, Clear Beginning
The absolute first rule of applying graphics to glass is that its surface must be clean of any dirt, debris, or wax; if not, the film's adhesive won't adhere as well to it.
"This can be accomplished first by using a razor scraper, then by washing with a solution of 4cc baby shampoo and a liter of fresh water," explains Barnard. "Next squeegee the window, then repeat cleaning and squeegeeing until it's completely clean. Lastly thoroughly dry the edges of window area using lint-free paper towels."
Josh Culverhouse, graphic innovations market manager at ORAFOL Americas, manufacturers of various window graphics films, adds, "Never prepare the glass with cleaning solutions that leave behind a residue. If possible, clean both sides of the glass to ensure there's no contaminants remaining that will appear through the window graphic. Once the window surface is cleaned, wipe down the surface with an isopropyl alcohol and distilled water mixture for good measure."
It's important to know your environment and plan accordingly. "Most exterior applications to glass require a wet application, and should be completed when the exterior temperature stays above 50°F for 24 hours," says Culverhouse. "You want to ensure that the application fluid has adequate time to dry out, allowing the adhesive to effectively setup and anchor to the glass surface."
While you don't have to use gloves to apply vinyl graphics to glass and windows, be careful not to leave any fingerprints on the surface. "As messy as it is, the best method for a glass finish install is a wet installation because then you don't have any trapped air between the graphic and the glass surface, which can create streaks or hazing," confirms Johnson. "So if you're being cautious with your fingers where you're touching things and you've got [the material] wet and sprayed down as you're working on it, you should be okay."
Maintenance is crucial for protecting exterior window films. "Outdoor glass and window films should be cleaned at least four times a year to maintain its appearance and clarity," says Barnard. "This is particularly important on sloped or horizontal installations, since the accumulation of dirt and water is more likely."
Culverhouse suggests routinely cleaning the graphics with a mild detergent and water mixture. "Doing so removes environmental contaminants that can degrade the film over time and cause permanent discoloration, staining, or deterioration," he says.
If you're using a perforated window film, Johnson says, "An overlaminate can help keep any dirt and debris from building up especially if it's on the exterior in the holes."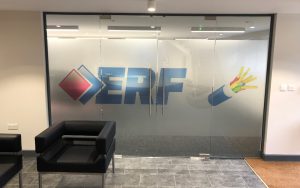 Johnson stresses that using an overlaminate will also help your inks (which are, a lot of times, the weakest link of the graphic design process). "Installation on the second surface away from traffic also helps protect it," she says.
Consider UV exposure and direct sunlight, as heat and glass are not necessarily a good combination. "You wouldn't necessarily want to have a graphic that is really dark color in color where it would absorb high levels of heat," says Johnson, "as this may compromise your glass surface itself."
By Jeff Wooten
All Photos: Mactac/Central Graphics of Cuyahoga Falls, Ohio.