By Jeff Wooten
When it comes to vinyl graphics applied to concrete, there's a tendency for one's first thought to drift downward to the floor area, where the material is typically employed for short-term wayfinding or social distancing reinforcement.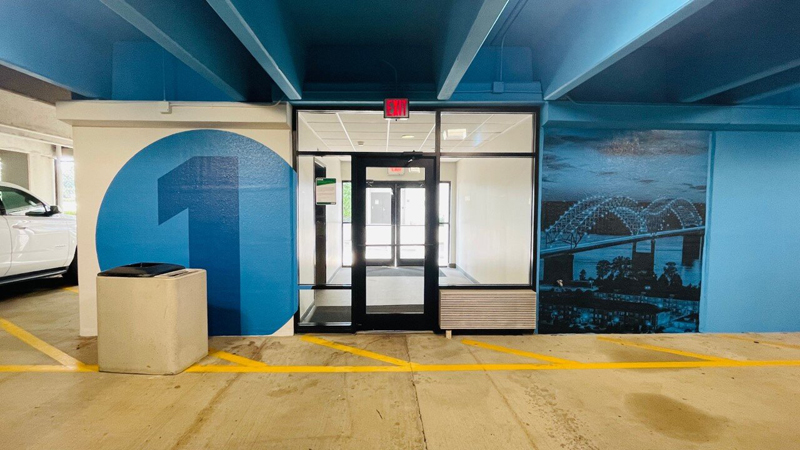 However Chris Coles, director of Brand & Marketing at LSI Graphics, a forty-six-year-old print-signage-promotional company based in Memphis, Tennessee, finds that clients rarely leverage a concrete graphic's ability to serve as a permanent communicative piece.
"Concrete graphics are ideal for long-term applications because they are highly durable, have excellent color-fastness, and are resilient against tampering," he says.
LSI Graphics was recently involved in a wayfinding project that required permanent, photo-quality mural graphics to be applied to the concrete walls at a three-story corporate garage belonging to commercial real estate firm CBRE in Memphis, Tennessee.
Coles says that his company was well suited to handle this project because they pride themselves on their ability to put a brand's logo on anything—ranging from as big as the side of a building to as small as a company pen. "I'd say a predominant amount of our work involves environmental graphics," he says.
The CBRE Memphis firm approached LSI Graphics Sales Manager TJ Werner looking for ways to brighten up their dark, dungy-looking parking garage. "The garage didn't possess much flair, and [CBRE] wanted something that would 'pop!' there," says Werner.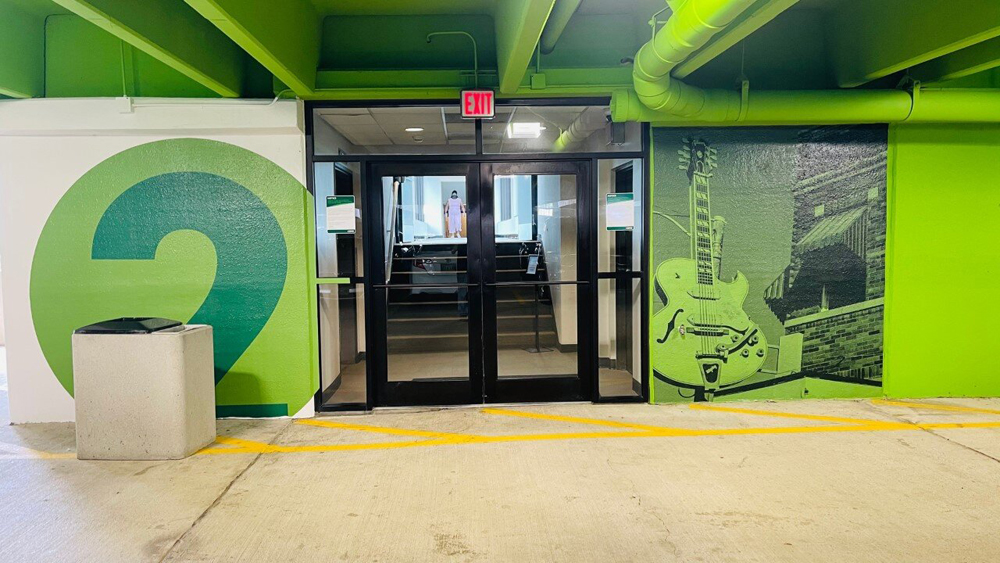 The wayfinding and wall graphics LSI Graphics provided are color-coded based on the garage floor level. Level one is decked out in blue, level two is green, and the top level (which also happens to be outdoors) is red and orange. "Our designer, Austin Barnes, based his color choices on what he felt was current and would withstand the test of time," says Werner.
LSI Graphics designed, produced, and installed color-coded entrance signs, speed limit signs, and floor signage. They also created vinyl-covered circular plaques indicating the floor level number and placed those throughout the garage in corners, on columns, and in areas that are easily seen from the elevators.
The company also produced graphics for the concrete walls throughout all three levels of the garage. Many of them feature the level number and its appropriate color code. However, LSI Graphics had an additional idea for sprucing up the concrete walls near the elevators—incorporating Memphis-based themes into the designs.
Werner says that a lot of this concept can be attributed to Memphis being a pretty "homegrown" city.
"A lot of people in [Memphis] are from here, and they stay a long time. And if they leave, they end up coming back. So we like incorporating the city into [area] graphics whenever we can," he says. "We do a lot of work with the University of Memphis and the NBA's Memphis Grizzlies, so anything we can kind of put our 'Memphis stamp' on, we try to run with it."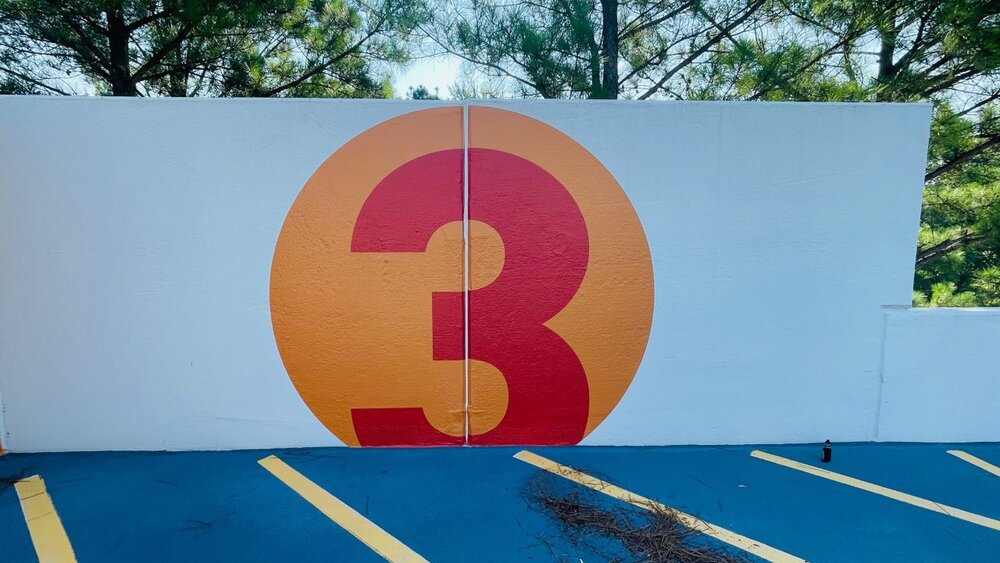 For the CBRE garage, LSI Graphics selected imagery involving notable city figures and iconography—such as the Hernando de Soto Bridge (level one), the legendary Sun Studio (level two), and, of course, recording artist Elvis Presley (level three).
LSI Graphics downloaded photos of these Memphis icons from Shutterstock, an online image service. "When you're dealing with grand format, the quality of the photos that are on Shutterstock, especially when you're downloading the highest resolution available from it, turns out more than enough," says Werner.
The imagery used in these concrete wall graphics was designed as a "black-plus-color" treatment. "Our artist removed the color from the image and applied a color overlay on top of the photography," says Coles.
LSI Graphics printed out the color-coded concrete wall graphics onto over 700 square feet of 3M™ Envision™ Print Wrap Film 480Cv3 using their EFI™ VUTEk® GS-5500 Pro wide format printer and HP 3600 latex printer. "We always use that material anytime we do something for a concrete wall," says Annette Kellett, project manager at LSI Graphics. "The texture of the Envision Print Wrap Film 480Cv3 is designed to conform better to a textured wall."
Kellett says that the graphics were printed out onto fifty-four-inch-wide panels and then rolled up and driven out to the CBRE parking garage.
Installation took place over several different days. "There were certain items that the client approved ahead of getting some other items approved, so part of it depended on their approval of the artwork," explains Kellett. "So we went ahead and scheduled some installations based on their approvals."
Installers successfully applied the 3M Envision 480Cv3 graphics onto the concrete walls with no trouble at all using heat guns.
According to Kellett, most of the installation was finished within two days, noting that constant rain showers did delay working on the outdoor level three walls for a bit.
Werner says the design-and-approval process also went very smoothly here, with only a few alterations needed or a switch-out to a different color here and there.
"It typically goes very well, as it just depends on how many people are involved," he explains. "In addition to your client, you might have to get approval from the building's owner or the tenants. But this is typically a pretty easy process."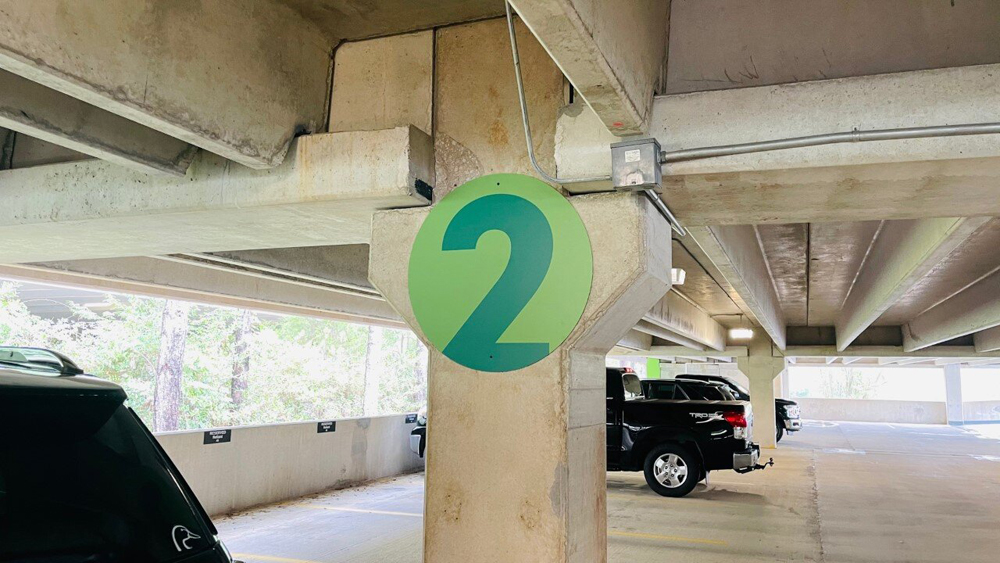 According to Werner, the biggest challenge encountered in this project was dealing with the COVID-19 pandemic.
"Typically we can turn around a project like this in a month or so," he says, "but because of COVID-19, it took eight to ten months to acquire approvals, start production, and finish the installation. And sometimes there were a few supply issues where we had to wait on a material for a week."
This project also proved to be a great example of how sometimes a sign company's work ends up being their best sales pitch. "During the install, I went over to check on our guys," says Werner, "and one of the tenants was moving out to a newer building. He gave me his card and said, 'Hopefully, you can do something like this for our garage, which is a couple of miles away.
"So our concrete wall graphics we designed and installed for the CBRE Memphis garage made a great impact!"
Coles says that the amount of graphics used for this concrete walls project was pretty notable in all his experience.
"You see them a lot in retail spaces," he says, "so I felt like this was a unique way to use them. In a garage space, I've personally never seen them get used in this quantity.
"And I think that's what was so special about this job."
All Photos: LSI Graphics.