When Out-of-Home advertising company, JCDecaux, were tasked with promoting a new show for Netflix called Ferry, they felt it was only fitting that the advertisement should be done on a ferry. With this, Ferry on a ferry was born.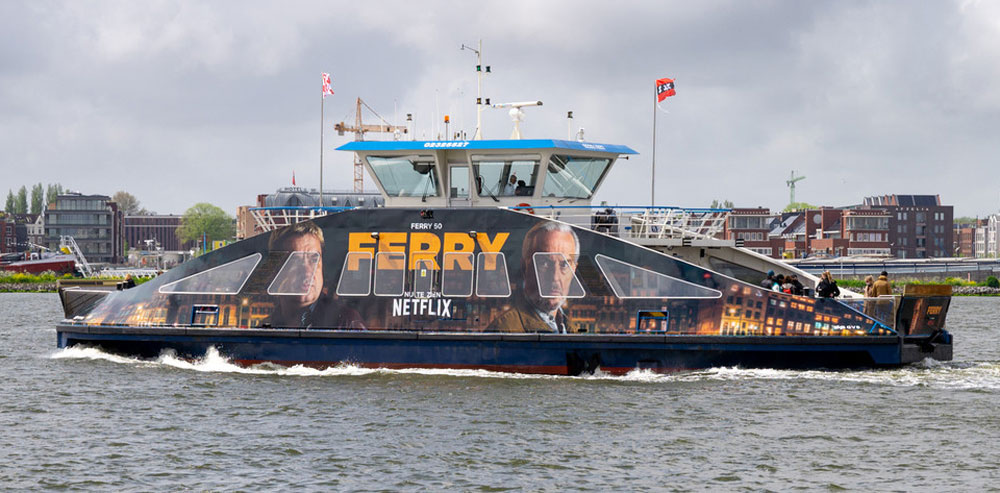 PPP Nederland, a printer based in the Netherlands, were tasked with printing and installing a full advertising wrap on the ferry. The graphic needed to seamlessly continue on to the windows of the ferry from the solid surface, which is why perforated window film was needed.
Contra Vision Performance HD™ White on Black, which is a 40 percent transparency film, was chosen for this application because it features micro-perforations, creating the beautiful window graphics and the smoothest see-through on the market.
Image quality is paramount for a promotional application like this as the graphics need to stand out, so using a premium product is necessary. This breakthrough window perf delivers the sharpest and most vibrant window graphics thanks to 1mm diameter holes, which are 60 percent smaller in area than standard one-way vision window films.
Although this particular application was only up for a few weeks as the Netflix show had already premiered, the product itself has a durability on windows of three-plus years so these graphics would stay looking fantastic on the ferry for a long time.