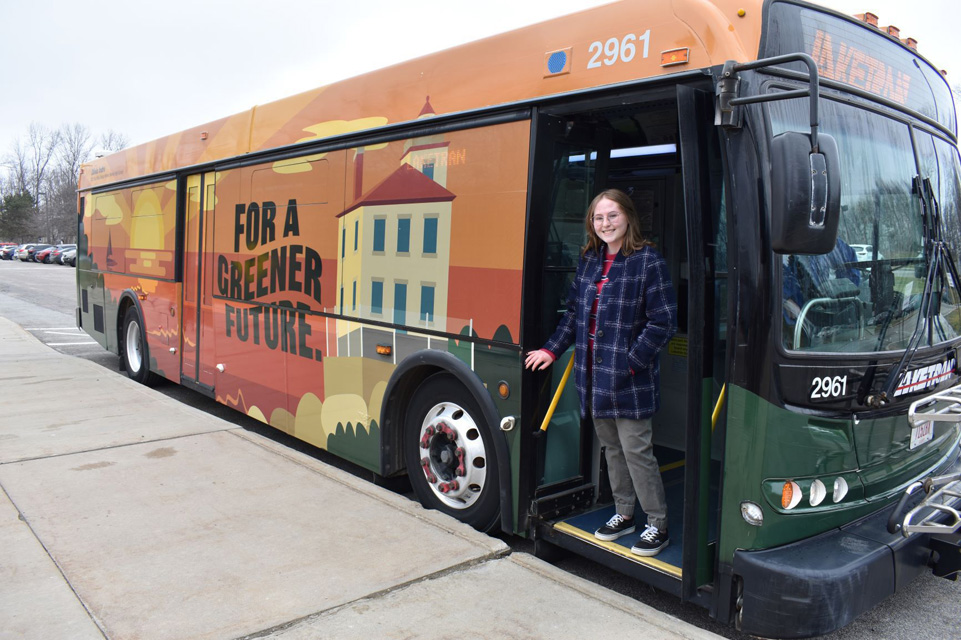 The winning design in a Design-a-Bus-Wrap student art contest was launched on a full-size thirty-five-foot local bus in Lake County, Ohio. Olivia Indre, a senior at Mentor High School, won first prize for her design entry themed, "For a Greener Future." Her wrap design will be displayed on the bus for six months.
Avery Dennison® Graphics Solutions was one of contest co-sponsors along with the county's public transit agency, Laketran. Avery Dennison donated its premium MPI 1105 Easy Apply™ RS wrapping film, clear overlaminate DOL 1360Z for added durability, V4000 beaded reflective film, and MPI 2528 50/50 perforated film for the window graphics. Akron, Ohio-based Repros Color donated its services to print and install the graphics.
"We had a unique opportunity to wrap a bus before it retires from service later in 2021," Laketran spokesperson Julia Schick explained. "We were excited to conduct this contest and allow all these talented student artists to have the experience of designing a bus wrap. We are grateful to Avery Dennison, Repros, and the other program participants for making this possible. Due to its success, the contest will now be held annually."
"Avery Dennison was pleased to sponsor this program to support Laketran and the Lake County community," said Daralyn Baldogo, senior marketing communications specialist at Avery Dennison Graphics Solutions. "Our whole team got involved in the project, including serving on the judges panel. We also #appreciated the opportunity to increase awareness of the creative possibilities of vinyl graphics among art students, arts programs, and art instructors.
"As Olivia's wrapped bus illustrates, vinyl film can be a powerful, engaging medium, commercially and artistically."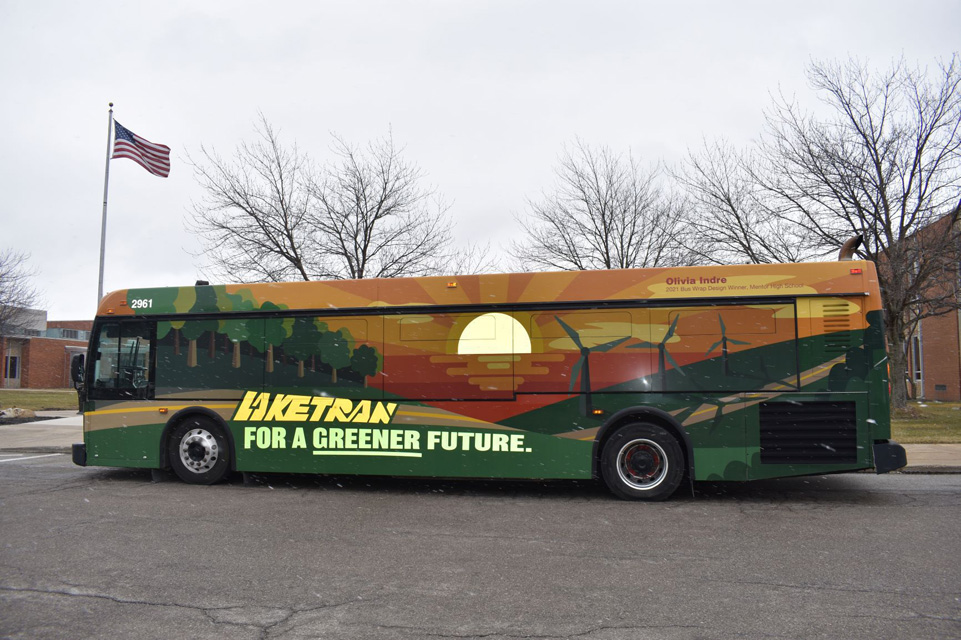 "This was really a great-looking, well-designed graphic," said Repros Senior Account Manager Anthony LaGuardia. "It worked out perfectly for us to get creative with Avery Dennison's reflective vinyl film. It really made the graphic pop. The film has the Easy Apply Technology built in, so the installers could slide it around to reposition it, because we really did choose areas where sticking could have become an issue."
The Laketran Design-a-Bus-Wrap Student Art Contest was open to middle school, high school, and college students from Lake County or students enrolled in a Lake County school, art school or homeschooled during the 2020-2021 school year. Contestants were encouraged to highlight the contest's "Lake County Pride" theme, using their artwork to promote public transit or one or more features of Lake County. Seventy-seven student artists submitted entries.
—Press Release