Based in Mesa, Arizona, 2CT Media, LLC was started in 2009 by Christopher DeRamos Sr., and his sons, Christian and Tyler. The "2CT" stands for "two Chris' and a Tyler." Although Christopher Sr., passed away in 2015, his sons continue to carry on the family business.
The company now has nine full-time employees, plus a network of independent contractors and installers around the country. Its primary focus is developing high-quality solutions to help clients maximize their brand impact through experience center décor, customized compliance signage, interior/exterior signage, and more.
But fleet graphics are where 2CT Media really shines.
The company prides itself on providing fleet branding with minimal disruption to the client's operations. This requires working to understand and align with the client's fleet and employee scheduling to deploy branding in a way that maximizes uptime.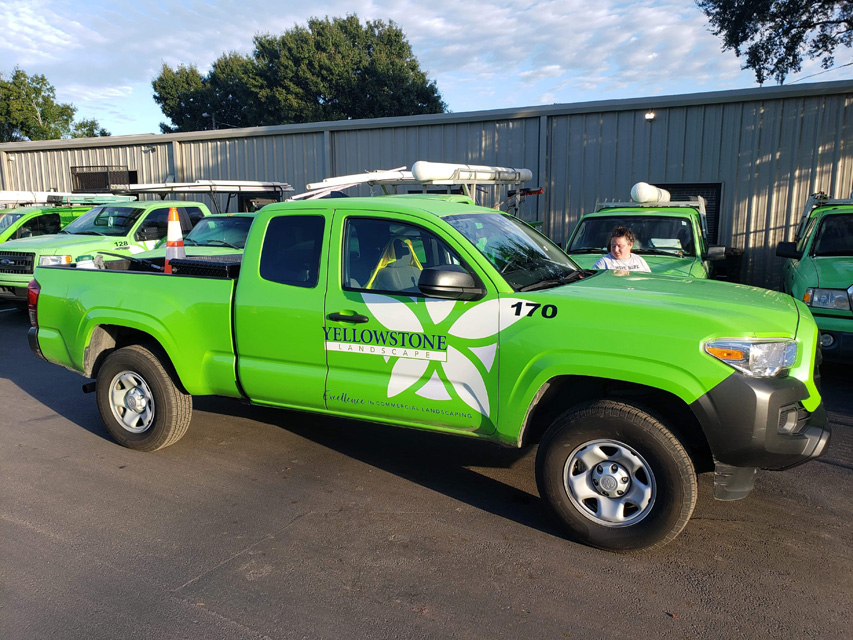 One client 2CT Media has been frequently working with since May 2019 is Yellowstone Landscaping.
One of the fastest growing commercial landscaping firms, the company has forty-two branches in ten states and headquarters in Bunnell, Florida. Yellowstone Landscaping's fleet includes 3,200 vehicles ranging from small cars, pickup trucks, and utility vans to box trucks, large tree trucks, water trucks, dump trucks, arbor trucks, and cranes.
Part of Yellowstone Landscaping's growth comes from frequent acquisitions, so it relies on 2CT Media to handle converting fleet assets of any acquired companies to match its brand standards. To date, 2CT Media has handled branding for more than 600 of Yellowstone Landscaping's vehicles.
"This is a source of pride for our team," says Christian DeRamos, founding partner, managing member, 2CT Media, in a press release. "We now aid in all of their fleet conversions and all of their new vehicle purchases. We continuously work with them to streamline their brand image, standardizing their vehicle prints to limit iterations."
Jobs for Yellowstone Landscaping range from one truck (which can be turned around in a few days) to the largest project so far consisting of 221 vehicles.
"Our 221-vehicle project took twenty-five working days from quote approval to final install, ten days of production, and six working days of removal and installation in two sessions (five days for the bulk, one day for stragglers two weeks later)," says DeRamos.
Normal projects typically average around thirty-five vehicles at a time, which takes about thirty to forty-five days to complete.
"Our process typically starts with walking their fleet, building a fleet list, and quoting the project. Most of the time, this can happen in one trip, other times multiple. From initial walk to quote approval and scheduling, it's typically about fourteen days," explains DeRamos. "From that point, depending on the size of the fleet, production ranges from three to fourteen days; we have standardized their graphics so production is expedited.
"Installation and removal are actually pretty rapid with our teams, the average being three to five days (depending on vehicle availability)."
Due to Yellowstone Landscaping's frequent acquisitions, 2CT Media often has to rebrand vehicles with out-of-the-norm graphics that include aspects like unusual base colors.
"Because we always start with a fleet walk and list building event, we document everything and part of our quoting process is discussing the logistics and fine-tuning the artwork," says DeRamos. "We have standardized their designs and layouts so rapidly making changes to color schemes is rather easy for us."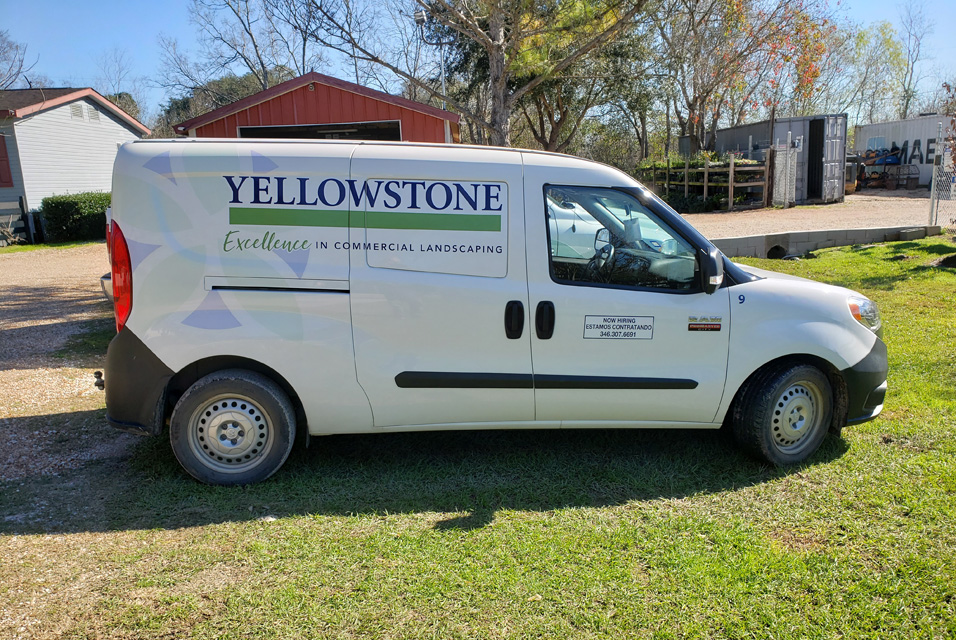 When it comes to designing fleet graphics for Yellowstone Landscape, DeRamos says creating a unified customer experience is paramount.
"Their vehicles are designed to bring focus to who they are and a simple 'what they do' statement. They don't even use a contact method because they know the prevalence of Internet searching," says DeRamos.
When designing fleet graphics of any kind, DeRamos says simple, maximum impact is key.
"We subscribe to the idea that fleet graphics serve one purpose: identification and exposure," he says. "Focus on your brand exposure number one, limit the visual confusion of excessive elements and words, and only use imagery to accent or highlight your message while avoiding actual photographs. Use bold colors that complement each other but still offer significant contrast so that it can pass the black-and-white or squint test.
"Remember vehicle graphics are to be designed to be viewed in motion at high speeds, and you generally only have five to seven seconds to get your message across. If you design your graphics to be viewed in a parking lot, you will miss 90 percent of your potential exposure!"
DeRamos advises that it's also good practice to set expectations at the start of a job.
"Gathering accurate information, setting up expectations internally and with the client, and developing/executing a sound logistics plan—these three things will define failure or success in any project. Close behind is having a trust factor between our company and our clients; this can lead to issues and unintended hindrances," he says. "Remember vehicle graphics are revenue generators. Knowing your client's ROI versus cost and life is a good aid in setting expectations."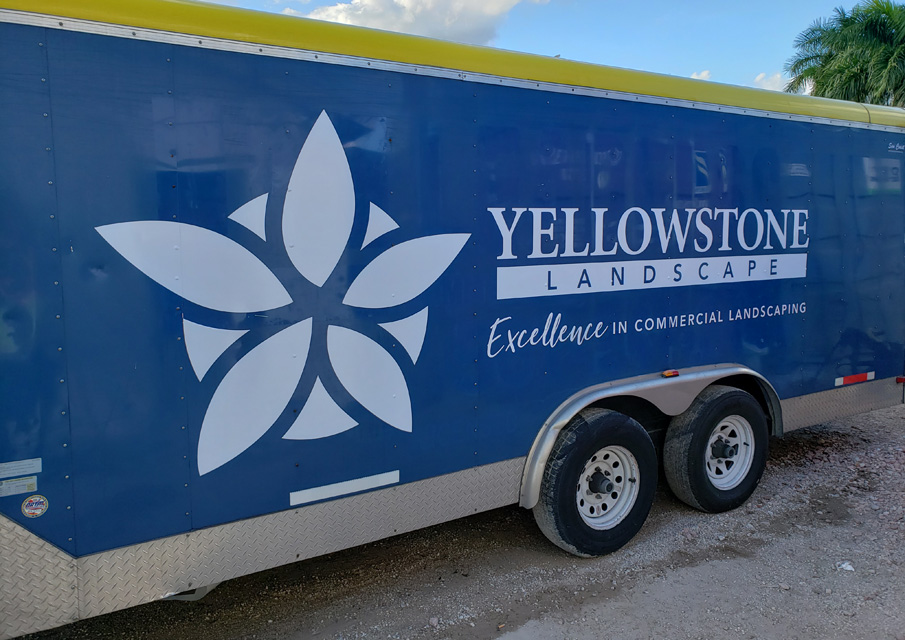 Expectations, especially of budget and performance, also play a role in planning and executing the installations, along with material and vehicle surface considerations.
"Look for a solution that can exceed your client's expected lifespan by 50 percent or spend time educating and setting realistic expectations for your clients," says DeRamos.
Durability and lifespan for graphics is a bit more complicated for Yellowstone Landcaping's fleet since its vehicles span across ten states and face a variety of harsh environments.
"Testing, experience, and a strong relationship with our suppliers and manufacturers are key to making the right choices for us. We heavily rely on our manufacturing partners like Avery Dennison for their recommendations. Leaning heavily on their advice and experience is a clear recipe for success," explains DeRamos, who says 2CT Media frequently uses Avery Dennison MPI 2105 Easy Apply RS film paired with the DOL 1060Z overlaminate for its durability and ease of install.
DeRamos also provides a variety of helpful techniques for installing fleet graphics. He says:
"The biggest thing that helped us is to design the graphics with as many aids in mind as to reduce time on the vehicle."
"If your cut graphics have a lot of curves, add level lines or bodyline marks."
"If you are doing full wraps, break your panels in such a way that your team can rapidly line up to bodylines repeatedly."
"If you have text in your graphic's crossing panels, don't be afraid to use them as overlays."
—Ashley Bray