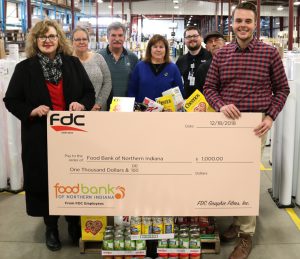 FDC Graphic Films, Inc. (FDC), one of the sign-making industry's leading suppliers of sign vinyl films, digital media, over-laminates, banners, and heat transfer films, has increased their support of the local food pantry organizations in northern Indiana.
FDC employees collected over 500 cans and boxes of food during the company's Internal Food Drive, which ran from Thursday, November 29 to Thursday, December 18.
Food was collected at numerous locations inside of the South Bend, Indiana location and those items were donated to Food Bank of Northern Indiana on December 18, 2018. In addition, FDC's ownership donated $1,000 in cash to the Food Bank of Northern Indiana on behalf of FDC's employees.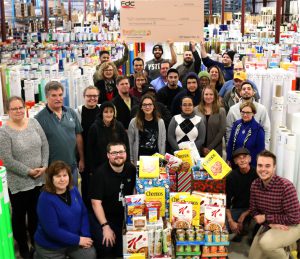 "I am honored to have employees at FDC that want to give back," said Chris Stoler, president of FDC Graphic Films, Inc. "I am thankful to everyone who put the effort forward to help families in need throughout Indiana and in our local communities."
"We are humbled by the incredible generosity of the FDC Graphic Films, Inc. team," said Marijo Martinc, Executive Director of the Food Bank of Northern Indiana. "The need continues to be great for many and we are so grateful for their commitment to feed the hungry in our community."