According to recent research conducted by I.T. Strategies, a custom consultant firm that serves and focuses on the digital print vendor community, the wallcoverings market saw over $100 million in revenue in the last year, citing this medium as one of the many fast-growing sectors within industrial printing.
But many sign shops and print providers have already figured out that wallcovering and environmental graphic design applications are already one of the hottest trends going today, especially amongst their corporate, medical, retail, and hospitality clients.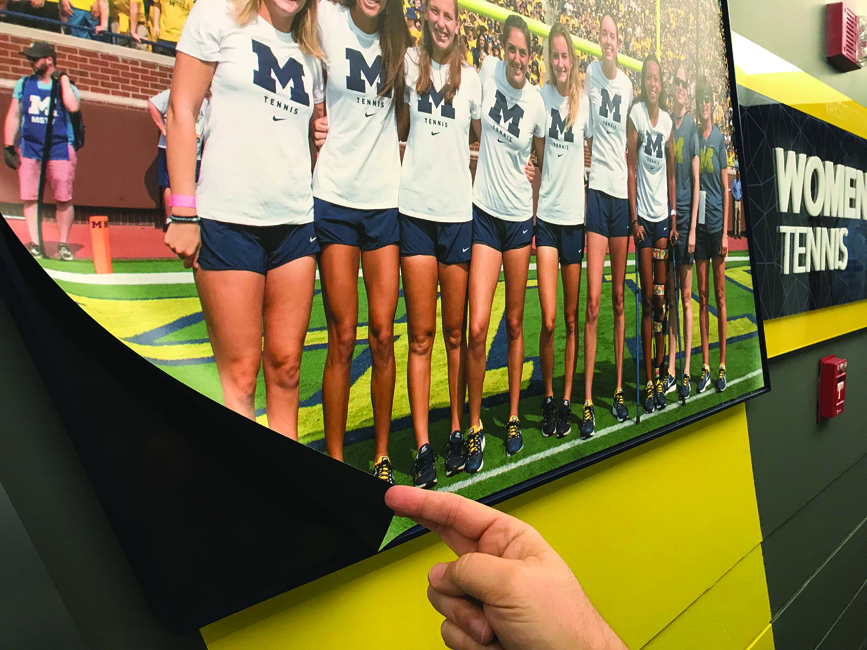 While a majority of discussions concerning wallcoverings usually revolves around wallpapers, vinyl, and lately, fabrics, savvy sign makers and print providers should also be considering flexible magnet sheets for use in these types of interior projects, as they are ideal on both flat and curved surfaces.
These magnet systems—which combine a flexible magnetic sheeting base with a printable magnetic-receptive sheeting for the graphics—are proving cost-effective for potential clients and attention-grabbers for onlookers.
Here's how it works: The wall or base surface hosts the magnet with an adhesive on its top side then the changeable, printable layers would be added to it. The end-result is that they can be used as either the graphic source or complement the vinyl being used.
When it comes to printing onto both the magnet and the magnetic-receptive sheeting, experts advise that a wide format inkjet printer equipped with UV, solvent, eco-solvent, or latex ink systems is needed.
The Attractive Advantages of Magnets
"The primary advantages of using a flexible magnetic system for wallcoverings are their ease of installation and the simplicity in being able to change and reposition the different layers of printed graphics," says Mike Gertz, marketing manager at Master Magnetics, Inc., in Castle Rock, Colorado, noting that some vinyl wallcovering pressure-sensitive adhesives feature formulations for adhering the base that are permanent and therefore not repositionable at all.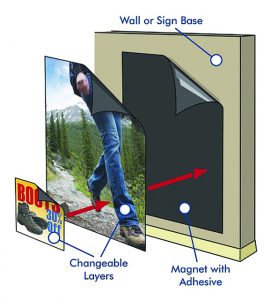 "Users of various print technologies can not only change out their spaces as often as they want without the muss and fuss of a pressure-sensitive adhesive, but it can give them an added dimension to be able to populate the wall coverings as well," says Shane Colvin, director of Business Development at Magnum Magnetics in Marietta, Ohio. "Imagine a wall covering that required no adhesive, no peeling, no spray bottles, or no heat—just a print that can be simply transitioned anywhere all over the wall."
Of course, there are even more advantages to using flexible magnet systems in interior wall applications, compared to using a vinyl wrap.
"The main advantage is the ability to layer and change out graphics quickly and easily," says Gertz. "Since the graphics can be layered, the entire graphic doesn't have to be changed, just the frequently changing information or graphic that can be printed on a separate layer."
"Simply print, cut, apply, and repeat!" confirms Colvin.
Colvin brings up his company's Engage Magnetic Receptive System and its ease of use. "Customers have the ability to use rolls with adhesive as the base layer or a double-magnetized material also," he says.
Preparation Techniques with Pull
"To prepare the wall or sign base to adhere the adhesive, use a non-oil-based cleaner to ensure that the surface is clean, dust-free, and without any residue from cleaners," says Gertz.
Depending on the surface and application style, Colvin adds that the user could need to use a magnetic-receptive paint prior to magnetic application.
"If using an adhesive system, the user would only need to ensure the wall was free of oils or lubricants and ensure that the adhesive would bond well before applying the magnetic materials," he explains. "Once the magnetic materials are in place, only the receptive would need to be cut into place, similar to wallpaper."
Gertz adds, "Another option for a more mobile display is to mount the magnetic base with adhesive to a thin, rigid sign base, such as Sintra®, which can then be either mounted onto a wall or used as a freestanding display or sign."
Who is Attracted to Magnets?
So what markets should sign makers try to address when trying to sell customers on using flexible magnets for interior EGD projects? Fortunately there are a wide range of opportunities to target here.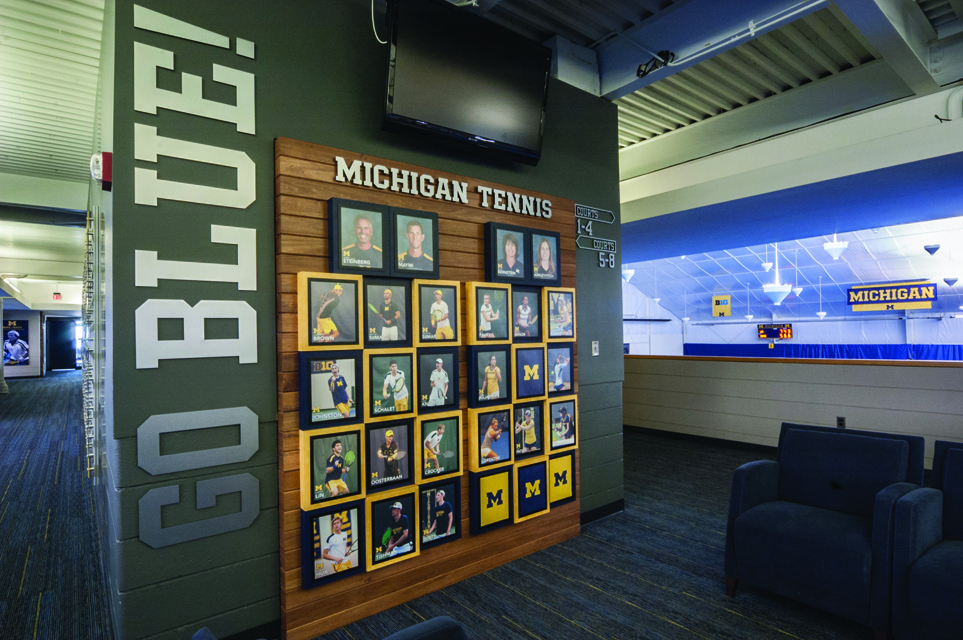 "Environments for magnetic graphic systems include lobbies for businesses and hotels, retail store environments, restaurants menu boards, museum exhibits, banks, and more," says Gertz, adding that magnetic-receptive graphics were used for a sports arena display featuring the University of Michigan's tennis team.
Colvin states that retailers are ideal candidates because attracting their customer base in this age of ever-changing messaging is vital to them. "They need to be able to grab their attention at every opportunity, which flexible magnet systems can do frequently," he says. "The versatility of the product and capability to impact the store's overall feel and appearance with minimal upkeep can be found at any retail point-of-purchase level small or large."
Magnetic graphics systems work anywhere there is a need for a display with graphics and changing information, and Gertz agrees that retail proves an excellent opportunity here, especially when combined with vinyl.
"A good example for use of a magnetic system is in a sporting goods or an outdoor gear retail store," explains Gertz. "Whether it's a full wall graphic or a P-O-P display, the main engaging background graphic of mountains and trails can stay in place and the variable graphics promoting sales for hiking boots, backpacks or tents, can be changed out as needed instead of having to reprint and change the entire graphic."
—Jeff Wooten